My friend since middle school, Tim Hussey will be doing a show on March 8 of his new paintings at Launch LA.  Tim and I skateboarded together and compared drawings in Charleston as teenagers and then we both attended RISD and majored in Illustration. I've enjoyed watching his work evolve in many great directions over the years. Tim's new body of work is great, so check it out in person, but you can get a taste in this
interview by Mark Murphy.
-Shepard
Opening Reception:
LAUNCH LA Gallery
170 S. La Brea Ave., 2nd Floor
Los Angeles, CA
323. 899.1363
Hours: Thursday – Saturday, 12 – 6pm
and by appointment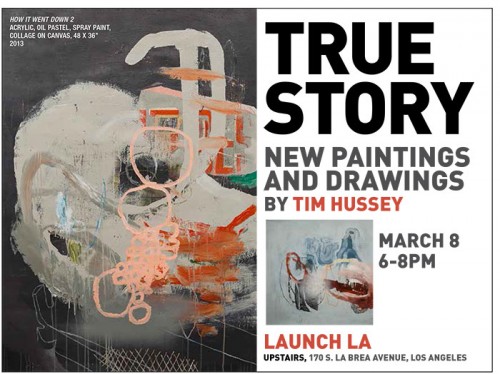 LAUNCH LA is proud to present True Story by Tim Hussey. True Story represents a further evolution of Hussey's artistry – it is an ephemeral place in the life of an artist dedicated to continuously exploring new territory.
To Hussey the paintings in this exhibition are a means of giving release to the unconscious, the feelings and instincts that exist beyond the realm of understanding. There is no initial plan, or elaborate drafting process; it all begins with the first brush stroke. Wherever he is compelled to go from there, he follows unquestioningly. "I work mostly from my gut – and behind any gut response is a collected library of past lessons, avoidances, desires, instincts, stories and philosophical and spiritual belief systems" he explains. "The main goal when I paint is to avoid direct narratives, any imagery (however abstract) that I don't feel as 'the truth'". What ends up on the canvas is unfiltered and raw, without any recasting of experiences or emotions through self-conscious or analytical thought.
Hussey's images are often quite dark and brooding despite an abundance of white space. Hussey's choice of color contributes to this – his palette is reminiscent of Egon Schiele; muted pigments that give an impression of impermanence and decay. Nothing on the canvas is sacred either. Layers are often wounded by palette knives to reveal yellowed newsprint and scraps of discarded diaries beneath. Bright smears of green, yellow and red offer some reprieve from the darkness. Titles rife with puns also lend his work with a humorous edge. Though in the past Hussey experimented with non-permanent materials, such as spare pieces of wood, glass and the type of utilitarian paints one might use to paint a barn or tractor with, this series marks a shift towards archival quality materials. This may reflect that Hussey has found a style he feels comfortable and confident in – but on the other hand, with this artists work, things are always liable to change and progress in new directions. Stagnation is not an option.
There is no image in Hussey's head which he strives to extract and bring to the canvas, if anything, the opposite is true. Of his process, Hussey says: "What I include is much less important than what I exclude". The less he consciously constructs, the more the truly abstract is free to surface. Practically no attempt is made to give the mess of paint sense or structure – this work Hussey leaves up to the viewer.
"I stick to stories without a beginning or an end. Life feels that way to me – a story you fade into and then fade back out of, without much explanation".
–               –               –
   Tim Hussey was born in Dover, Delaware in 1970 and grew up in Charleston, SC. He received his Bachelors in Fine Arts in 1992 from Rhode Island School of Design, spending his junior year at Parsons, Paris.
Shortly after graduating, he moved to New York City and landed a job at MTV, producing large-scale paintings during live programming. The exposure launched a fifteen-year editorial illustration and art direction career, showcasing his art and design in everything from Rolling Stone and GQ to The New York Times and Esquire, UK. He has received numerous awards from American Illustration, Print Magazine and The Society of Publication Designers, meanwhile teaching related courses at The School of Visual Arts, NY.
In 2000, Hussey made a conscious decision to shift his career toward contemporary painting. His art utilizes various media and contrasting subject matter to cross-pollinate and suggest a bigger picture, a narrative that has no end or beginning but urges the viewer to look deeper at its implications.
He has been represented by Zeitgeist Gallery in Nashville, Alan Avery in Atlanta and Rebekah Jacob Gallery in Charleston. Internationally he is represented at Ode to Art in Singapore, and Young Blood in Hamburg. His paintings have been exhibited nationally in key group and solo exhibitions such as Shepard Fairey's Subliminal Projects in Los Angeles, Nashville International Airport, Art Basel Miami, ArtHood's "Great Promise" fundraiser for the prestigious Watermill Center, Slideluck Potshow, NY,  La Luz de Jesus, LA, and his recent 10 year retrospective "Drown Then Swim" at the Waterfront Gallery in Charleston, SC. In 2009, filmmaker Adam Boozer shot a 45-minute documentary on Tim's life and artwork, entitled "Running By Sight" which was an official selection at the DocMiami Film Festival and was aired at Comic-Con, 2011.
Hussey's art has appeared in Dwell, Architectural Digest , Real Simple, NYArts Magazine and his recent book Drown Then Swim (forward by Shepard Fairey).
He currently resides in Los Angeles with his wife Elise, who he married in 2011.