My gallery
Subliminal Projects
is pleased to bring my show
American Civics
to Los Angeles, featuring the first-ever collaboration between myself and the estate of legendary photographer
Jim Marshall
. The show focuses on voting rights, gun control, prison reform, income inequality, and workers' rights. I'm excited to show a selection of my own solo artwork alongside this important project; all politically themed works inspired by he current political climate. Join me on Inauguration Night (1/20) at Subliminal Projects in Echo Park for the opening reception and thank you as always for your support. To attend, please email rsvp@subliminalprojects.com. See below for flyer and official press release.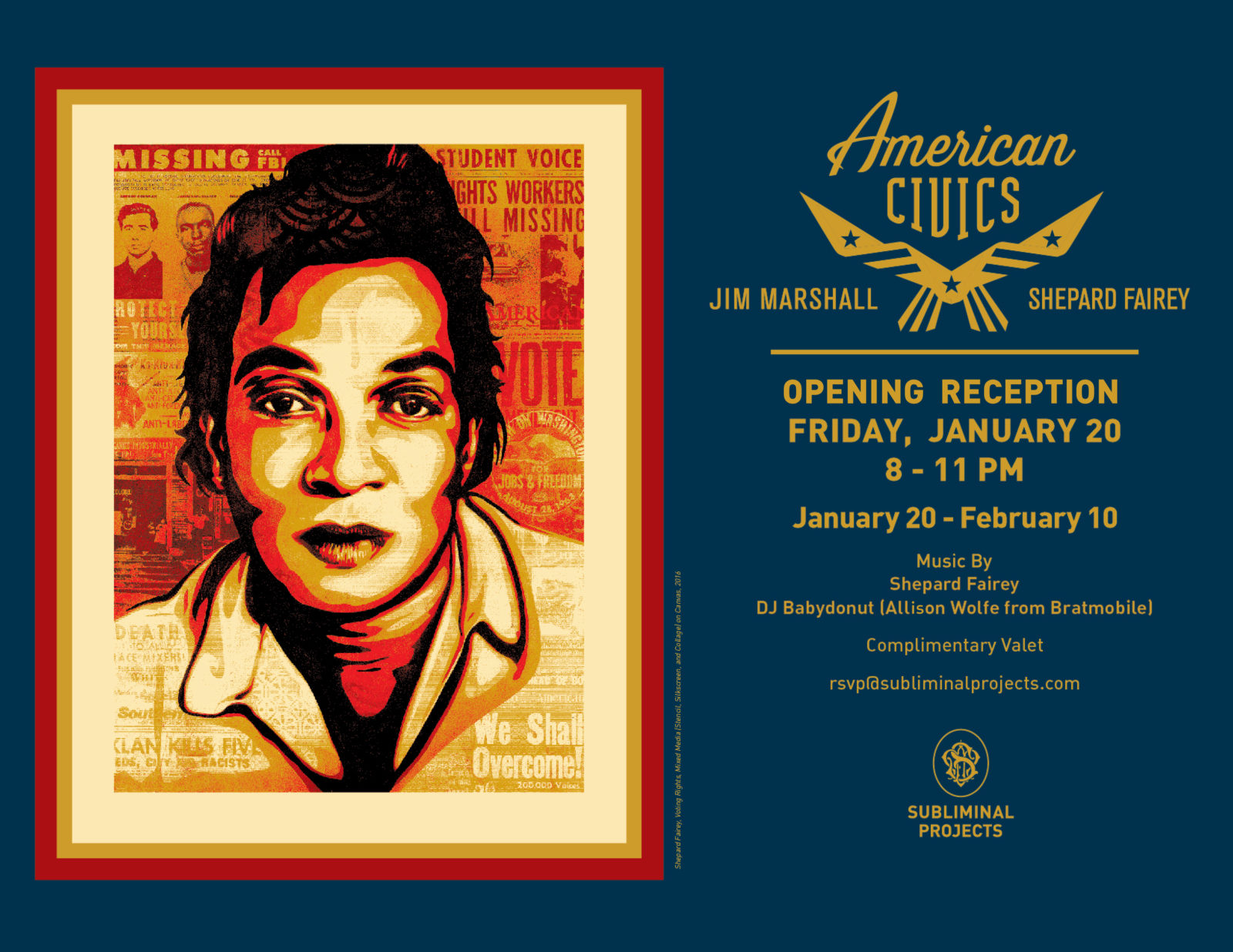 AMERICAN CIVICS: 
A Collaboration by Artist Shepard Fairey and Photographer Jim Marshall's Estate Opening Reception: Friday, January 20 Exhibition Dates: January 20 - February 10 Location: Subliminal Projects (1331 W Sunset Blvd. Los Angeles, CA 90026)
"Jim Marshall documented some of the most important historical and cultural moments in our country. His photographs are amazing raw material to work with, and it's incredibly meaningful for me to create art based on these images. My aim was to amplify them by bringing something new but also remain true to the feeling that Jim captured. The thematic of 'American Civics' is very much in line with my own personal art practice of creating work that depicts complex ideas in relatable ways and empowers people to have a deeper understanding of the world around them. I'm very happy to have the collaboration on view alongside some of my own personal artwork." - Shepard Fairey
ECHO PARK - Subliminal Projects is pleased to bring
American Civics
to Los Angeles, featuring the first-ever collaboration between Shepard Fairey and the estate of legendary photographer Jim Marshall. The exhibit will showcase Fairey's interpretation of Marshall's iconic photography from the 1960's, as well as a collection of work by Fairey inspired by the current state of our political climate, with mixed media paintings on canvas, large format serigraphs, handcut rubyliths, works on wood and metal, as well as Jim Marshall's original photography.
American Civics
presents Fairey's depictions of Marshall's subjects - Johnny Cash, Cesar Chavez, and Fannie Lee Chaney, vividly portraying the humanity behind some of the country's enduring social justice issues:
Voting Rights, Mass Incarceration, Workers' Rights, Gun Culture,
and
Two Americas.
Seeking to tackle these issues,
American Civics
coupled with Fairey's other works presents both a historical and contemporary look at divisiveness and how these issues underscore the current tone and mood of the country. The work is intended to cultivate dialogue and encourage vigorous solutions to problems that have divided the country and eroded the core of American ideals. To further this effort, a portion of the proceeds from the collaboration will go to the following charitable partners dedicated to promote change for these five core issues:
The foundation of
American Civics
is a Fine Art Limited Edition series of five serigraphs:
Voting Rights, Mass Incarceration, Workers' Rights, Gun Culture,
and
Two Americas
. Each title is limited to an edition of 100 prints, and each is hand signed and numbered by Shepard Fairey, and stamped by Jim Marshall Photography LLC. There are four portfolios of the American Civics print series, which will include the Jim Marshall Limited Edition Estate photograph of each subject in a portfolio box designed by Fairey.
ABOUT JIM MARSHALL
Called the most celebrated and prolific photographer of the 20th century, Jim Marshall is widely known for his iconic music photography. Marshall photographed unguarded moments of his subjects, such as Janis Joplin lounging backstage with a bottle of Southern Comfort and Brian Jones and Jimi Hendrix strolling the Monterey Pop Festival fairgrounds. His camera captured Johnny Cash's groundbreaking concerts for prison reform at Folsom Prison and San Quentin Prison. In a career that ended with his untimely death in 2010, Marshall shot more than 500 album covers; his photographs are in private and museum collections around the world. Jim Marshall Photography LLC was established with the primary goal to preserve and protect Marshall's extraordinary legacy as a discerning photojournalist and a pioneer of rock-and-roll photography. The estate is continuing the legacy of Jim Marshall through sales and licensing, exhibitions, publishing, and the development of a comprehensive catalog as a reference for the totality of his life's work. The Jim Marshall Estate is proud to collaborate with Shepard Fairey in bringing awareness to the social justice issues that underscored Marshall's passion for photography and life. Learn more at
www.jimmarshallphotographyllc.com
.
ABOUT SHEPARD FAIREY
Shepard Fairey was born in Charleston, S.C. He received his Bachelor of Fine Arts in Illustration at the Rhode Island School of Design in Providence, R.I. While there he created the "Andre the Giant has a Posse" sticker that transformed into the OBEY GIANT art campaign, with imagery that has changed the way people see art and the urban landscape. His work has evolved into an acclaimed body of art, which includes the 2008 "Hope" portrait of Barack Obama, found at the Smithsonian's National Portrait Gallery. Fairey's 25-plus-year career started in 1989 with his sticker campaign. In addition to his guerrilla street art presence, the artist has executed more than 75 large-scale painted public murals around the world as of 2015. His works are in the permanent collections of the Museum of Modern Art (MoMA), the Victoria and Albert Museum, the Smithsonian's National Portrait Gallery, the Boston Institute of Contemporary Art, the San Francisco Museum of Modern Art, and many others. For more information, visit
www.OBEYGIANT.com
.
ABOUT SUBLIMINAL PROJECTS
Subliminal Projects is a multifunctional gallery space promoting diverse forms of art while providing a forum for contemporary dialogue. It was established by Shepard Fairey and Blaize Blouin in 1995 and played an integral part in introducing skateboarding culture and design to the art world. Now located in the historic neighborhood of Echo Park, Subliminal Projects continues to offer a platform for artistic exploration and innovation. Gallery hours are Wednesday through Saturday from 12 to 6 pm.