When I first discovered the work of Steve Keene in the 90s, I was fascinated by his process of working quickly to create multiple versions of paintings that would allow him to keep the prices low, yet make each painting an original. I soon realized that he was addressing a lot of the coolest indie scene subject matter and that from any of my diverse interests there was probably some connection only a few degrees of separation from Keene. I was really excited about the work he's done for his show "Modular Synthesis," that opened at my gallery Subliminal Projects in 2016. The exhibition featured his interpretations of classic album covers and hip Los Angeles landmarks, as well as the debut of his Tattooed Plywood pieces. This guy must be the most prolific artist of all time and his process is fascinating. Steve Keene released his first-ever limited edition art book that tells the story of his career by showcasing the work from his show, produced by co-curator of Modular Synthesis, Daniel Efram, and they are having a release party for it in Los Angeles on July 28th, see below for more details!
– Shepard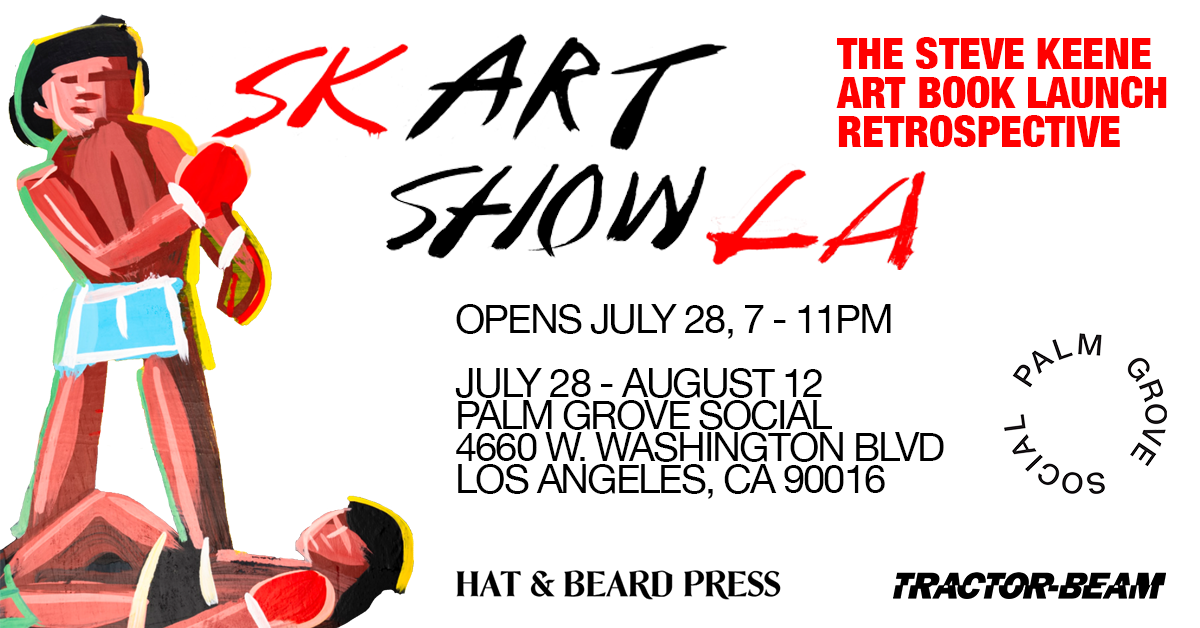 #SKartShowLA Los Angeles Exhibition At Palm Grove Social July 28 – August 12
Opening Party To Feature Performance By PAINT
Artist's Return to City That Sparked the 6-Year Journey Behind The Steve Keene Art Book. From July 28 – August 12, Steve Keene will return to Los Angeles for his first-ever 30-Year Retrospective Show celebrating the release of The Steve Keene Art Book out now via Hat & Beard Press.

The opening party will be held on Thursday, July 28 from 7pm – 11pm at the centrally located Palm Grove Social, 4660 W. Washington Blvd, Los Angeles, 90016 in Mid-City. Besides the rooms full of Hand Painted Multiples, Album Art Tributes and oversized murals, the #SKArtShowLA July 28 kick-off will feature the psychedelic musings of Los Angeles' own – and Allah-Las guitarist – Pedrum Siadatian's band PAINT, performing a set from their latest Mexican Summer records release Spiritual Vegas (2021).
Keene's long-awaited return to Los Angeles follows the show that proved to be the inspiration behind the book: his 2016 "Modular Synthesis" month-long stay at Shepard Fairey's Subliminal Projects gallery, where Efram saw Keene sell more than 500 pieces on opening night with lines stretching out the door and around the block in Echo Park.