About
Henry Rollins has a birthday coming up that only comes along once every half century… YES, he's turning 50. This calls for a Rollins fortnight celebration with two prints spanning 30 years. This week the ROLLINS 50 tour poster drops. Next week on 2/13/11 I'll release a print collaboration with Glen E. Friedman based on a Black Flag '81 shot. . I hold Henry in high regard for his many talents as a singer, writer, radio DJ, TV host, political and social commentator, etc… but above all I love his energy and gusto. Henry has been doing it his way hardcore for 30+ years. This 50 poster is ridiculous not because Henry is getting older, but because Henry would never lounge around long enough for the reaper to get a jump on him. Check out the intense
schedule of shows
and
projects
Henry has coming up.  Rollins' shows never disappoint  and you can get him to sign your print!
-Shepard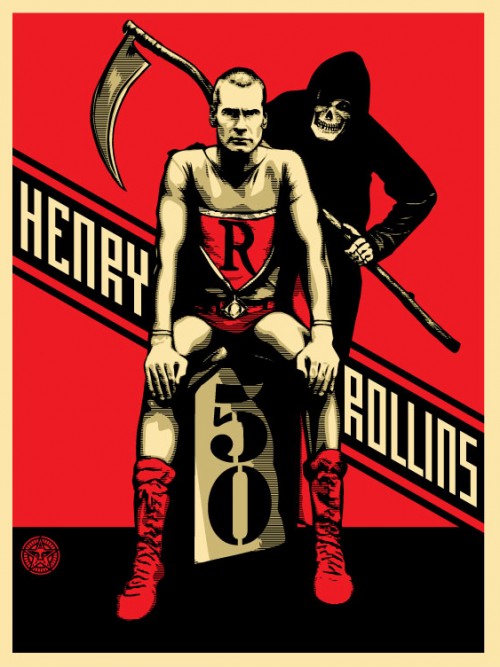 18 x 24″ Screen Print, Signed and Numbered Edition of 700.  $45.
Reference Photo by Chapman Baehler
Release Date: 2/4/11    SOLD OUT
Only 200 available on the website, the rest of the edition will be sold at Henry's shows.
Photograph by: Chapman Baehler who worked previously with Shepard on Billy Idol's Devils Playground cover.