About
There were a few alternative tag lines for this poster including:
WHY DO I NEED A GUN?-¦ TO PROTECT MYSELF FROM THE PEOPLE WHO WANT TO TAKE MY GUNS AWAY!
WHAT DO YOU MEAN AMERICANS WON'T ADOPT THE METRIC SYSTEM?-¦ WE USE 9MM'S ALL THE TIME!
I began this print before the recent shootings in Arizona inspired by Nevada Tea Party nut job Sharron Angle's comment that "if congress keeps going this way, people are looking for 2nd Amendment remedies"
The 2nd Amendment reads:
"A well regulated Militia, being necessary to the security of a free State, the right of the people to keep and bear Arms, shall not be infringed."
It was adopted in 1791 shortly after the revolutionary war in which the colonies had freed themselves from an English monarchy that gave the colonies no representation. The wisdom of the 2nd Amendment was to ensure that a state militia could combat dictatorial oppression. I would assert that putting easily concealed handguns in the hands of a large portion of the civilian population was probably not what the founding fathers had in mind.
My concern over violent rhetoric in politics and the very easy access to guns seems reasonably well founded. I'm not blaming violent rhetoric for the shootings committed by a mentally ill man, but it can't help. Inciting hostility is just uncivilized and irresponsible. I'm perplexed by America's love of hand guns. I grew up in South Carolina hunting with my dad and we always had shotguns in the house. My dad put a framed piece in my room that said "A wise hunter once said: all the Pheasants ever bred won't repay for one man dead". I was taught to honor and value human life. Whatever your feelings are about hunting, you can't easily conceal a shotgun, but you can use it to defend your home. Hand guns are too easy to misuse. A lot of people claim to own hand guns for self-defense, but check out the statistics below. Hand guns lead to intentional or unintentional misuse far more often than they are used for justifiable, self-defense related homicides. Even southern boys Lynyrd Skynyrd seem to get it!
Check out these lyrics from Saturday Night Special:
Big Jim's been drinkin' whiskey
And playing poker on a losin' night
And pretty soon, Big Jim starts a thinkin'
Somebody been cheatin' and lyin'
So Big Jim commences to fightin'
I wouldn't tell you no lie
And Big Jim done pull his pistol
Shot his friend right between the eyes
Mr.Saturday night special
Got a barrel that's blue and cold
Ain't no good for nothin'
But put a man six feet in a hole
Self Defense
For every time a gun in the home is used in a self-defense homicide, a gun will be used in:
-¢ 1.3 unintentional deaths
-¢ 4.6 criminal homicides
-¢ 37 suicides
In 1997 there were 15,690 homicides.
-¢ Of these, 8,503 were committed with handguns.
-¢ Among handgun homicides, only 193 (2.3 percent) were classified as justifiable homicides by civilians.
For every time in 1997 that a civilian used a handgun to kill in self-defense, 43 people lost their lives in handgun homicides alone.
For more handgun statistics check out www.vpc.org/fact_sht/hgbanfs.htm
Thanks for caring.
-Shepard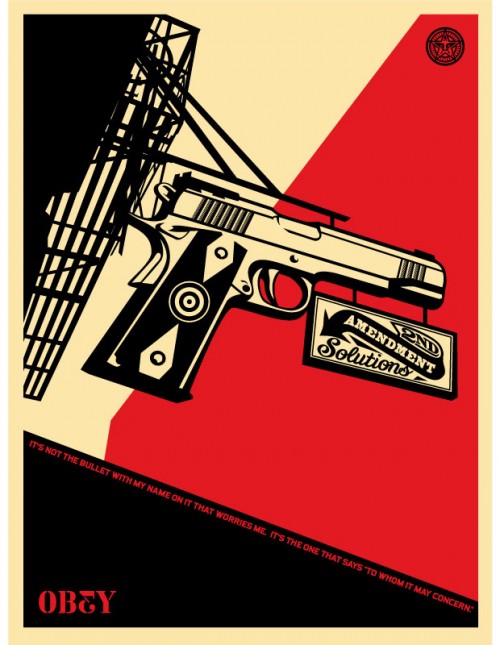 18 x 24″ Screen Print, Signed and Numbered Edition of 450.  $45.
For release on 1/21/2011 at a random time.   SOLD OUT