Only 3 days until the People's Climate March!
Most of you know that I am very concerned about the dangers of climate change.  Dick Cheney said "if there is even a 1% chance of a terrorist attack, we must do everything in our power to be prepared". 95% or more of the scientific community agrees that climate change is happening, and is a dramatic threat to the planet, yet far less is being done to fight climate change than to fight terrorism.
It's a good thing the streets of New York will be flooded soon — with hundreds of thousands of people demanding solutions to our out-of-control climate crisis. It's both an honor and a calling of my conscience for me to contribute a poster to the People's Climate March effort and get something urgent across about one of the biggest threats facing present and future generations. Lady Liberty and all of us are in trouble if we don't push our leaders to take bold action.
-Shepard Fairey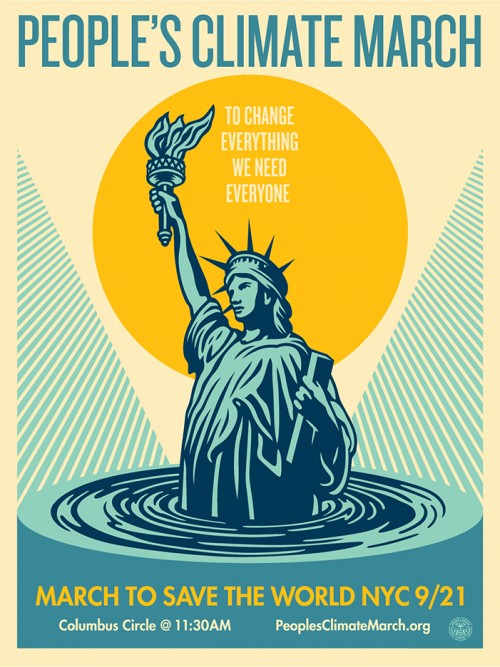 SOLD OUT
18 x 24 inch screen print on Speckletone paper.  Signed and numbered edition of 300.  Limit 1 per person/household.  $55, proceeds go to PeoplesClimateMarch.org.
Release date: September 18, 2014 at 10am PST in PRINTS.
You can download the poster FOR FREE here
**  ATTENTION **  Orders will ship week of Sept 29th.  Thank you for your patience.