I was invited by my friend, curator, and frequent collaborator, Pedro Alonzo to be part of the Open Source project he put together with the Philadelphia Museum of Art and The Philadelphia Mural Arts program. I love the concept of Open Source because I believe in democratizing art and using art as a way to disseminate images with social commentary. My art has always had a viral component, but the Internet has allowed me to not only share my work with a much larger audience, but also to provide digital tools to that audience to help spread my images if they believe in the messages. I chose to focus on mass incarceration for my contribution to Open Source because I think the true costs and problems of the current system need to be addressed, and prison reform is needed. Prison reform is a complex topic, but please check out the Vice examination of the issue HERE. I designed two prison reform murals for the Open Source project. I will be painting one with my assistants while the other will be painted by the inmates who are part of the Mural Arts program at Graterford Prison. The inmates can't leave the prison so they paint on parachute material which is then adhered to the outdoor wall with acrylic gel medium. Both murals are about de-stigmatizing incarceration. Seventy million Americans have a criminal record (I'm one of them) and when re-entering society it is important that these people have training and ways to overcome the label of "ex-con" that can be so stifling to opportunities. I chose to present, within stamp style compositions, a man and woman who were incarcerated, but are now doing inspiring and noteworthy things with their lives. I also included some relevant statistics about incarceration in the art. In addition to my public art contribution to the project, free stickers will be offered, and a selection of my prison reform images are available for free HERE.
The stickers will be available at: The Hub Space 30 S. 15th Street, Philadelphia, across from Dilworth Park. They will also be available during the talk I'm doing at the Philadelphia Museum of Art, the panel I'm in with Rich Miner on Thursday morning, the DJ event on Friday night, and the Restorative Justice Panel on Saturday. I have to mention that it was very difficult to find property owners willing to showcase prison reform themed murals. I admire the courage and humanity of those willing to showcase the art. I was especially moved by the American Friends Service Committee, a part of the Quaker organization, who see prison reform as part of their mission to create peace, justice, and equality in the world.
I'm very grateful to those with enough courage, compassion, and basic humanity to care about this issue and see a need for emphasis on rehabilitation rather than indefinite incarceration. Recidivism rates for those people in prison arts programs is 50% lower than for typical parolees.
Thanks for caring!
-Shepard
Check out the video and click below for links to the event pages:
Shepard will be in Philadelphia this week as part of the City of Philadelphia Mural Arts Program 'Open Source,' Philadelphia's month-long, citywide celebration of innovation and public art. The program is the nation's largest public art program, transforming the city of Philadelphia into an Open Source space including: an exhibition of 14 new public artworks on display throughout the city, a variety of tours, both docent-led and self-guided, and a central venue which will feature artist Q and A's and extensive documentation of the new citywide undertakings. In addition, numerous workshops, lectures, film screenings, and other exciting events co-led with partnering organizations around Philadelphia will be taking place.
As a part of this project, Shepard will be speaking at two events:
The first event takes place Wednesday, October 14, where Shepard will expound upon the influential work of Jasper Johns. The event will be held at the Philadelphia Museum of Art from 6:30pm – 7:30pm, more information available here: Shepard on Johns at the Philadelphia Museum of Art
The second event takes places the following day, Thursday, October 15, at The Fillmore Philadelphia entitled "Free License: Open Source in Art and Technology with Shepard Fairey and Rich Miner." The two will discuss how people are adopting more open methods in the creative fields and why personally, they have made their intellectual property available to everyone. More information available here: Free License with Shepard Fairey and Rich Miner
In addition, on Friday, October 16, the Philly DJ Mural Project Block Party will kick off at 6pm, featuring a mural designed by Shepard. Check out the Facebook event page for details on the block party HERE.
To register for the talks and view a comprehensive list of all the events, CLICK HERE.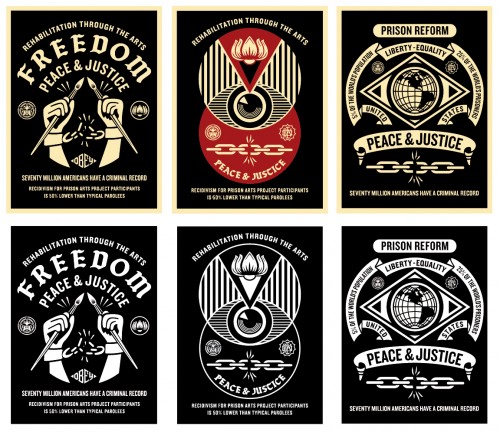 Click here for a free printable PDF version of the 6 graphics above