OPERA GALLERY DUBAI IS PROUD TO PRESENT SHEPARD FAIREY
Explore the world-renowned contemporary artist's first show in the region titled 'Future Mosaic'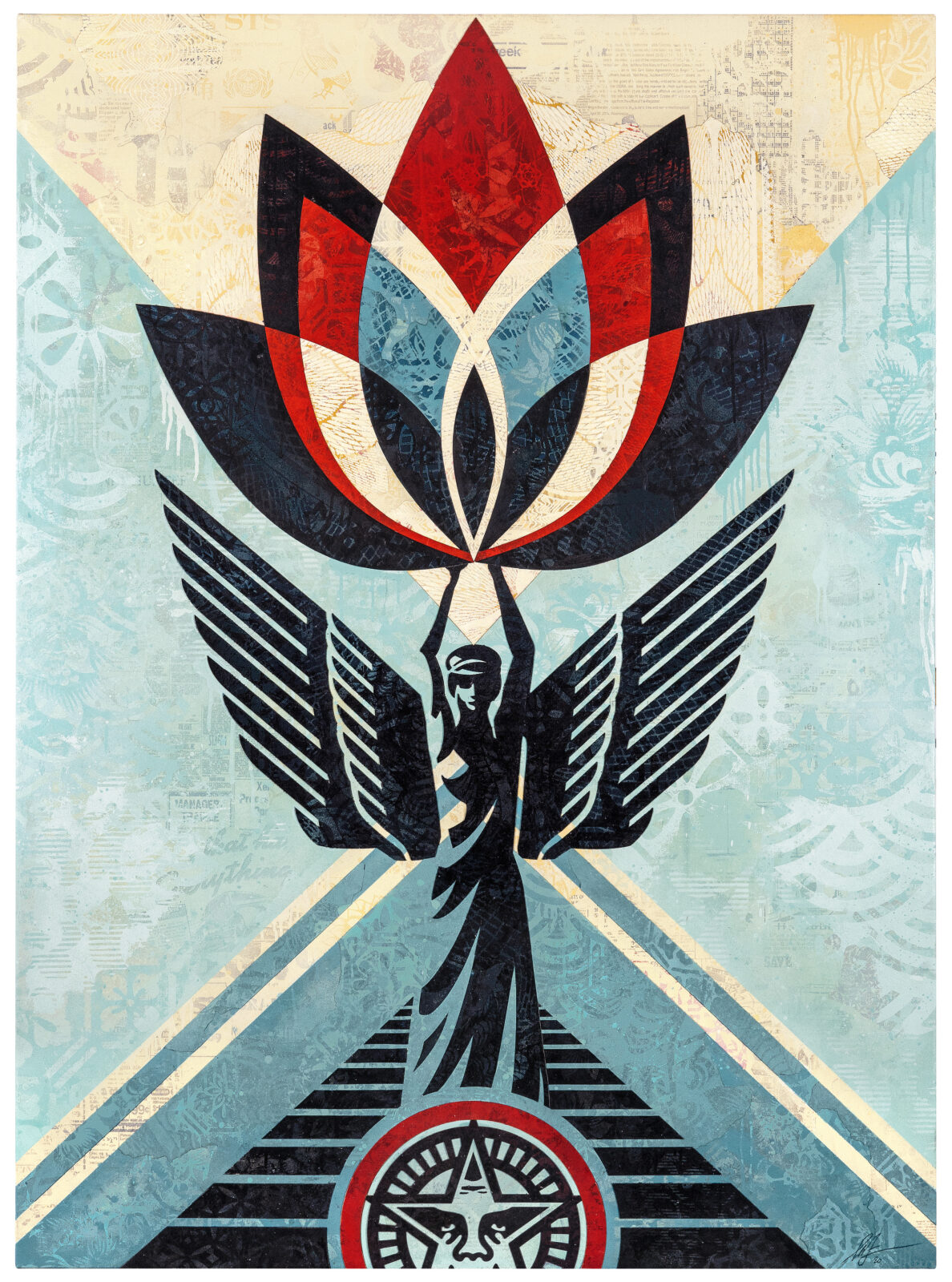 Dubai, UAE, February 2021 – Opera Gallery is excited to unveil that Shepard Fairey will be showing his very first exhibition of the year at the Dubai gallery in March 2021.
Titled 'Future Mosaic', the exhibition will feature new works on canvas, paper, wood, and metal, as well as examples of iconic images and repeated motifs from the breadth of his artistic history. Sylvain Gaillard, Director at Opera Gallery Dubai commented,
"We are incredibly excited to host Shepard Fairey, one of the world's most renowned contemporary artists, and his 'Future Mosaic' exhibit at our Dubai outpost."
"This exhibition has been in the works for more than a year and is a great note to start the new year on as Dubai sets the world standard for cross-cultural communication and cooperation," he added.
'Future Mosaic' is a reflection of Fairey's multi-medium art practice that is more than just a collection of individual images, but an intentional, cumulative mosaic of unique but aesthetically and conceptually related pieces that go beyond mediums and contexts.
As part of his Dubai tour this spring, Shepard Fairey will, additionally, be creating an exclusive mural at an undisclosed location in the heart of Dubai that is set to form one of the many landmarks that dot one of the world's most visited destinations.
"I'm very excited to show in Dubai. I'm a big fan of the Middle East and its rich culture. The work I'll be including for this exhibition is cross-cultural and breaks all superficial barriers and stands for the same values as Dubai: justice, peace and human rights," commented Fairey, expressing his excitement at the exhibit.
From silk-screened stickers to museum surveys, the trajectory of Shepard Fairey's art has progressed from imagery you might find on a skateboard deck to his iconic image of Former U.S. President Barack Obama that hangs in the Smithsonian's National Portrait Gallery, Washington DC. Fairey began his journey as an artist in 1989, while at Rhode Island School of Design studying for his Bachelor of Fine Arts in Illustration, Shepard Fairey created the "Andre the Giant has a Posse" sticker that later evolved into the all-encompassing OBEY GIANT brand. In 2008, his portrait of then-Democratic candidate Barack Obama became an internationally recognized emblem of hope. Since then, Fairey has hand painted more than 105 public murals, becoming one of the most sought-after artists in the world, helping change the way people converse about art and view the urban landscape.
The Opera Gallery exhibition in Dubai features a large number of new works that point toward Fairey's development, but it also includes classic imagery that has been refreshed and reflects on his history of image-making. Fairey's rich use of pattern along with motifs influenced by a variety of cultures throughout history, including ornamentation and references to Middle Eastern and Arab symbology, come together harmoniously.
These compositions appear to be metaphorical for his ideas about people working together for the betterment of society. Ideally, this communication can function as a kind of homogeneity, where viewers from distinct backgrounds can find something of themselves within the composition without the imagery being closed off to others.
Like Shepard Fairey's formative sticker campaign in 1989, the importance of exhibiting and installing public works around the world allows for greater communication and engagement with concepts important to the artist. And while the artist has addressed many important issues pertaining to the Middle East, exhibiting and installing a public work in Dubai furthers this initial idea that began as an art student when he first placed his artwork in the public square.
"I hope that people will get an understanding of my belief that we are world citizens and that we all have a lot in common. The principles of respect, fairness, and equality should be global traits and that art has a role in shaping people's attitudes about these principles," Fairey further added.
Visitors can spot Fairey's mural at a soon-to-be-revealed landmark location in Dubai and tag @operagallery, @obeygiant and #dubaigiant to join the social conversation.
Opera Gallery, Dubai welcomes you to experience Shepard Fairey's 'Future Mosaic' from March 2021 onwards. Appointments are by RSVP only, in line with health and safety protocols. Scan the QR code below to experience more.