My friend and artist, Diogo Machado, aka ADD FUEL, is opening his show YOUTH ETERNAL at my gallery, Subliminal Projects in Los Angeles this Saturday, 11/12 @ 7-10pm. To attend the opening reception, please email: [email protected]
ADD FUEL's art functions on several levels literally and metaphorically. His pieces master the aesthetics of traditional Portuguese tile work while adding his own playful character illustrations subversively woven into the designs. These two seemingly disparate styles are so elegantly blended together that discovering the oddity within the harmony is both bizarre and joyful. The actual and faux rips ADD FUEL incorporates into his art are more than just a nod to paper, the common material of modern street art, they're also a provocative bit of visual dissonance since tiles don't rip. Despite the incongruity of tiles and rips, ADD FUEL's visually seductive compositions evoke a sense of time passed and a story behind each layer.
–Shepard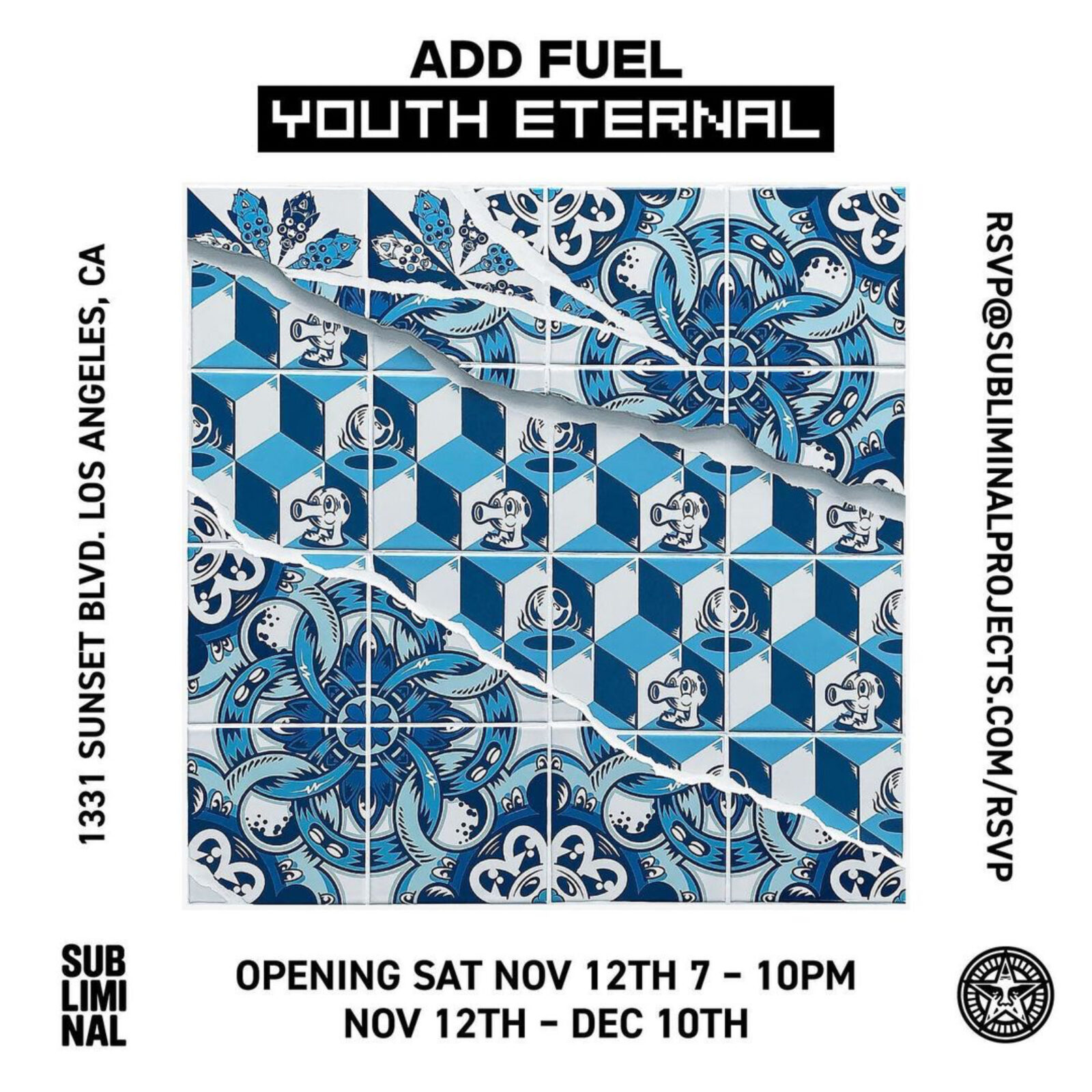 Subliminal Projects is pleased to present YOUTH ETERNAL, by Portuguese artist Diogo Machado, aka ADD FUEL. In his inaugural Los Angeles solo exhibition, ADD FUEL debuts a series of works and projects that intimately narrate a transition from adolescence to maturity, presented through the artist's diverse practice. The exhibition features an installation of his signature tile-based works, sculpture, a public mural at Subliminal Projects' favorite local watering-hole Little Joy in Echo Park, and a collaborative limited edition screenprint with gallery founder Shepard Fairey, to be released in conjunction with the opening of the exhibition.
"In my work, I always suggest an adventure, a journey through focused attention in the composition, and the discovery of nuance through layers, patterns, allegories, and the unstoppable constructive dynamism of the story I present in each piece. It guides the viewer to discover intricate details, and a story over time, in each work I comprise in YOUTH ETERNAL." –ADD FUEL
Rooted in a post-modern reinterpretation of traditional Portuguese Azulejo ceramic tilework that dates back to the 15th century, ADD FUEL expertly fuses historical craft with modern material, concept and design. YOUTH ETERNAL, expands on his signature style with focus on a sentimental weaving of the past and the present through pop culture references from his youth within complex traditional patterns, creating a poetic rhythm of storytelling drawn from memories of his Portuguese origin and nostalgic youth.
ABOUT ADD FUEL
Diogo Machado (1980) aka Add Fuel is a Portuguese visual artist. His practice focuses on reinterpreting and playing with the language of traditional tile design, and that of the Portuguese tin-glazed ceramic azulejo in particular. Blending traditional and contemporary elements, his original vector-based designs and stencil-based street art reveal an impressive complexity and masterful attention to detail. He has been showcasing his work in both solo and group exhibitions since 2006 and participating in some of the world's leading urban art events.
For more information on Add Fuel's work visit addfuel.com, or follow him on Instagram at @addfuel.