My friend NoName and I collaborated back in 2020 on a print inspired by my cover for George Orwell's "Down and Out in Paris and London" and our mutual irritation with greed and the brutality of many aspects of capitalism. NoName and I are both frustrated by the forces which convince much of the public to fall in line with a system that grinds them (and most of us) in its gears, and contributes to feelings of insecurity. With that in mind, don't buy this print if you should use the money for something better or nothing at all. Should you think it over and still want a print, your money will support NoName's public art endeavors and survival within the gears of capitalism… oh, and mine too! We both appreciate the support. NoName wrote about the print in greater depth, so please read his full statement below!⁠
–Shepard⁠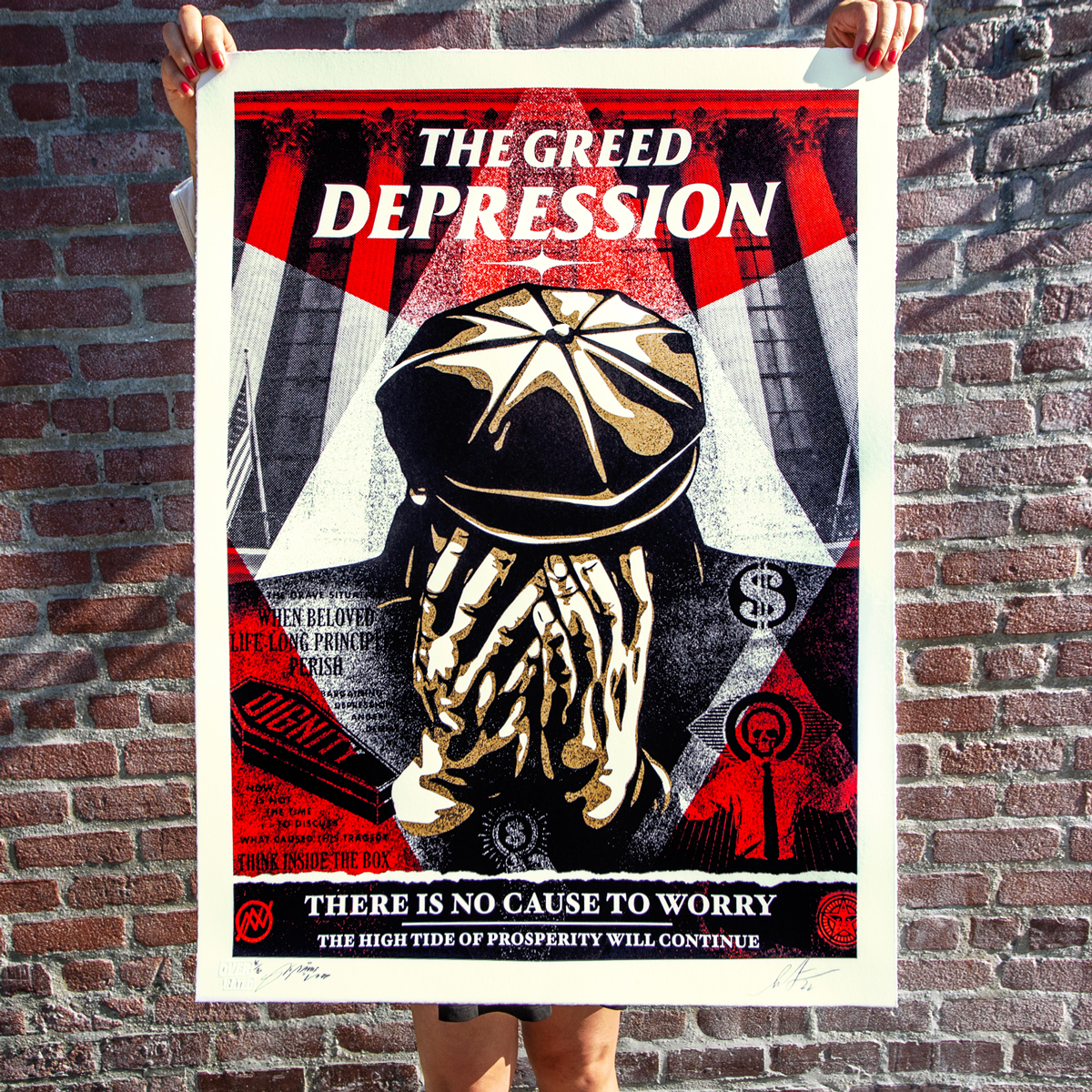 I was introduced to George Orwell's novels back in the late '90s through my English teacher, an insignificant-looking sarcastic little man, who mantra-like implanted us the adage "use your common sense."
Nearly one decade later, I rediscovered Orwell's books – and thoughts – through the appealing cover layout design by the kindred spirit street art activist Shepard Fairey, who I'm glad to call a friend today for many years.
Shepard and I were discussing his illustration for "Down and Out," which he actually, for some reason, hadn't made as a print edition yet.
Due to the fact that Orwell's dystopian books were/are one of the leading inspirations for our philosophy and work, Shepard offered to team up and use the illustration for a collaboration.
Related to the illustration, I was remembering a "spontaneous" street intervention I made based on the wordplay "The Greed Depression" as a reflection of a mood that you can notice in almost every wealthy place around the globe.
The idea behind the artwork is to examine the false promise that a neo-liberal capitalist system based on greed and ignorance gives equal possibilities and will provide wealth and prosperity to everyone in our society.
In fact, this misbelief is especially devastating to the working class people whose hopes and dreams to participate and benefit from this unequal "game" are mainly ending up in a great depression.
Public assets such as water, education, or human needs such as housing or public health care, became an investment for speculators and an increasingly more unattainable luxury for just a few.
I strongly believe that we as human species are still able to change the direction of a train out of control that is racing toward a cliff, but we seriously should worry about what happens if we don't change direction!
– No Name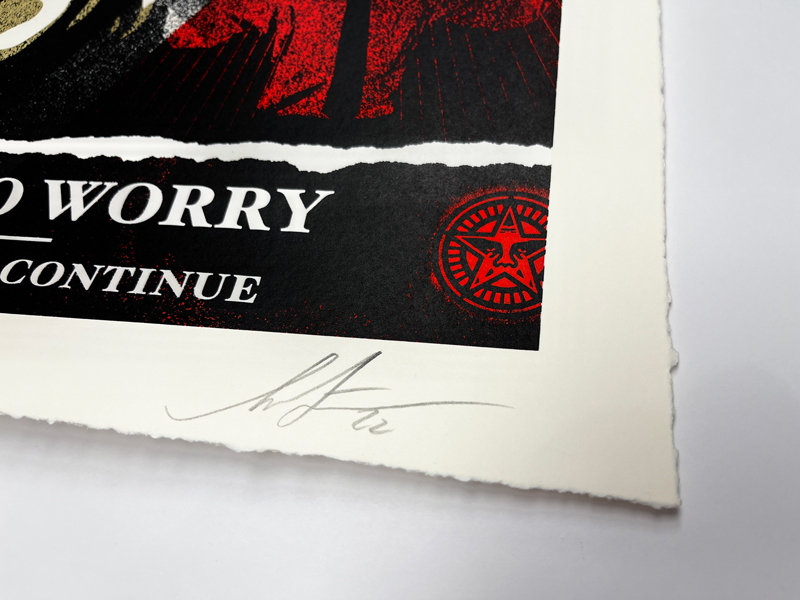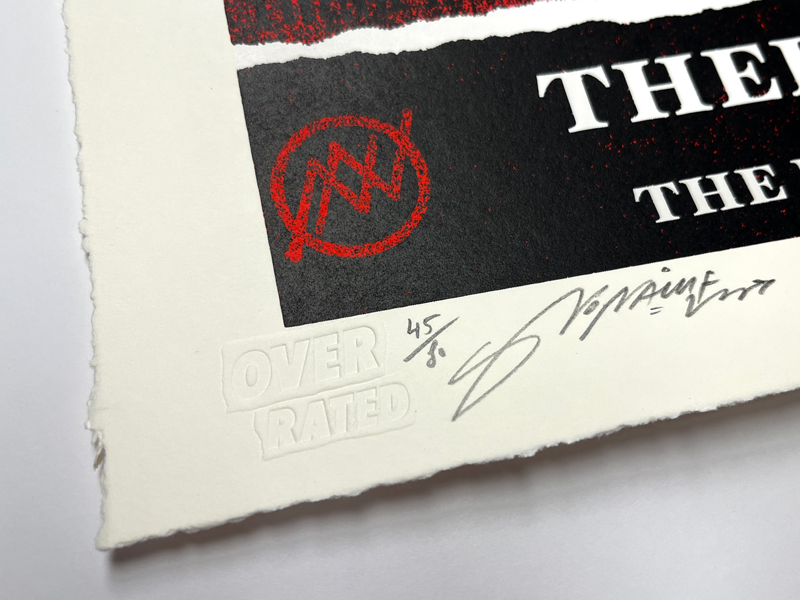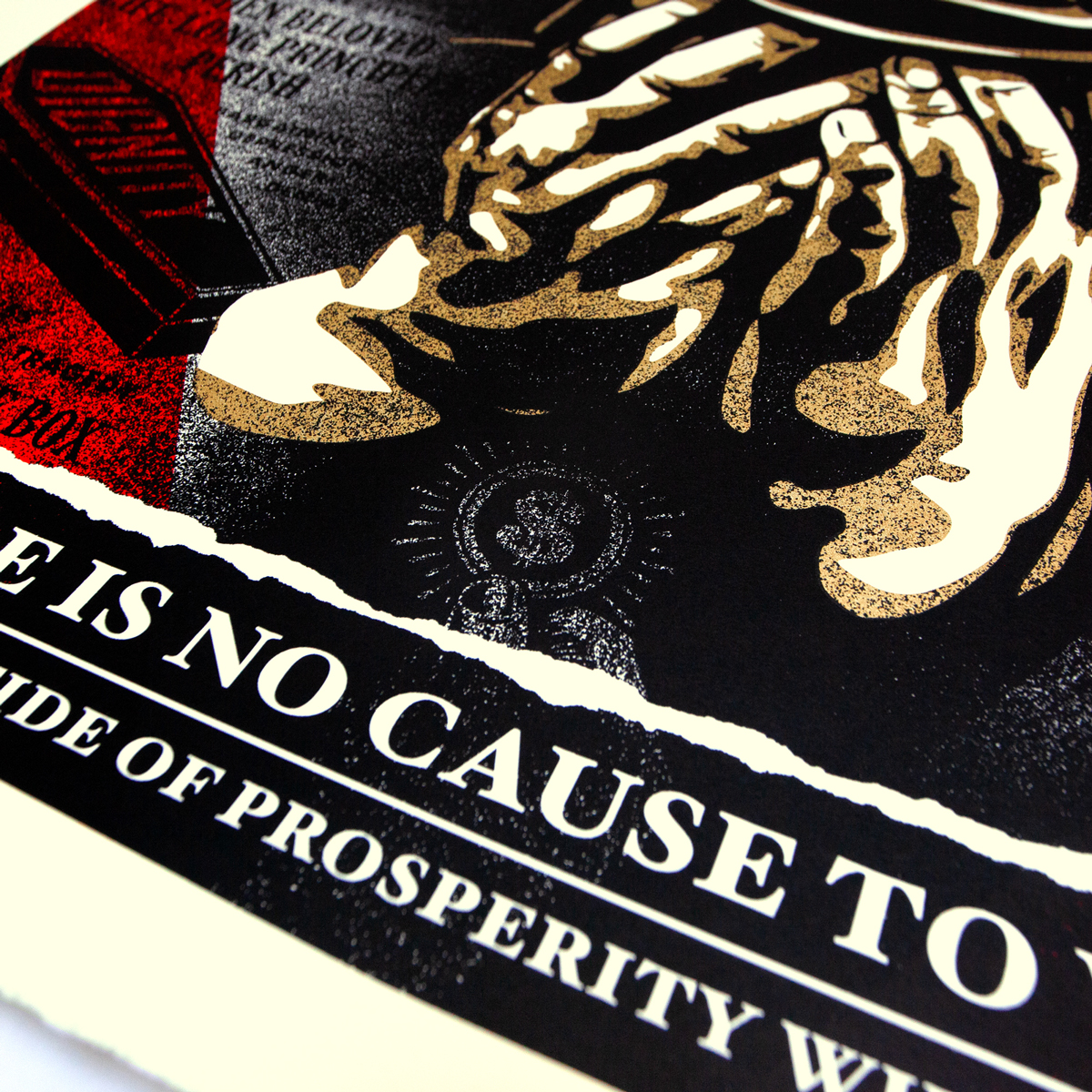 PRINT DETAILS:
The Greed Depression Large Format. 23.75 x 31.5 inches. Fine art print on 100% cotton archival paper with hand-deckled edges. Signed by Shepard Fairey and NoNAME. Numbered edition of 80. Comes with a Digital Certificate of Authenticity provided by Verisart. $800. OverRated publishing chop in lower left corner. Available on Thursday, June 29th @ 10 AM PDT at https://store.obeygiant.com. Max order: 1 per customer/household. International customers are responsible for import fees due upon deliver. ALL SALES FINAL.