I am creating visuals and working as an executive producer on an amazing new TV series called Rebel Music. As a fan of musicians like The Clash, Public Enemy, Bob Marley, and Rage Against The Machine, I am a huge believer in the power of art and music to serve as platforms for social and political commentary. Rebel Music mirrors the approach and philosophy I've embraced throughout my entire career – art as a catalyst for social change. I believe in this project passionately because it highlights REAL people struggling with  REAL issues in regions of the world where the same freedoms we take for granted in the U.S. are being fought for daily. The people featured in Rebel Music are courageous and inspiring in their use of music and art to push for justice and humanity. MTV World has the ability to reach a huge audience and give voices to young people highlighting the power of the combination of music, art, and activism. If you are like me, and you'd like to see more programming that gives voice to creative people with great ideas questioning orthodoxy, please tune in to Rebel Music and spread the word about it!  I'm excited to be working with the Rebel Music team on such a vital project for today's generation. Avoid apathy!!!… take a look at the Rebel Music trailer.  Here is an LA Times piece about the show too.  Also, click below for a synopsis of the six episodes, which are all amazing.
Thanks for caring.
-Shepard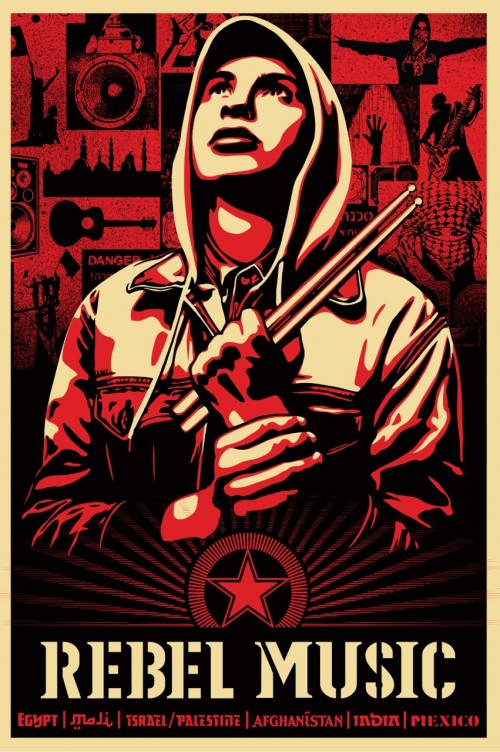 The six episodes of "Rebel Music" include:
·       "Egypt" (premieres November 18, 9:00 p.m. ET/PT): On the first anniversary of the new Egyptian president Morsi's election, 33 million people took to the streets in the largest protest in history. "Rebel Music Egypt" introduces audiences to the brave civilians using protest songs and social media to revolutionize the mindsets that tainted their nation's past.
·       "Afghanistan" (premieres November 18, 9:30 p.m. ET/PT): "Rebel Music Afghanistan" sheds light on the young students and artists who are risking their lives by engaging in small acts of defiance – which include a young woman documenting her experience as she fights for her right to ride a bicycle, the first female rapper in Afghanistan who continues to sing despite death threats to her family, and a group of heavy metal rockers who refuse to stop playing their music. Going beyond the war-torn media headlines, these brave young optimists give audiences a glimpse into a rich culture evolving under intense pressure.
·       "Mali" (premieres November 25, 9:00 p.m. ET/PT): Mali, once the bustling center of West African music, sits on the brink of civil war. As radical Islamist groups clash with the government and the country reels from France's withdrawal of fiscal and military support, its citizens are under siege. "Rebel Music Mali" examines a defiant generation of musicians in Bamako who are rising up and rallying their countrymen for a return to democracy and freedom.
·       "India" (premieres December 2, 9:00 p.m. ET/PT): As shocking reports of rape in India continue to make international news, "Rebel Music India" focuses on the youth movement rising up against sexual violence. From working to change the media representations of women to ensuring their safety on the streets, artists, activists, rape survivors and civilians are fighting to end the systemic oppression of Indian women today.
·       "Israel/Palestine" (premieres December 9, 9:00 p.m. ET/PT): "Rebel Music Israel/Palestine" goes beyond newspaper headlines to tell the stories of musicians on both sides of the struggle who aim to build bridges of peace through their troubled, yet inspiring land. They embody the spirit of music as a unifying force strong enough to withstand violence and enmity.
·       "Mexico" (premieres December 16, 9:00 p.m. ET/PT): Tijuana, a town once known for its vibrant nightlife, has become a war zone plagued by drug-related violence after the 9/11 terrorist attacks shook up the global economy. Working to reclaim their city, local artists use their creativity to confront the issues and bring back a sense of cultural pride.
Illustration based on photo by: Nusrat Durrani