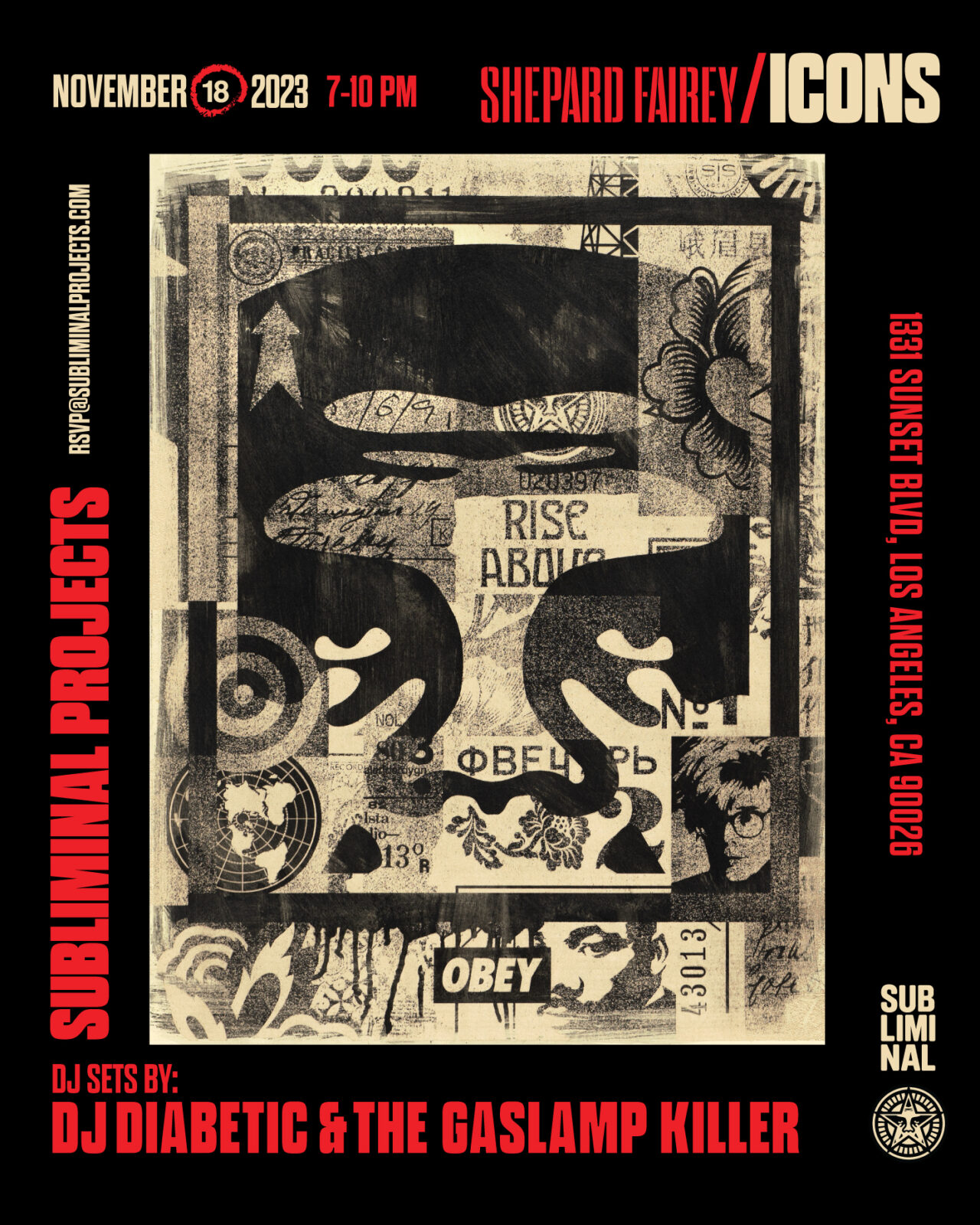 SHEPARD FAIREY: ICONS
OPENING RECEPTION
SAT NOV 18, 7-10 PM
[email protected]
EXHIBITION DATES
NOV 18 – DEC 30
SUBLIMINAL PROJECTS
1331 W Sunset Blvd
Los Angeles, CA 90026
Subliminal Projects is pleased to present ICONS, an exhibition by gallery founder Shepard Fairey. The exhibition will debut a new series and method of hand-embellished "mono-engravings," as well as screen prints on wood and metal, hand-painted multiples (HPMs), and modular works focused around Fairey's career-long investigation into iconography and phenomenology.
"Icons have the power to shape culture when they become widely recognized and resonant reference points that are easily understood shorthand for a concept. This exhibition is filled with images, symbols, emblems, and portraits that I classify as iconic and make up a portion of the iconography I've created throughout my career."
–Shepard Fairey
Beginning in his formative years as a teenager, Fairey's fascination with symbology is rooted in his intrinsic interest in skateboarding, and punk rock, whose branding and use of imagery made a statement by reducing images to their most potent essence. Later as a young art student and street artist with few resources, he drew and designed bold and minimal imagery, which easily translated to the streets – his primary domain. Consistency in technique, visual shorthand, and repetition of primary imagery, led the public to recognize Fairey's art.
As his artistic vocabulary expanded, Fairey understood that using identifiable symbols rendered in his unique style was the best way to communicate ideas effectively and memorably. Illustrations of creative and political individuals who have both subjectively and objectively become icons for their profound contributions to culture became another consistent facet of Fairey's practice. Whether he's amplifying his heroes or critiquing villains of the socio-political landscape, Fairey continues to explore the concept of what makes an icon and the many layers it can take on.
ABOUT SHEPARD FAIREY
Shepard Fairey was born in Charleston, S.C. He received his Bachelor of Fine Arts in Illustration at the Rhode Island School of Design in Providence, R.I. In 1989 he created the "Andre the Giant has a Posse" sticker that transformed into the OBEY GIANT art campaign and has since become one of the most sought-after and provocative artists globally, changing the way people converse about art and view urban landscapes. His art has evolved into an acclaimed body of work, which includes the 2008 "Hope" portrait of Barack Obama, found at the Smithsonian's National Portrait Gallery. His iconic "We the People" poster series sparked international dialogue about equality during the 2017 Women's Marches and represents the values he thinks American politics should uphold.
In addition to his activism and guerrilla street art presence, the artist has executed more than 130 large-scale painted public murals around the world. His works are in the permanent collections of the Museum of Modern Art (MoMA), the Victoria and Albert Museum, the Smithsonian's National Portrait Gallery, the Boston Institute of Contemporary Art, the San Francisco Museum of Modern Art, and many others.
For more information visit obeygiant.com or follow him on Instagram @obeygiant.
ABOUT SUBLIMINAL PROJECTS
Subliminal Projects is a multi-functional project space and gallery established by Shepard Fairey and Blaize Blouin in 1995 as a way to introduce skateboard culture and design to the art world. The concept grew and found roots later in Los Angeles, at a time when many artists found themselves shut out by the "art scene." Subliminal Projects emerged as a gallery that championed emerging and marginalized artists, built out of cultural importance to serve as a center for the community to openly express and spark dialogue about art, music, and activism. Now located in the historic neighborhood of Echo Park, Subliminal Projects continues to offer a platform for artistic exploration and innovation.
For more information visit subliminalprojects.com or follow us on Instagram @subliminalprojects.