UPDATE: AUCTION NOW LIVE!
London, UK and New York, NY. March 24, 2021–– Artist and activist Shepard Fairey, also recognized as OBEY GIANT, announced today that proceeds from his first original NFT (non-fungible token) art drop will be personally donated to Amnesty International via Verisart's Fair Trade Art certificate. The NFT, by Shepard Fairey, will be available in the 10×10 Verisart x SuperRare certified auction, in collaboration with SuperRare beginning March 29, 2021.
Fair Trade Art by Verisart, the leading blockchain certification platform for art and collectibles, is designed to bring artists and social impact organizations together for social good with NFTs. In the highly dynamic NFT marketplace, Fair Trade Art certificates by Verisart assures artists, collectors and the social impact organizations of the creative authentication and provenance of the NFT and transparency of sales to the artists' nominated cause.
Shepard Fairey believes in NFTs' ability to support and raise awareness for social causes: "In an attempt to manifest the ideals I champion in my art in the real world, I will be donating a portion of the proceeds from this work to Amnesty International to support their important human rights efforts. Using the Fair Trade Art certificate for my inaugural NFT sale, collectors will know what charitable cause the work supports."
"NFTs rewrite the rules of how artists communicate with both their audience and how they communicate creatively. And social causes are a critical part of expression in art. We are baking social impact into the foundation of the NFT world with Verisart's Fair Trade Art Certificate. Using blockchain, we're able to add important layers of trust and confidence into the system, whereby collectors, artists and the social organizations know with confidence that this is an authenticated NFT and that the funds will reach the right hands." said Robert Norton, CEO and co-founder, Verisart. Since 2015, Verisart has been at the forefront of applying blockchain certification for creative authenticity and trusted transactions.
By purchasing an artwork listed as Fair Trade Art, the buyer is assured that a transparent percentage of the sales goes to the artist's nominated cause. To a broader audience, the Fair Trade Art logo signals the virtues of exchange, fairness and equality in that piece of work.
The idea was born in 2018, partly inspired by a project between Verisart with Ai Weiwei, eBay and the New York Public Art Fund to raise awareness and funds for World Refugee Day and the UNHCR. Verisart Fair Trade Art certificate standard has previously been used by DACS, the not-for-profit visual rights management management organization, to support artists relief during the Covid pandemic.
In the Verisart and SuperRare 10×10 ongoing 10-week auction, whereby each week a different contemporary artist will launch an original NFT, several of the artists are linking their work to social causes via Fair Trade Art certificate by Verisart. Shepard Fairey, Universal Everything and Random International are some of the artists connecting their NFT to a social cause through Fair Trade Art.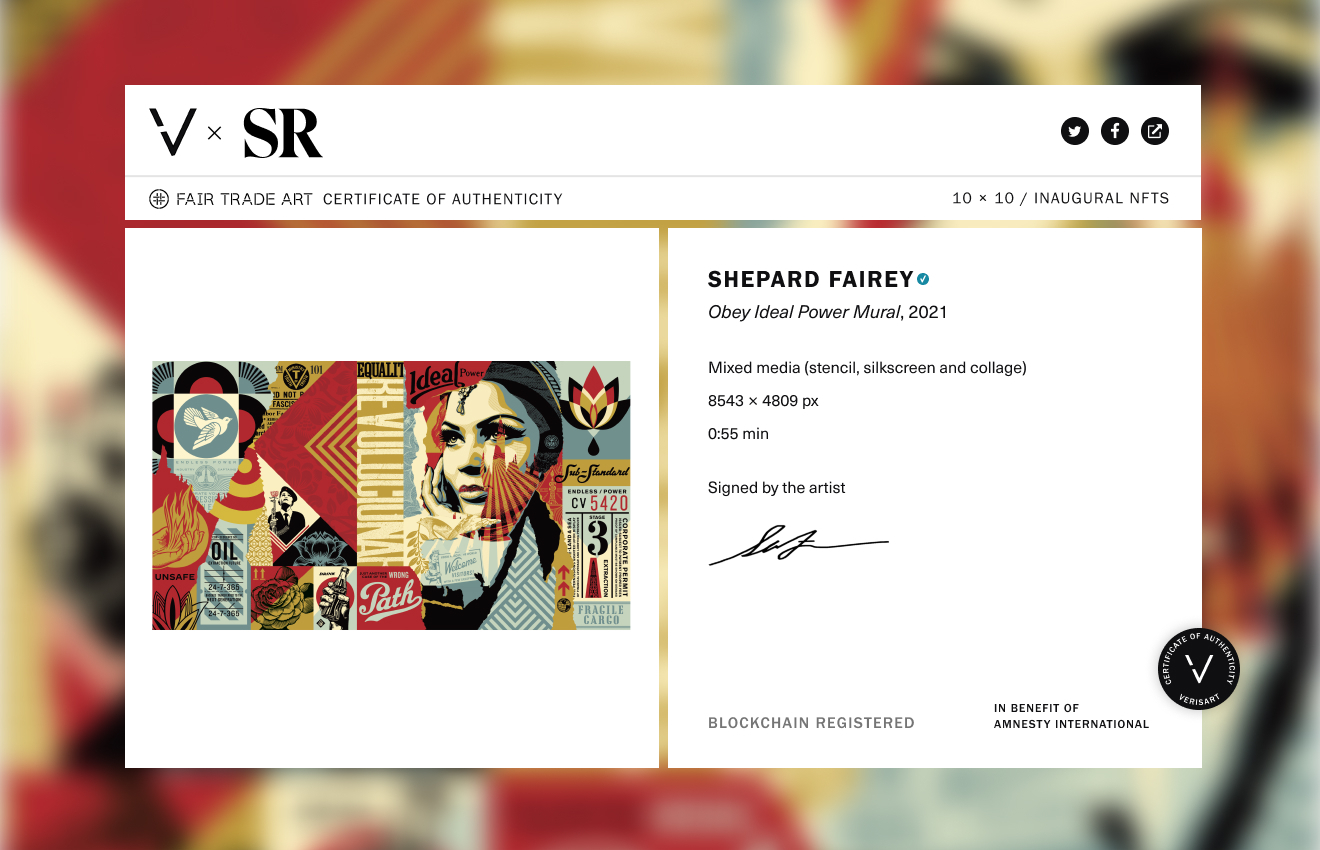 About Verisart
Verisart is an award-winning certification service enabling artists, galleries and collectors to create certificates of authenticity securely registered on the blockchain. Founded in 2015 as the first company to apply blockchain to certification in the art and collectibles market, Verisart has pioneered a new patent-pending global standard for certification. Over 20,000 artworks have been certified on the platform by more than 5000 artists including Shepard Fairey, Ai Weiwei, Jules De Balincourt, Penny Slinger and Derek Boshier.
Verisart was founded by Robert Norton (CEO) former CEO of Sedition, Saatchi Online, Managing Director of King.com North America, and Head of e-commerce at AOL Europe. Verisart's mission is to treasure creativity by facilitating trusted transactions and empowering artists and creators to establish their careers and legacies.
ARTIST BIO, Shepard Fairey
Shepard Fairey was born in Charleston, South Carolina. He received his Bachelor of Fine Arts in Illustration at the Rhode Island School of Design in Providence, Rhode Island. In 1989 he created the "Andre the Giant has a Posse" sticker that transformed into the OBEY GIANT art campaign, with imagery that has changed the way people see art and the urban landscape. After more than 30 years, his work has evolved into an acclaimed body of art, including the 2008 "Hope" portrait of Barack Obama, found at the Smithsonian's National Portrait Gallery. In 2017, the artist collaborated with Amplifier to create the "We The People" series, which was recognizable during the Women's Marches and other rallies worldwide in defense of national and global social justice issues.
Fairey's stickers, guerilla street art presence, and public murals are recognizable globally. His works are in the permanent collections of the Boston Institute of Contemporary Art, Museum of Modern Art (MoMA), the Museum of Fine Arts Boston, the San Francisco Museum of Modern Art, the Smithsonian's National Portrait Gallery, the Victoria and Albert Museum, and many others. Shepard Fairey has painted more than 105 large scale murals across five continents worldwide. For more information, visit www.OBEYGIANT.com.
About 10×10 Verisart and SuperRare auction
Verisart x SuperRare's 10×10 auction series, started on March 1, lasts for ten weeks, with a major contemporary artist dropping an original, Verisart certified NFT work on SuperRare each week. Each auction runs for 72 hours, closing on Thursdays at 6 p.m. BST/ 1 p.m. EDT. Artists include Shepard Fairey, Random International, Neïl Beloufa, Petra Cortright, Jonathan Yeo, Universal Everything, AES+F, Mark Titchner, Michael Joo and Rob Pruitt.