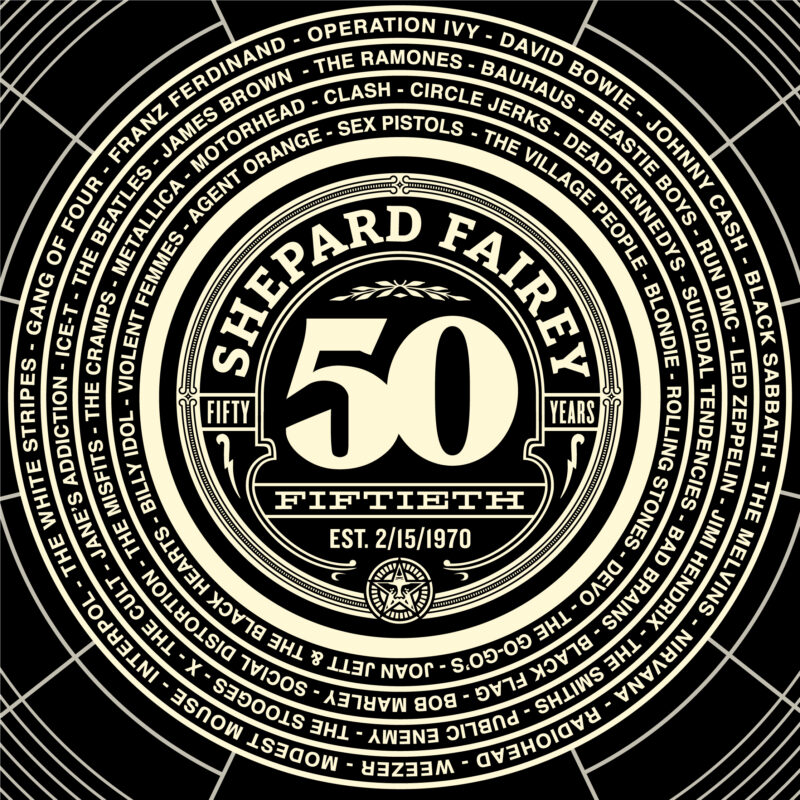 I have been a voracious music listener and record collector since I was a kid, and I've been DJ'ing for close to 20 years now as well. I listen to music constantly, and the songs that I listen to very often inspire my art. I can't imagine life without music. As my 50th birthday dauntingly looms, I considered all the music that has soundtracked and often helped to shape my life and came up with a list to share. My "50 at 50" playlist is woefully incomplete to paint the full picture of the songs, bands, artists, and albums that have made a profound impact on me and brought me so much joy over the years. The songs on the list represent important steps in my evolution, but they are not all necessarily my favorite songs by these musicians. Many of the songs represent gateways to an artist, a genre, or a subculture. I've listed the songs in the order that they came into my life, not when they were originally released. I'm well aware that the Stooges and Ramones preceded the Sex Pistols, but that's not the order of discovery for me. The wonderful thing is that great music holds up over time, and it is incredible to discover good music, whether it be new or old. The majority of the tunes are things I listened to in my teens and twenties because I think we all feel a strong connection to music you listen to as you develop a sense of identity. There are so many great bands from multiple genres that I tragically didn't have space to include, so I've included an afterword list as a supplement. I hope you enjoy a small window into my musical journey! Check out the interview I did with Spotify News HERE. -Shepard
Songs I discovered in my youth, years 1970-1979
"Y.M.C.A." // Village People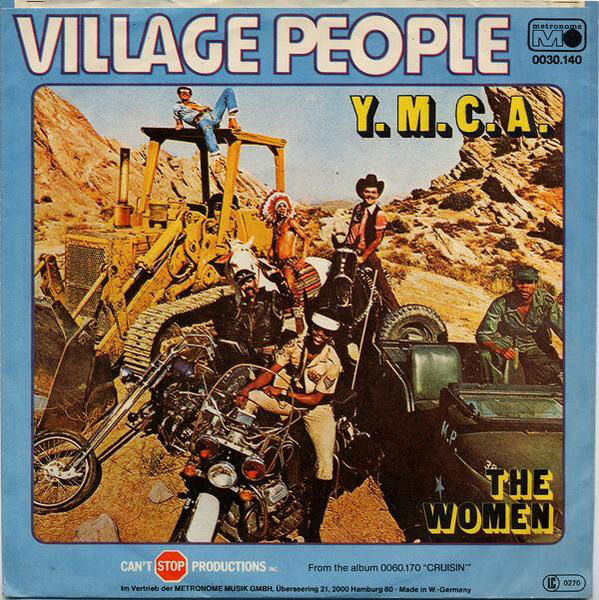 "Y.M.C.A.," a ridiculously catchy and exuberant bit of sugary dance-pop by The Village People, is the first 7-inch record I ever bought with my own money. I was eight years old, and my dad took me to Woolworths or somewhere like that. There was a wall of the top 20 pop singles in the nation, and Y.M.C.A. was at No. 2! I was deeply offended…and sure that a mistake must have been made. Y.M.C.A. was CLEARLY the best song in the world and should be No. 1! After I got into punk, I was pretty embarrassed that Y.M.C.A. was my first purchase until I realized how similar the disco hit and "Rock the Casbah" by the Clash are both in tempo and musical structure! Disco gets a bad rap from some, but I like how fun and inclusive/universal it is.
"Heart of Glass" // Blondie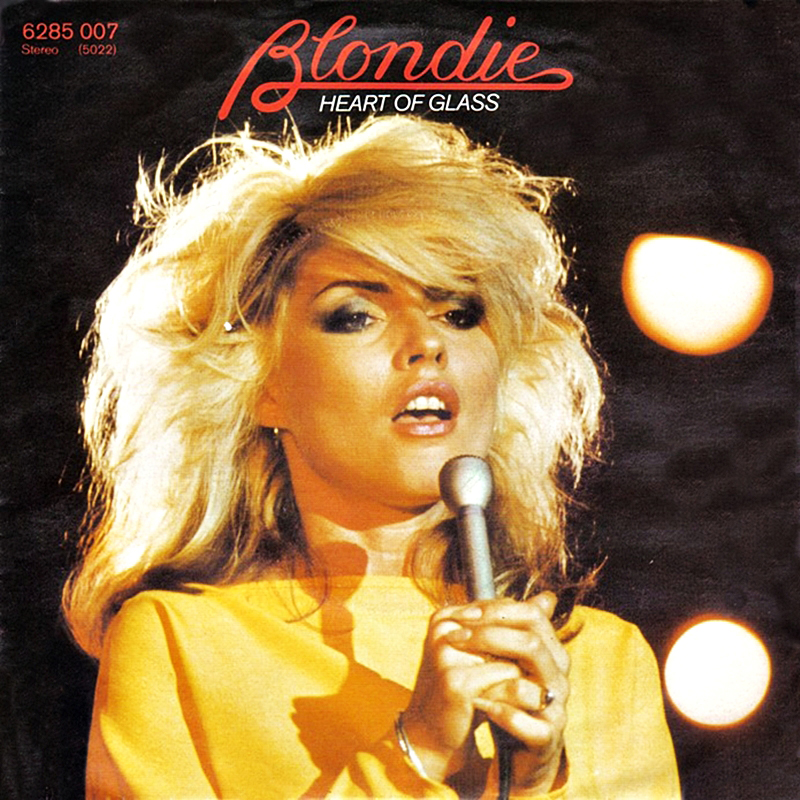 The first song I ever remember thinking of as "cool" was Blondie's "Heart of Glass." I was nine years old, and I'm not sure how I defined cool, but I knew the sensation was unlike anything I'd felt before. I knew nothing about the culture that inspired Blondie or the scene from which they emerged, but I knew that they stood out from everything else on pop radio as "cool." The more I got to know about Blondie, the more I realized my gut feeling was right… they were creative, punk, adventurous, artsy, and all sorts of other characteristics that separate the creators from the spectators. Blondie always has been and continues to be fearless in their willingness to tackle genres ranging from punk, to Motown, to disco, to reggae, to hip hop. Their breakthrough album, Parallel Lines, is diverse, but consistently great… an essential. Over the years, I have become friends with band members Chris, Debbie, and Clem, who are all super nice and effortlessly cool. In 2017, I was honored to create the art for Blondie's Pollinator album, which, like my art, combined a social call-to-action with their art, the music.
Songs I discovered in the 1980s, age 10 to 19 years-old
"Emotional Rescue" // The Rolling Stones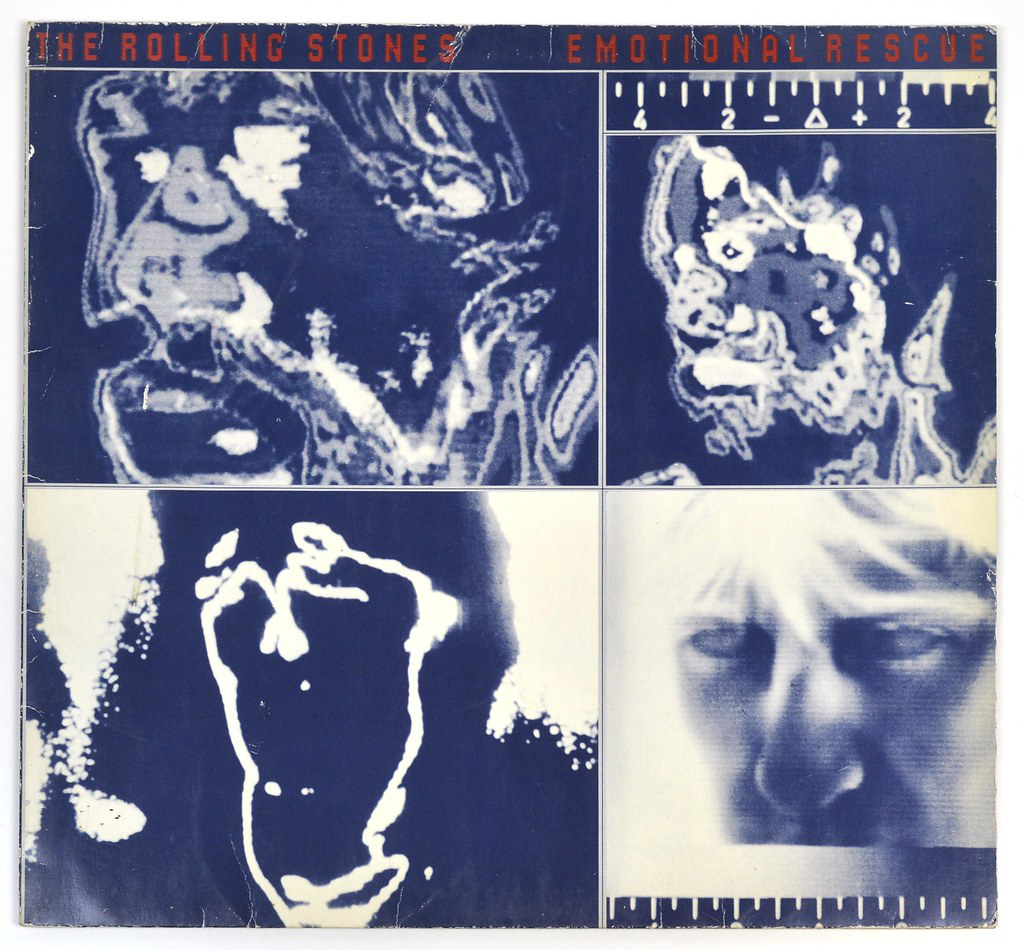 "Emotional Rescue" was the first Rolling Stones song I remember falling in love with. The bass line and vocal hook are irresistible. I grew up in Charleston, South Carolina, so Top 40 radio was my only music outlet other than my parents' Streisand and Bee Gees records. Fortunately, when my dad noticed how much I liked "Emotional Rescue," he turned me on to "Satisfaction," and I was then on the lookout for any Rolling Stones records I could get my hands on. With the Stones on my radar I picked up their Tattoo You album in 1981, with its mesmerizing cover art, and then worked my way backward through their amazing 60's and 70's output. The Stones compilation, Hot Rocks 1964-1971, is a must-have. Imagine how incredibly honored I was to be asked by Mick Jagger to design the Rolling Stones' 50th anniversary logo back in 2012.
"Whip It" // Devo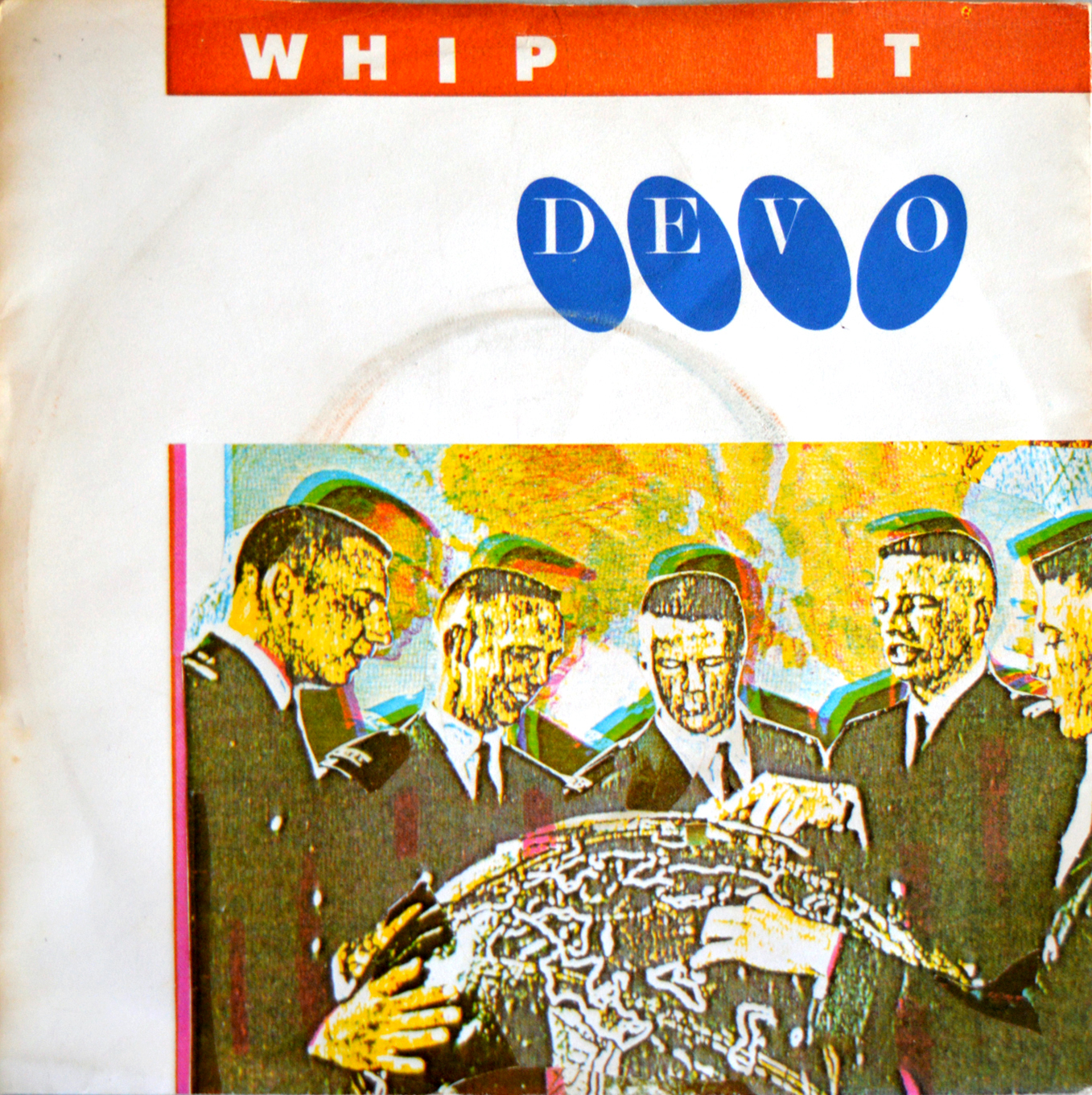 I knew nothing about Devo when I first heard "Whip It" on the radio, but I loved the quirky but catchy style of the song. I called the radio station obsessively requesting the song until they finally told me, "that song isn't in rotation anymore… it's not in the top 40 anymore…stop bugging us!" "Whip It" was the only Devo song I knew until later when I got into punk rock, and Devo had a following with some people in that culture. I noticed that Devo was a lightning rod in several areas because they were one of the few punk/new wave bands that crossed over a little bit into the mainstream. When I started skateboarding, a parent who thought they were funny asked me, "you aren't gonna start wearing a flower pot on your head like Devo, are you?" Some hardcore folks thought Devo wasn't punk enough for their idea of counterculture purity. As I listened to more Devo and paid closer attention to their lyrics, I realized how brilliant and subversive their examinations of devolution and mindless conformity were when packaged in catchy new wave songs. The Devo albums Are We Not Men?, Freedom of Choice, and New Traditionalists are all amazing musically and lyrically. Devo also made really cool videos and graphic art. I now consider Devo to be one of the smartest and most fully realized art projects to infiltrate pop culture.
"We Got the Beat" // The Go-Go's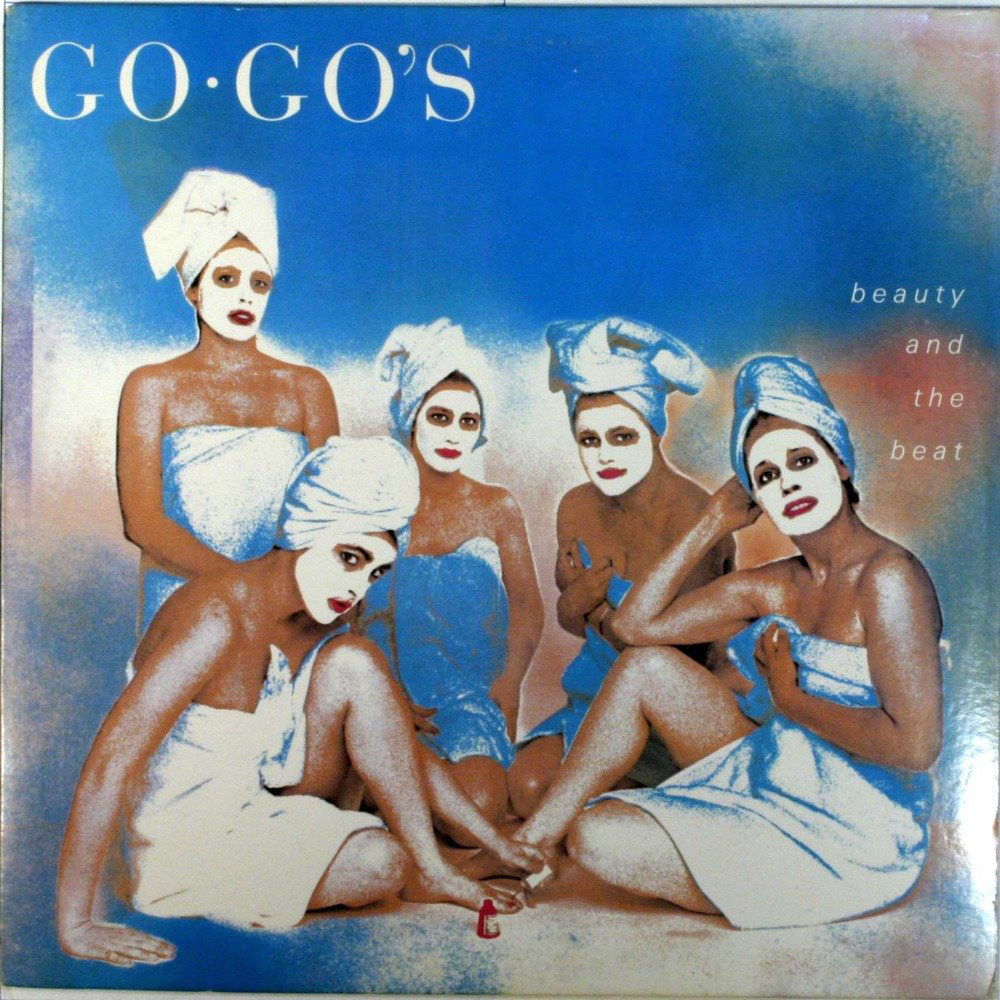 When I first heard "We Got the Beat" on the radio, I just loved the catchy drums and vocals instantly. I remember understanding that it was a big deal that an all-girl rock band had a big radio hit. I didn't know the nuances of music industry sexism or the fact that The Go-Go's wrote their own songs rather than recording other people's songs, but the band seemed special and very fun. In addition to "We Got the Beat," I also immediately liked the song "Our Lips are Sealed" which I only later learned was co-written by Jane Wiedlin of the Go-Go's and Terry Hall of the Specials about an affair they were having. The Specials later became one of my favorite bands with their punk/ska hybrid sound and efforts toward racial harmony. After I got into punk rock, I was excited to find out that the Go-Go's had been spawned by the early L.A. punk scene, doing gigs at places like the Masque alongside the Germs and X.
"I Love Rock 'N Roll" // Joan Jett & the Blackhearts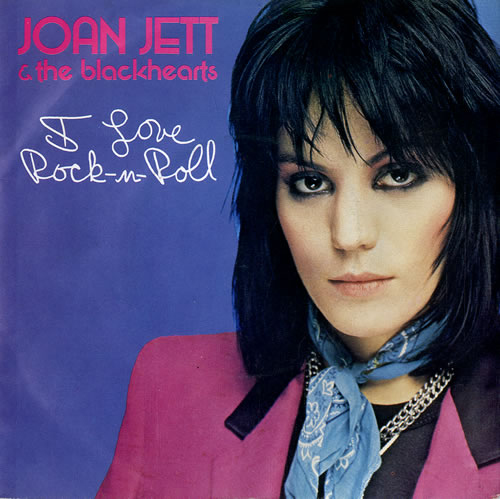 I'm from South Carolina and born in 1970, so I completely missed the NYC and U.K. punk movements when they hit because I was too young and clueless. Living in the cultural vacuum of Charleston, to access any kind of edgy music, you really had to be tuned-in to subculture, which I wasn't! I'm proud to say that my taste wasn't all bad because even listening only to pop radio, I gravitated to music that crossed over to pop but had roots in punk. I loved the Go-Go's and Joan Jett and bought their records long before I had any idea that they were part of early L.A. punk. I bought Joan Jett & the Blackhearts' "I Love Rock' n' Roll" 45 and loved how LOUD it was pressed. We had a pretty low-fi turntable and speakers so I was thrilled that I could blast that record. The production on that song and the whole I Love Rock' n' Roll album is phenomenal… the drums, guitar, bass, and vocals ALL sound crisp and amazing! Joan Jett is really a bad-ass woman. She never tried to play the role of demure sex kitten and took charge of her career on her own terms. Not only does Joan sing and play guitar, she co-owns a record label and acts in movies and on Broadway. She also has produced various punk albums, including the Germs' one and only record. Joan asked me to recreate the cover of her 1981 album "I Love Rock 'n Roll," for its "33 1/3 Anniversary," and I humbly obliged.
"Eyes Without a Face" // Billy Idol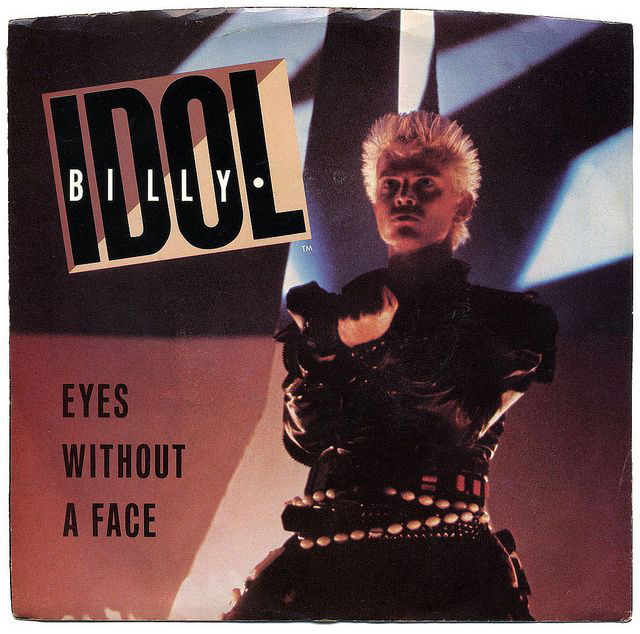 The first Billy Idol song I remember hearing, and liking, is "White Wedding." In the summer of 1983, I vividly remember this song was steadily on the radio and MTV. I wasn't into punk music yet, but Billy had a cool fashion image, and lip snarl that I knew was a slicker version of punk and, I supposed, punk music. A year later, Billy's album Rebel Yell was massive. I liked the title track a lot, but the song that really stuck in my head and intrigued me with its evocative lyrics, moody synthesizer, great bass line, and rocking middle section was "Eyes Without a Face." The vocal performance and overall song arrangement for "Eyes Without a Face" is so unique and memorable that my fondness for this song has only grown deeper throughout the years. Pop melody, noir mystery, and bohemian rap/poetry over the backdrop of a great guitar riff never sounded better. I later became a big fan of Billy's punk band Generation X and discovered that Billy had been a part of the Sex Pistols' entourage. The great song "Dancing With Myself" which most people know as a Billy Idol song, was originally recorded by Generation X. I have worked with Billy on three album packages over the years. For all the swagger of his image, he is an incredibly kind and thoughtful guy in person. Billy's autobiography "Dancing With Myself" is superbly written and a great insight into his evolution, artistry, debauchery, and intellect.
"Add it Up" // Violent Femmes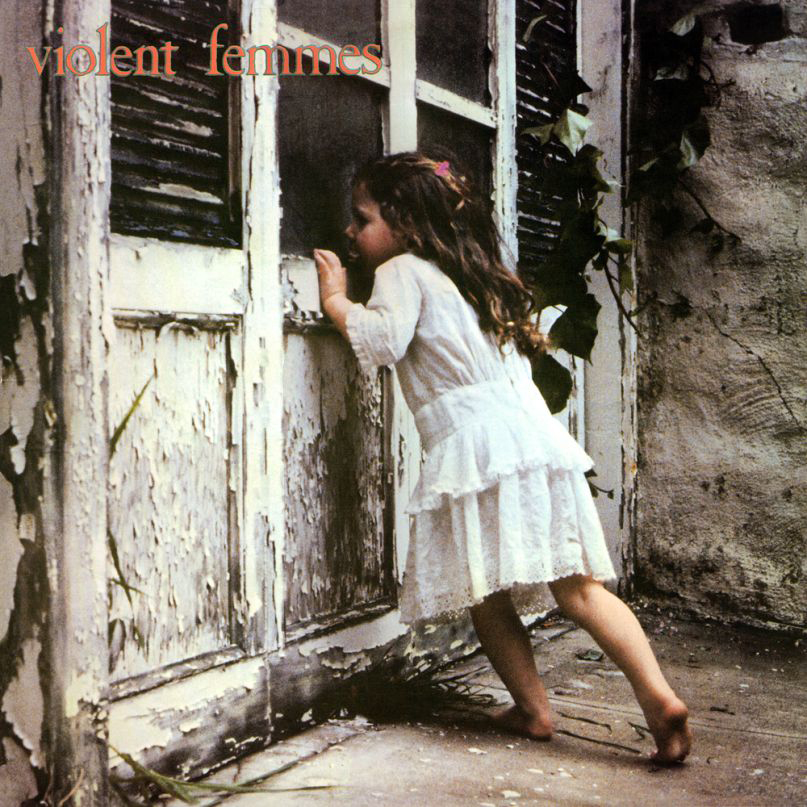 Shortly before I got into punk music as my main obsession, a girl, who I never expected would introduce me to something cool, brought a cassette copy of the first Violent Femmes album along to a church group trip. The funny thing is that I noticed that the instrumentation was sort of a retro "amplified acoustic" sound, which seemed uncool to me, but the songs had attitude in the lyrics and style of playing and were extremely catchy. I quickly fell in love with the whole album, but especially the song "Add it Up" because it was aggressive, talked about frustration, sex, and said the F-word! I knew my parents would hate it, so I listened to it discreetly in my room or on a Walkman (it now seems ridiculous that the Sony brand of portable cassette player had gender bias!). I still listen to the first Violent Femmes album regularly, and I have gotten over my bias against the stripped-down acoustic/electric sound. In fact, I think that album is one of the greatest records ever made and there are only great songs like "Blister in the Sun," "Kiss Off," and "Gone Daddy Gone" on it. I consider it a perfect album from start to finish.
"Blood Stains" // Agent Orange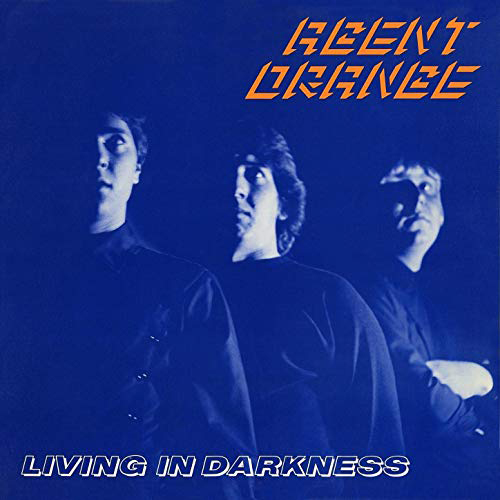 At the end of 1983, my friend Chris left his Santa Cruz Duane Peters skateboard model at my house, and I started messing around with it in my driveway. I loved skateboarding because of the exhilarating solo progression with no sports team dynamics. My 14th birthday was approaching so I let my parents know I wanted a skateboard, a request that was met with frowns and wrinkled brows. My dad's co-worker had an older skate punk son who was a weed-smoking dropout. My parents warned me I was going down a dangerous path and insisted I earn half the money to pay for the skateboard, figuring I'd never make the $60 needed in a month. I mowed lawns etc… and came up with my half of the dough, so they kept their side of the bargain. Feb. 15, 1984, my mom drove me to the surf/skate shop 30 minutes from our house to get my first real skateboard. While I was assembling that first board, in a serendipitous coincidence which now feels like fate, the shop was simultaneously unpacking and putting in the VCR, "Skatevisions," one of the earliest skateboard videos which was soundtracked entirely by the band Agent Orange. The excitement of setting up my first board, coupled with the sounds and sights of "Skatevisions," was a sensory overload and an epiphany: I was not going to be the same person from that moment on. My life prior to that day was B.S. (before skateboarding) and I was through with that meek, uncool version of myself. I just needed to get some music by Agent Orange, which I'd decided would be the soundtrack to my new life. I called a few of Charleston's record stores but no one had Agent Orange. My parents got curious about this band whose records were elusive so I said "uh, Agent Orange, they're a new wave band". If I'd said "punk" Agent Orange might have been banned by my folks. Since I couldn't find an actual Agent Orange album anywhere in Charleston, I rented "Skatevisions" and recorded the Agent Orange audio from the skate video. I related to the lyrics of dystopian songs like "Living in Darkness" and "Everything Turns Grey," but the heaviness and lyrics about reckless living of "Blood Stains" really excited me. I think the Agent Orange album "Living in Darkness" is a classic, and tragically underrated.
"Holidays in the Sun" // Sex Pistols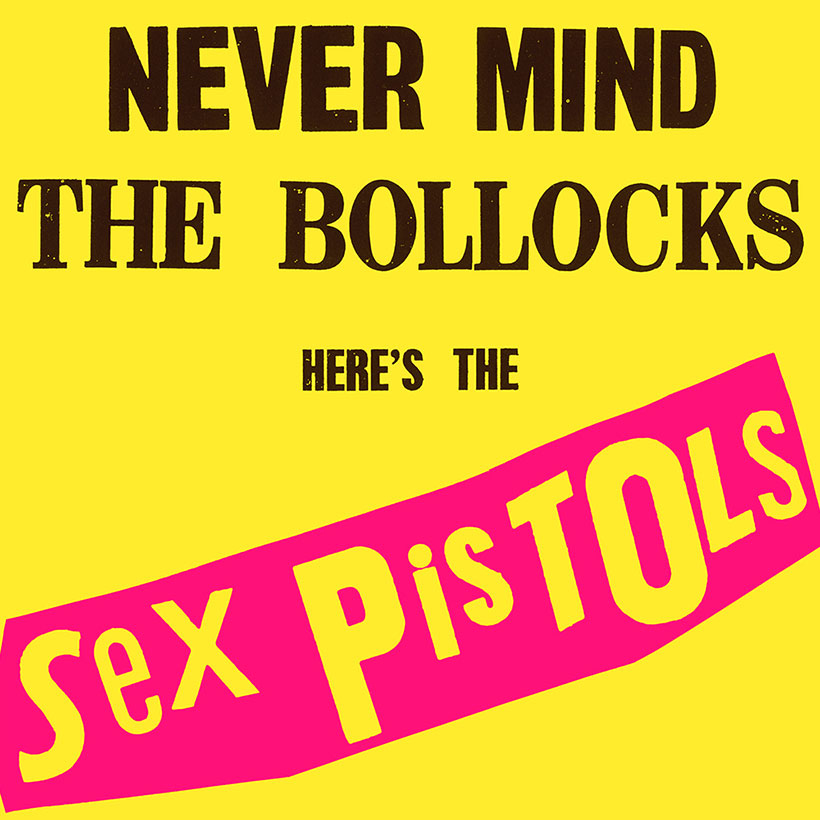 I clearly remember the first time my good friend John Reigart put Never Mind the Bollocks Here's the Sex Pistols on the turntable in his bedroom. My arm hairs stood up the moment I heard the album opener, "Holidays in the Sun," which starts with marching boots joined by drums and ominous power chords with Johnny Rotten launching into the lyric "A cheap holiday in other people's misery." The song starts with awesome,surly disdain, and Never Mind the Bollocks never lets up, delivering "Bodies," "Anarchy in the U.K.," "God Save the Queen," and "Pretty Vacant" along the way. The Sex Pistols made a perfect debut album, and they changed my life before I even knew that they changed the entire rock' n 'roll paradigm. The first group that got me into the subculture of music was the Sex Pistols. At first I just dug the music, but as I learned more about them I realized that they created an incredible cultural upheaval, and that there were talented people involved not only in the music but the art, fashion, and business ends. From the amazing venom of Johnny Rotten to the guitar power of Steve Jones, to the fashion styles of Vivienne Westwood, to the graphics of Jamie Reid, to the media manipulation of Malcolm McLaren, the Sex Pistols were the most brilliant "talentless" group to swindle their way to the top of the rock 'n' roll industry.
I gleefully took in the Malcolm McLaren lines from the Sex Pistols movie, The Great Rock' n' Roll Swindle:
"Cultivate the curiosity of the press. Concentrate on creating generation gaps. You've become a novel idea. You've got people wanting to join in. You've gained credibility from nothing – use this as a story you can sell. Terrorize, threaten, and insult your own useless generation."
I used the Sex Pistols as a template for what I aimed to do: make solid art, but also infiltrate the machine, intrigue the media, and cover every angle in culture.
"The Guns of Brixton" // The Clash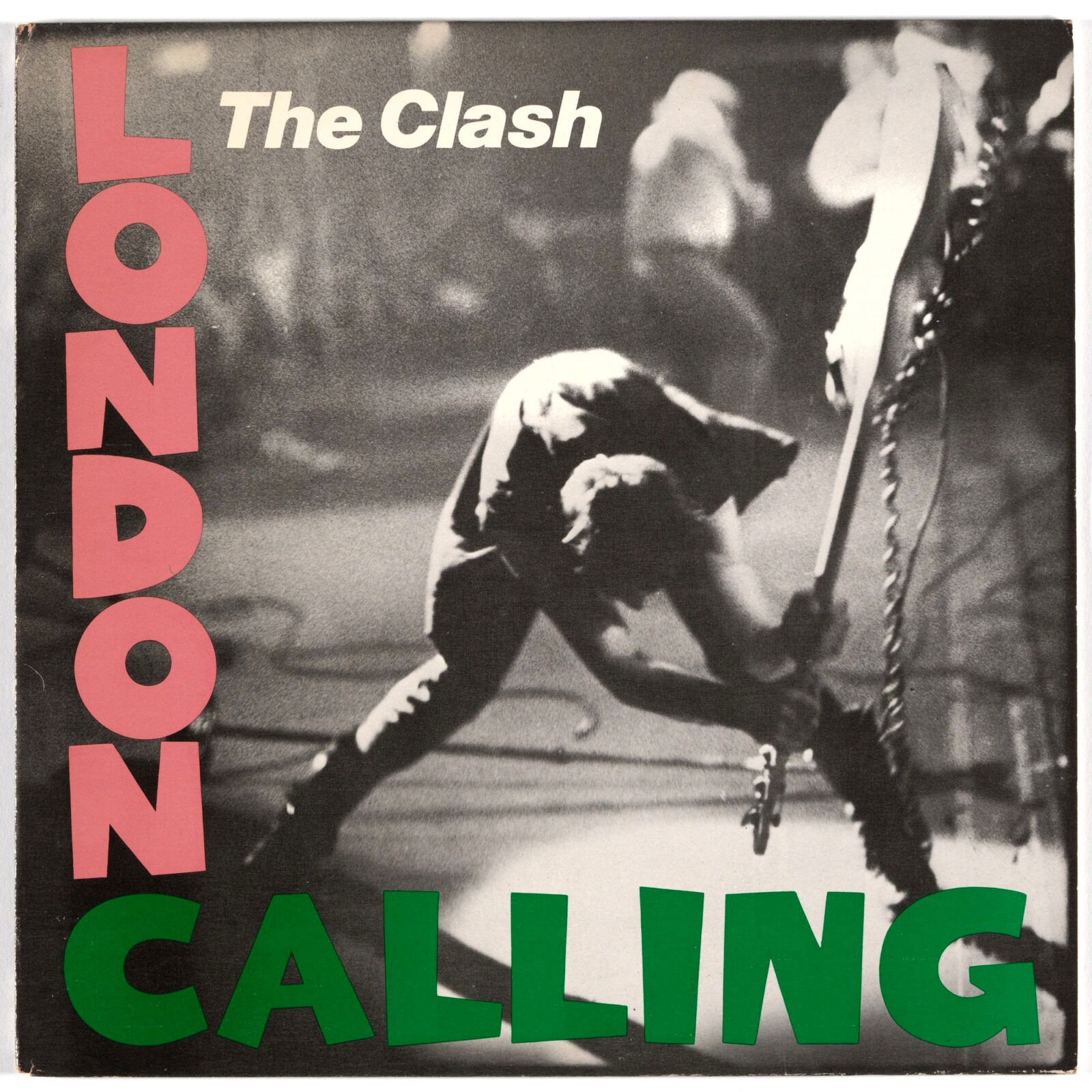 The Clash is my all-time favorite band. The band started as Sex Pistols imitators in '76, but by '79, the Clash expanded their horizons to include reggae, rockabilly, and jazz influences. They were punks who believed that term meant you can do anything you want musically, not just follow the '77-era template. The Clash band members, especially primary lyricist and lead singer Joe Strummer, are role models for me because they blended great music with social commentary and donated their talents to several causes they believed in. The Clash showed me it was cool to give a shit. All of the Clash's albums, up until Cut the Crap, are great full of brilliant songs, in many styles, showcasing courageous evolution, experimentation, and providing sonic thrills. It is very hard for me to pick a favorite Clash album, much less a favorite song. My wife Amanda and I got married to the song "Rebel Waltz" from Sandinista played on classical guitar and harp, so that song means a lot to me. I love the surly attitude and intensity of the first Clash album, and the stylistic diversity of Combat Rock, but my favorite album, which I think represents the Clash at their focused best, is London Calling. London Calling is fantastic all the way through. The album has classic songs like "Train in Vain," "Rudie Can't Fail," "Clampdown," and "London Calling," but my favorite is "The Guns of Brixton" which was written and sung by bassist Paul Simonon, who grew up listening mostly to reggae. "The Guns of Brixton" is reggae-flavored but with an edge and attitude that is instantly recognizable as the Clash. I love the lyrics "When they kick at your front door… How you gonna come?… With your hands on your head…Or on the trigger of your gun?" which to me, poses the question: "will you submit to injustice or fight against it?" I'm inspired to ask myself that question every time I listen to "The Guns of Brixton."
"Coup D'etat" // Circle Jerks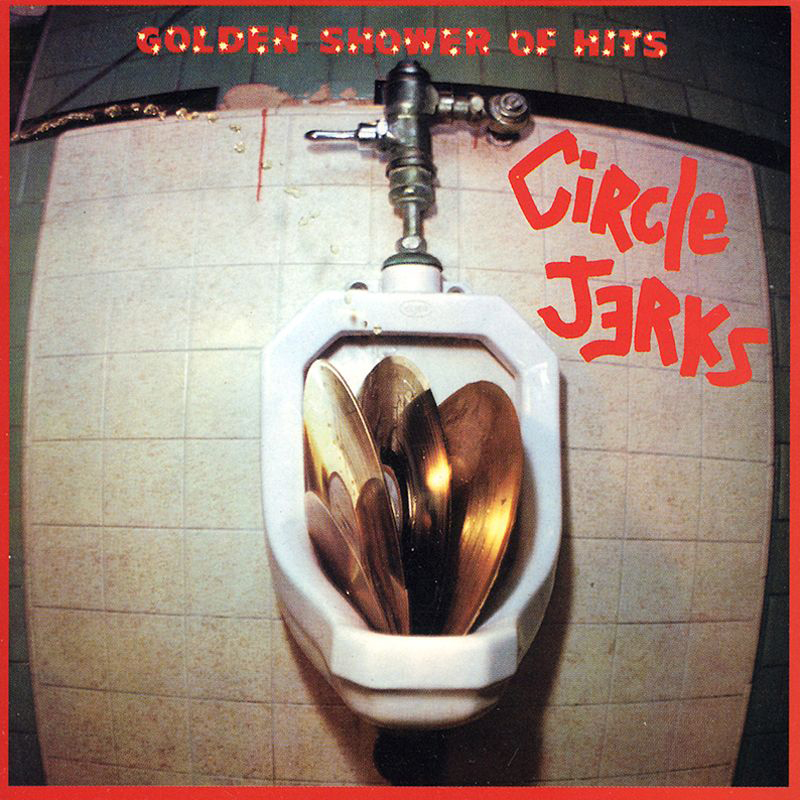 I found another kid at my school who liked punk, and he told me if I brought a blank tape, he'd tape me the Circle Jerks "Golden Shower of Hits" album. I loved the music instantly when I heard it the first time. The opening track "In Your Eyes" was a blisteringly fast but catchy screed about lies and alibis. "Coup D'etat" had high musical tension with a stop/start precision and an infectious, insurgent chorus. "Product of my Environment" fueled my disdain for private school. Basically, I felt like the "Golden Shower of Hits" album was written for me. "Coup D'etat" was used to great effect in the Alex Cox movie "Repo Man" and ended up on the soundtrack album along with songs by Suicidal Tendencies, Black Flag, The Plugz, and Fear. The Circle Jerks were the first punk group I saw in Charleston in 1986. I have seen them a dozen or so times since then, and they are always great. The band has several good albums on top of Golden Shower of Hits and predecessor Wild in the Streets. Still, their definitive masterpiece is their debut album, Group Sex, which is 15 minutes of blistering perfection. Group Sex is an essential album for any fan of punk and hardcore. The Circle Jerks' lead singer Keith Morris, was also the first singer for Black Flag, and is now the frontman for the group OFF!, who wrote a song called "Learn to Obey" for which they asked me to create the 7" sleeve art.
"Bleed For Me" // Dead Kennedys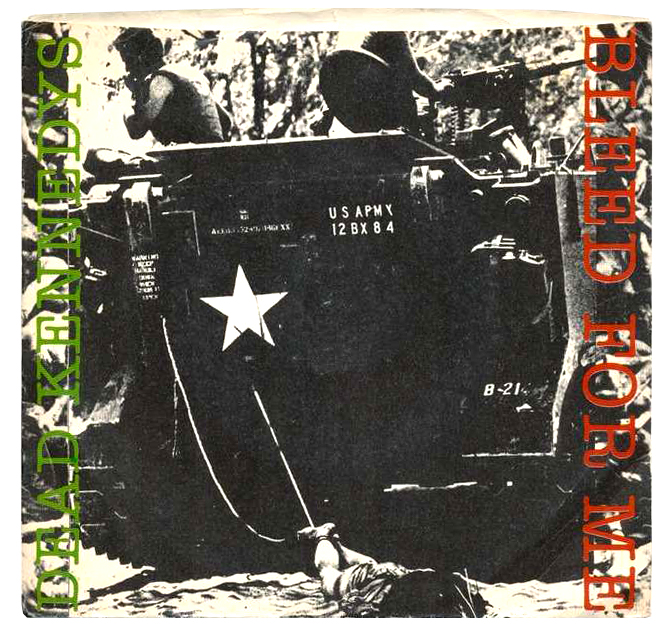 I bought the second Dead Kennedys album, Plastic Surgery Disasters, in 1984, a fitting year considering the Orwellian themes the band explores on their albums. I was probably politicized by the Dead Kennedys more than any other band because they tackled topics in American politics and culture in an extremely incisive way. I had never considered the relationship between government and big business, or Reagan as a power-hungry villain with bad foreign policy ideas until I listened to the Dead Kennedys and pondered the great subversive art and collage that Winston Smith created for them. Lead singer, and founder of Alternative Tentacles records, Jello Biafra, is a brilliant lyricist and conceptual thinker. The Plastic Surgery Disasters album is a great listen all the way through and includes some killer tunes like "Riot," "Government Flu," and "I Am the Owl." The title of my print, "Moon Over Biloxi" is a tribute to the Dead Kennedy's song "Moon Over Marin." The "Bleed For Me" track is laced with social commentary. The surprise song though, is "Moon Over Marin"… detractors have called it the Dead Kennedy's "U2" song, but I disagree. "Moon Over Marin" is more melodic than most DK, but juxtaposed with the darkness of the lyrics, the song evokes a powerful sense of existential melancholy. I think the concept that struck me and stuck with me, is that our disrespect of each other and the planet may doom us, but things will continue without us. I think it is healthy to recognize impermanence, but also to appreciate the value of the ephemeral. Moonlight, real or electric, will probably be around, but what it will be casting light on is the real question.
"Institutionalized" // Suicidal Tendencies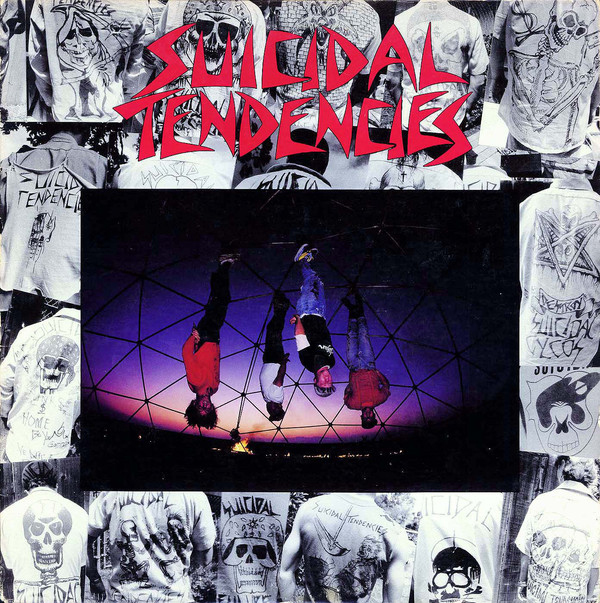 I first heard Suicidal Tendencies in 1984 when my friend John Reigart was given a copy of the first Suicidal record by a BMX'er neighbor who claimed the record was "that punk shit" instead of the heavy metal he'd been promised. When I first heard Suicidal, I was attracted and repelled at the same time. The music was pretty hard and abrasive, with some dirgy metal influenced moments that I was scared might not suit my "punk" self-image. However, after playing the album a few times, mostly to try to repel some rednecks congregated near a ramp I was riding, I began to love it. The music was heavy and energetic. As I was starting to question authority, the lyrics "I'm not anti-society society's anti-me," or "mind control, the easiest way, sponsored by the C.I.A., it's a weapon you cannot see, it's propaganda subliminally" from the song Subliminal, were very provocative and inspiring. That song Subliminal, later inspired the name of our art gallery: Subliminal Projects. The frustrated youth anthem on the album is "Institutionalized" with funny and relatable lyrics like "No mom, I'm not on drugs, I'm OK, I was just thinking, why don't you get me a Pepsi." In addition to digging the music on the album, I was mesmerized by the artwork on the sleeve. My favorite aspect was the many photos of hand-drawn shirts that used variations of the Suicidal type and skull iconography. The anonymous creators of the shirts seemed like a dangerous secret society of outsiders I wanted to be a part of. The closest I could come to joining the Suicidal army was by making my own Suicidal tee on top of a turquoise tee with wave and palm tree my parents brought me from Hawaii. In those days, hip threads were hard to come by, so I ended up making a lot of my own t-shirts influenced by the hand-made fashions of punk. One day when I wore my homemade Suicidal tee to school, I was pulled into the guidance counselor's office to discuss my "suicidal tendencies." The guidance counselor saw the shirt as a cry for help, but I explained it was a band, and I was no more maladjusted than any other teenager whose parents just don't understand.
"Pay to Cum" // Bad Brains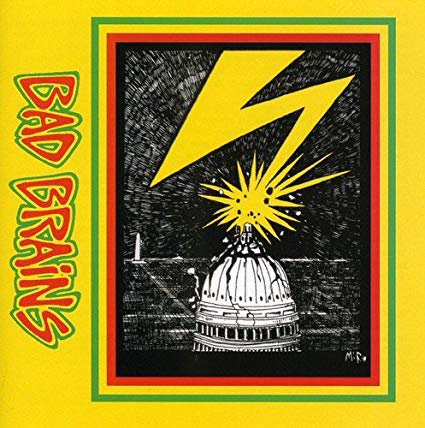 "Pay to Cum" is the first Bad Brains song I heard because it was featured on the Jello Biafra curated, Alternative Tentacles compilation Let Them Eat Jellybeans, which fell into my hands from a friend in 1984. That comp featured some really fast songs, including "The Prisoner" by D.O.A, "Nazi Punks Fuck Off" by the Dead Kennedys, and "Police Story" by Black Flag, but none of them were as fast energetic as "Pay to Cum." I borrowed Bad Brains' first album with the Capitol being struck by lightning on the cover, from a friend and quickly figured out that they set the style for technically precise and melodic, but blisteringly fast hardcore. I learned that Bad Brains were an all-black band originally from Washington D.C., who had started as a jazz fusion band but then discovered punk and reggae and played both styles with incredible skill. Bad Brains were a huge influence on Ian MacKaye who would front Minor Threat and found Dischord Records, and Henry Rollins who sang lead for S.O.A, before joining Black Flag in 1981. I love the whole first Bad Brains album. The hardcore songs are so fast and high energy that the reggae songs are a welcome opportunity to catch one's breath. The album includes so many great songs like "Sailin' On," "Attitude," "Banned in D.C.," "Attitude," "Right Brigade," "Big Takeover" and "Pay to Cum." The debut Bad Brains album was Adam Yauch of the Beastie Boys favorite album, and the Beasties sampled "Big Takeover" on their song "Pass the Mic." The other Bad Brains album I really love is I Against I, which added funk and metal influences to their sound. The best live show I ever saw was Bad Brains at the Living Room in Providence on the Quickness album tour in 1989. I was honored to do the cover for the Bad Brains album Into the Future in 2012.
"Police Story" // Black Flag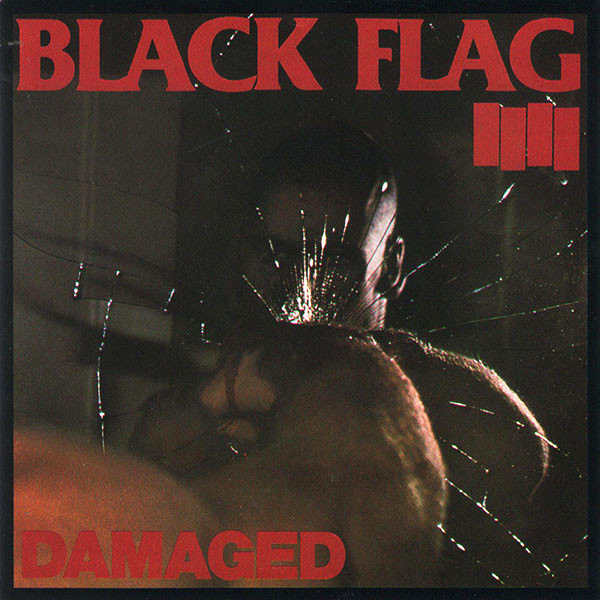 The band Black Flag probably made the biggest impact on me in terms of the intensity of their music, lyrics, art, and DIY ethos. Black Flag scared me but also transfixed me. Listening to the Let Them Eat Jellybeans comp, which featured Black Flag's "Police Story," with its anti-authority hostility, electrified every hair on my body. The lyrics "This fuckin' city is run by pigs… they take the rights away from all the kids" hit home with me because I was already being hassled by the cops for skateboarding. I probably owe a big chunk of credit to that song for inspiring me to make my first "art" screenprint (a print on paper rather than just on a t-shirt). That print featured a kid holding a skateboard being grabbed by a cop. The version I made for a sticker and a t-shirt included the text in Old English "Prevent police boredom… skateboard". My art teacher told me to leave the text off of the print on paper which I later realized was shitty advice. "Police Story" made me want more music by Black Flag, and a friend loaned me their Damaged album. The Damaged cover was a dark and menacing Ed Colver photo of vocalist Henry Rollins with his knuckles bleeding after punching a mirror which has shattered, and the cracks fragment the reflection of Henry's face and shaved head. The bold Black Flag type, staggered bars logo, and Damaged text are all in red. The black and red that were used in the Damaged cover, and back cover with its high contrast shattered glass and red type, stuck with me as a very powerful color combination… a color combination I would later employ for the majority of my artwork. Damaged is a perfect slab of condensed anger, but there is a ton of other great Black Flag material. The debut Nervous Breakdown EP is an adrenaline blast as well. I've been fortunate to do many art and design projects with Henry Rollins, the final, and most intense, Black Flag vocalist.
"Positive Vibration" // Bob Marley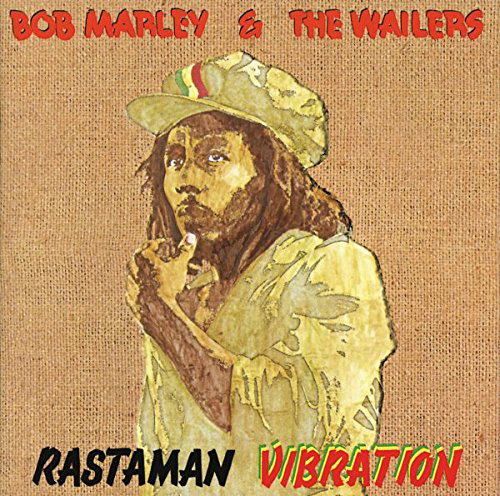 I bought Bob Marley's Rastaman Vibrations shortly after I started skateboarding in 1984, purely because the only good skateboard ramp where I lived was called "The Rasta Ramp." I had mostly been listening to punk rock, but I was excited to discover reggae, which even more boldly embodied many of the same elements of social protest as punk but in a way that was much more palatable to my parents. I think my parents bought me Bob Marley and the Wailers records for every Christmas or birthday until I had accumulated their entire catalog; my very conservative grandmother even brought me a Bob Marley shirt from Jamaica. I leaned more towards punk, but some punk bands, most notably Bad Brains, embraced both punk and reggae. Bob Marley's music always cheered me up during my high school years of personal struggle. I'm always inspired by how steadfast and positive Bob was. "Positive Vibration" is the opening song on Rastaman Vibrations. Though I hold in high regard the politics of "Get Up Stand Up" and "War," I credit "Positive Vibration" as my gateway to Bob Marley's incredible catalog.
"Telling Them" // Social Distortion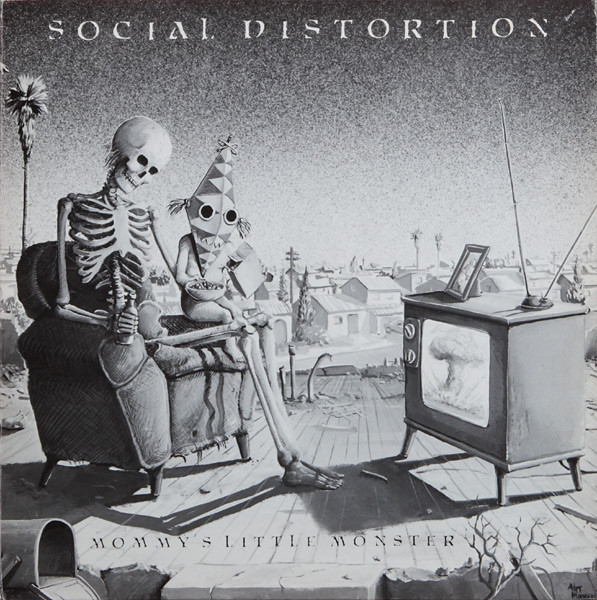 I first heard Social Distortion in 1985, and I was immediately struck by their punk power and rebellious themes delivered with an undeniable melodic appeal. I begged my parents to buy me the first Social Distortion album, "Mommy's Little Monster." My parents hated punk, so when they asked me if the music was punk, I lied and said: "no, it's New Wave." I listened to the album non-stop and a lot of the themes… freedom, generation gaps, questioning authority, sub-cultural community, etc… really resonated with me. As a frustrated teen, I especially related to the line, "I love the sound when I smash the glass… if I get caught, they're gonna kick my ass" from the song "Telling Them." That line always stuck with me and was the first thing that came to mind when Mike Ness asked me to create a poster for Social Distortion's 40th anniversary in 2019. I've seen Social Distortion many times over the years, and I've watched their evolution firsthand. They grew from a more conventional punk sound to a broader definition of punk that includes nods to early Rolling Stones and Johnny Cash, artists who pushed social boundaries and outlaw themes. I remember hearing the band's song, "Story of my Life" on the radio in 1990, pre-Grunge, and thinking to myself, "what a coup… what a triumph, that these guys infiltrated rock radio." In my opinion, Social Distortion shattered a glass ceiling and did what few bands can do: they found broad appeal without abandoning their punk roots or watering down their sound.
"Garbageman" // The Cramps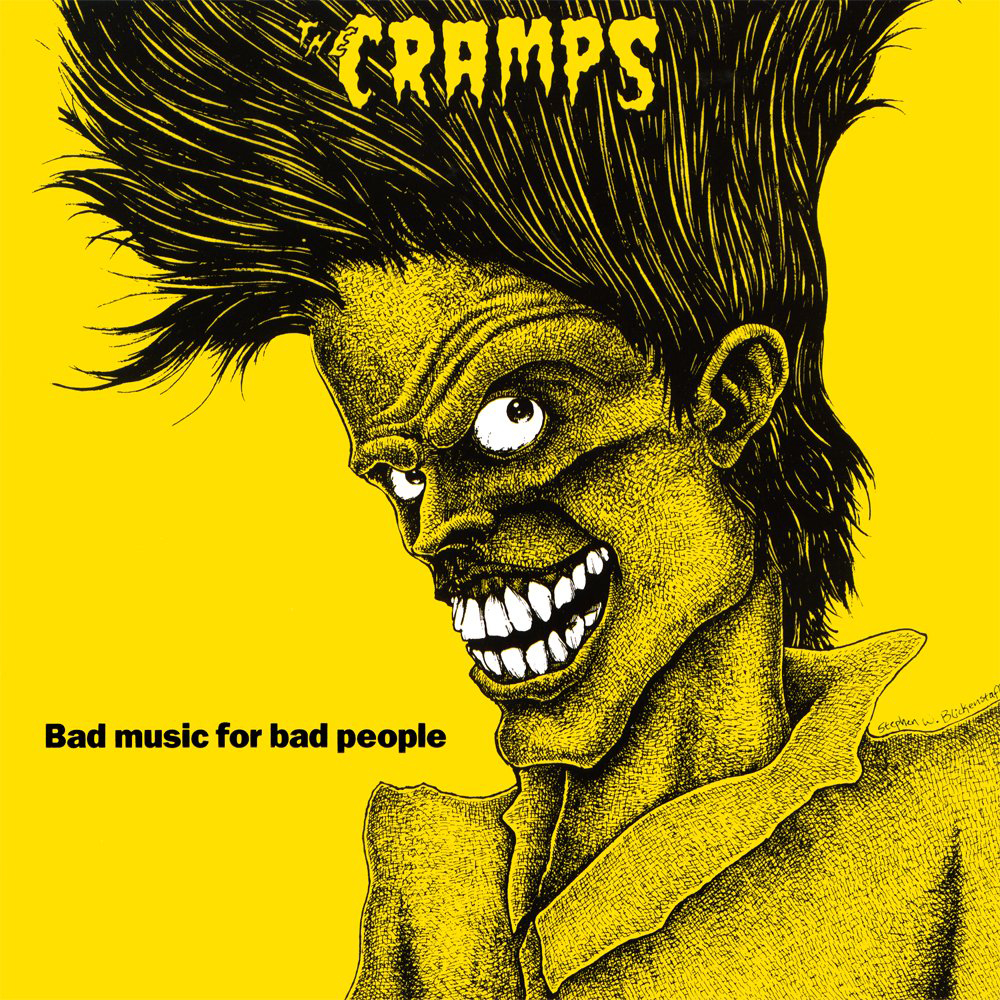 "Garbageman" is the first song on the Cramps' album Bad Music for Bad People, which I only later realized was a sort of "greatest hits" compilation. I loved the cover art for Bad Music for Bad People, so I was intrigued to hear it. My friend Bill Hussey lent me the tape in the fall of '85, and I vividly remember listening to it on my boombox in our laundry room for the first time as I was setting up a new skateboard. As I listened to the album, I was slightly unsure about the twanginess of it, because anything with a country flavor to it was seen as supremely un-punk. Fortunately, "Garbageman" began with the lyrics "You ain't no punk, you punk… you wanna talk about the real junk", which gave the Cramps enough punk cred for me to give their music a chance. I had no familiarity with the terms rockabilly or psychobilly at the time, but I knew the Cramps were a hybrid of punk, garage rock, and early country-infused rock' n' roll. I knew and liked the Sex Pistols' covers of "Somethin' Else" and "C'mon Everybody" by Eddie Cochran, and the Cramps seemed to be doing a similar, but more sleazy and fringe, tongue-in-cheek version of channeling that sound. Bad Music for Bad People is a definitive classic album with songs like "Human Fly," "Love Me," and "Uranium Rock." The Cramps have tons of great music, but additionally, I love their distinctive visuals. From their cover art to photoshoots, the Cramps had a dark, campy Rockabilly goth image with a pinch of sexiness in lead guitarist Poison Ivy, who always wore fishnet stockings and never seemed to age. I saw the Cramps a couple times in Providence, including on their 1990 Stay Sick! Tour. That show was one of the best I've ever seen, with lead singer Lux Interior climbing up the speaker stacks, humping them and, and jumping back to the stage, all while perfectly maintaining his black magic possessed Elvis vocals. I think the Cramps are one of the greatest bands ever and exuded a primal sleazy swagger with wit and style. I'm still devastated that Lux Interior passed away in 2009.
"For Whom the Bell Tolls" // Metallica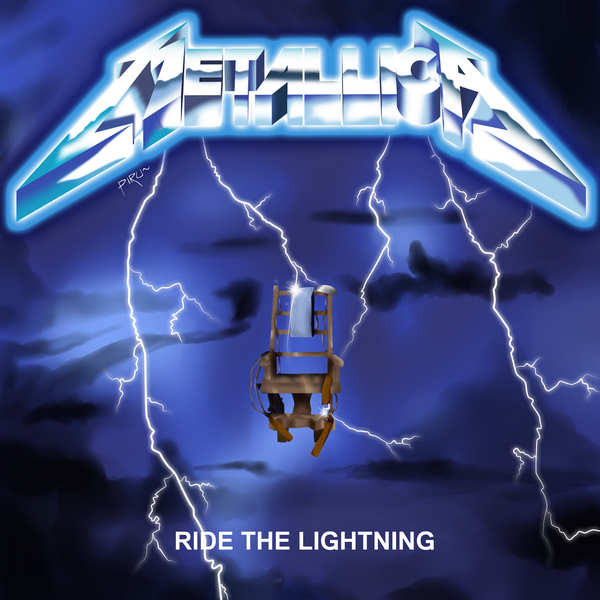 I first heard Metallica in 1985 when a Charleston public radio show called Punk-O-Rama, which was on the air from 12-2 AM on Saturday nights, decided to do a speed metal show instead of the usual punk and hardcore. At the time, punk and metal fans were enemies and had rival camps like the Sharks and the Jets. When Punk-O-Rama opened with Metallica's song "Fight Fire With Fire," I wanted to hate it when it started with a pretentious classical guitar intro, but it then burst into music that was so fast and heavy that it made me want to bounce off the walls! I was hooked immediately and picked up Metallica's album Ride the Lightning, which featured the song "Fight Fire With Fire," hoping the whole album would sound like that song. Initially, I only liked the fast songs like "Fight Fire With Fire" and "Trapped Under Ice," but the more I listened to the album, the more I couldn't get "For Whom the Bell Tolls" out of my head. The song is heavy, but has an infectious funky side that made me want to bang my head but also dance. I eventually loved all of Ride the Lightning and sought out other Metallica albums like Kill 'Em All and Master of Puppets. To me, Metallica had a flawless run of albums through And Justice For All. Very few bands make four masterpiece albums and a great EP of covers with Garage Days Re-visited. Metallica is also possibly the tightest live band I have ever seen!
"Ace of Spades" // Motörhead
I was intrigued to check out Motörhead because the guys from G.B.H. were in a few photos wearing Motörhead t-shirts with the band's great "snaggletooth" logo. "Ace of Spades" is the first Motörhead song I heard, and I didn't know how to categorize it – punk, metal, hard rock?…but I knew it sounded AWESOME! The lyric "you know I was born to lose, and gamblin's for fools, but that's the way I like it baby… I don't wanna live forever!" was like an outlaw manifesto. The album Ace of Spades is great all the way through. I wore out the tape of that album. There are tons of other great Motörhead albums and songs… "Overkill," "Bomber," 'No Class," "Too Late Too Late," "Damage Case," and "Emergency," but the band always played "Ace of Spades" as their encore. I saw Motörhead several times over the years, and they ALWAYS crushed it and were the loudest band I've ever seen! The band recorded and toured for 40 years, and I can't think of a more consistent and reliable musical institution than Motörhead. Founder and vocalist Lemmy Kilmister's death was a real kick in the ribs for me, not just because I love Motörhead, but because my fantasy that the spirit of hard rock can keep even the most reckless, hard-living, soul animated indefinitely was shattered. Lemmy looked 60 when he was 30 and didn't seem to age one bit after that. I guess even though Lemmy was impervious to Jack Daniels and amphetamines, he was finally Killed by Death as he always said he would be. The songs and the iconic Motörhead logo live on.
"Beat on the Brat" // Ramones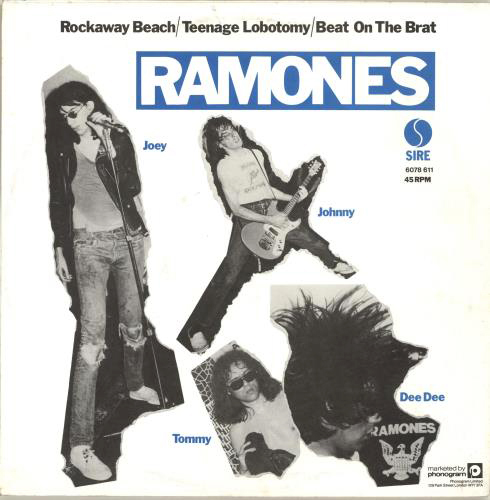 I first got into the Ramones in 1985, and they quickly became one of my favorite groups. The first Ramones album from 1976 is flawless and set the standard for punk with buzz-saw guitars and fast two-minute songs. Everyone knows and loves, including me, album opener "Blitzkrieg Bop" with its memorable "Hey Ho – Let's Go." Still, the song that secured my fandom of the Ramones was "Beat on the Brat" because that song revealed the band's subversive humor and was stuck in my head the moment I heard it. I love all of the Ramones songs, but a few other favorites that subversively celebrate the seedy side of things are "Rockaway Beach," "I Wanna be Sedated," "Cretin Hop," and "The KKK Took My Baby Away." I saw The Ramones live in 1988 and 1989 and the shows were non-stop high-intensity action. The Ramones show I saw in the fall of 1988 at the Living Room in Providence, Rhode Island should have held 500, but in Providence clubs paid off the cops, and there were probably 1,000 people in the venue. Jane's Addiction opened up and raised the energy level. When the Ramones came on the crowd was ready to go nuts. I was near the stage and the crowd surged forward compressing everyone so tightly that I thought my ribs would be crushed. I could actually pick my feet off the ground simultaneously without using my hands. The Ramones played non-stop, no breaks between songs for about two hours. The band was super tight. Johnny leaned into the crowd and didn't even take his leather jacket off for an hour, even though it was sweaty as hell in there. Joey's hair was in his eyes, but he stayed planted in front of the mic and sounded great. Providence loves the Ramones, so the crowd energy never waned. At certain points I felt like I was going to suffocate or be crushed, but I refused to give up my spot right at the front. It may seem weird to say you are having the time of your life fighting for your life, but that's the only way I can describe that show. Later in life, I was honored to do the Johnny Ramone Army logo for Linda Ramone.
"All Hell Breaks Loose" // Misfits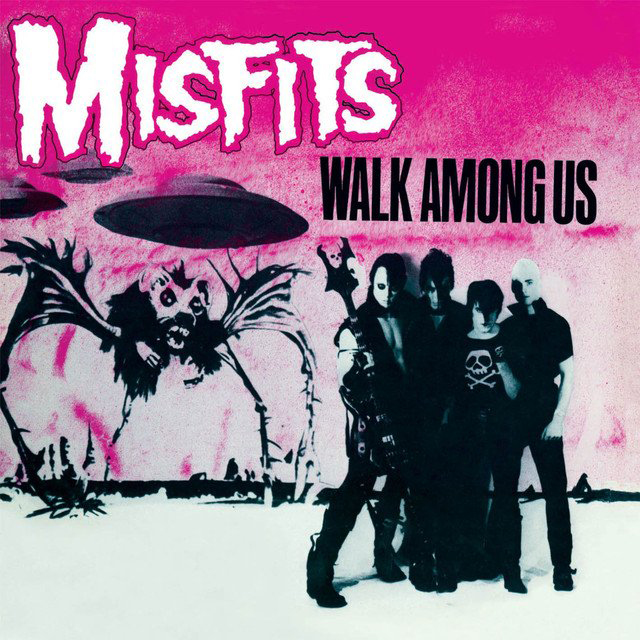 As a teenager growing up in South Carolina, the Misfits were a revelation for me. Let me set the scene. It was 1985, and I was attending a conservative private school, but my discoveries of punk rock and skateboarding were quickly eroding the illusion of conformist tranquility in my family home. The more my parents hated my music, the more I was filled with exhilaration from blasting distorted guitar, and the more I wanted to draw band logos on my Converse. I was on a mission to find and embrace the most anti-school, anti-parent, and anti-establishment music that existed. Before I even heard the first note of the WALK AMONG US album, I was mesmerized by the album cover with the band dressed like a punk ghoul gang and the campy and creepy giant bat/spider and flying saucers. When the needle dropped on the record, I was knocked out by the fast, melodic but distorted ruckus, and belligerent lyrics blaring from the speakers. All of the songs on Walk Among Us are deviously infectious, but I was especially in love with "All Hell Breaks Loose" for its pounding beat and lyrics like "I send my murdergram to all these monster kids… it comes right back to me and it's signed in their parents' blood." Aggression, style, irreverence, AND parent-baiting lyrics… the Misfits served up the incendiary cocktail I had been searching for.
"Bela Lugosi's Dead" // Bauhaus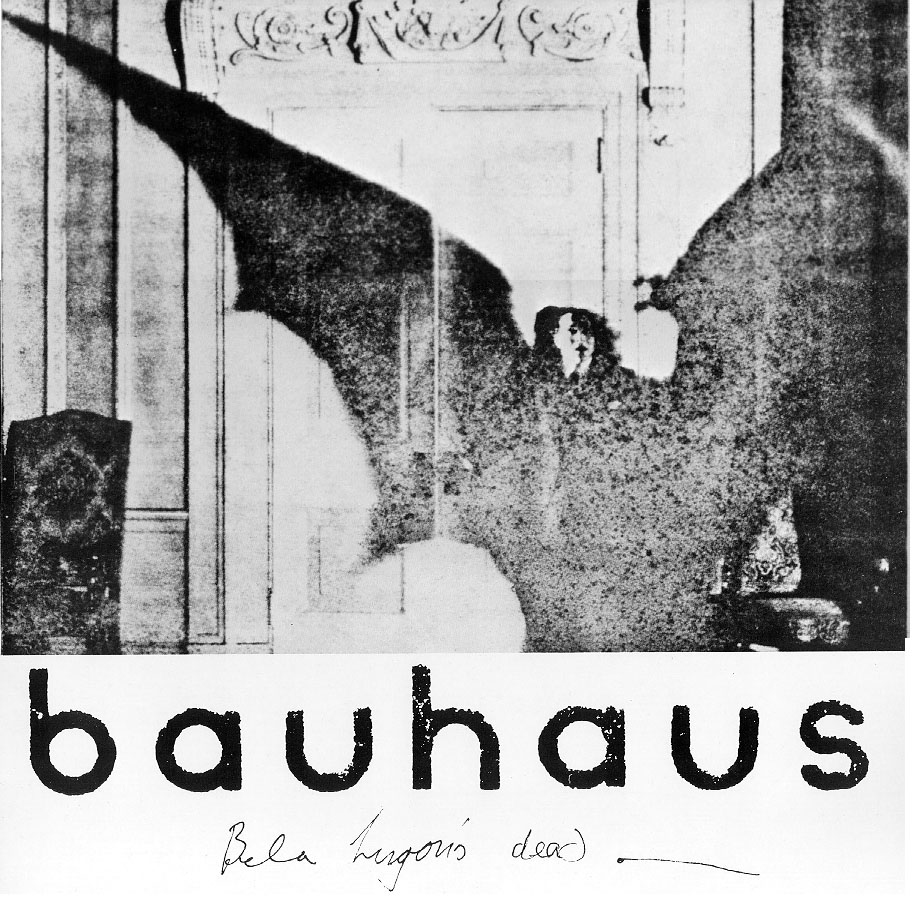 I first heard Bauhaus in 1986 while attending the North Carolina School of the Arts summer program. I was already into US and UK punk, but this was my first exposure to "goth" or "death rock" culture. There were a few strange kids who wore all black, heavy eyeliner, and even a guy who wore a skirt. I wanted to dislike the goths, because they seemed to be trying too hard, but I was intrigued by their music. They carried around a boom box playing what I found out was music by Jesus and the Mary Chain, Love and Rockets, and Bauhaus. I especially liked Bauhaus's "Bela Lugosi's Dead" and decided to get more of their music. Years later, after moving to Los Angeles, I met Bauhaus' and Love and Rockets' bassist David J. We became good friends and talked about music often. I got to hear a lot of great stories about Bauhaus and Love and Rockets, and I was very excited when David told me Bauhaus were reforming to play Coachella and do a tour. I saw the band at both Coachella and the Wiltern in LA. The shows were amazing, and I was overjoyed to see a band I thought I might never see perform. David mentioned to me that the chemistry Bauhaus felt on the tour had inspired them to work on a new album. Well, apparently, the chemistry did not hold up but lasted long enough to deliver "Go Away White," the first new Bauhaus record since '83. Honestly, I was a little nervous because it sucks when a great band tries to do an album after a long hiatus and it tarnishes their almost perfect legacy (think of the new Stooges album). On the contrary, "Go Away White" is every bit as good as vintage Bauhaus without sounding dated.
"No Sleep Till Brooklyn" // Beastie Boys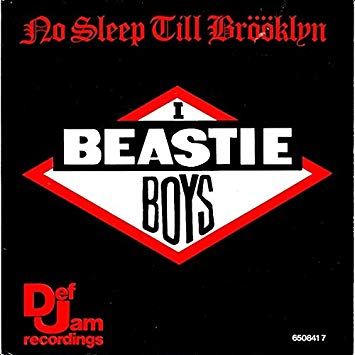 I had heard a couple of Beastie Boys songs before their album Licensed to Ill came out because they had some hardcore songs on a compilation called New York Thrash. I was curious when I found out that the Beastie Boys released a rap album around the beginning of 1987, and I liked the music on Licensed to Ill immediately, even though I had mixed feelings when "Fight for Your Right" became a big radio and MTV hit. My dad actually liked "Fight for Your Right," which was quite problematic for my scheme of creating generation gaps as the Sex Pistols had instructed me to do. However, despite my dad and some jocks digging Licensed to Ill, I locked onto it with gusto because the music was so great, and the lyrics were so clever and funny, even if juvenile and far from politically correct. Additionally, I recognized some of the Led Zeppelin and AC/DC samples in the Beastie's songs, which gave me a better understanding of the transformation that could be achieved when hip hop interpolated or re-mixed disparate bits of raw material. On the other hand, "No sleep till Brooklyn" with its guitar riff provided by Kerry King of Slayer and drum machine, proved that great rhymes over minimal ingredients could make a kick-ass hip hop song. I was a Motörhead fan, so I knew that "No sleep till Brooklyn" was a nod to Motörhead's album "No sleep 'til Hammersmith." "No sleep till Brooklyn" specifically, and Licensed to Ill generally, are a great bridge between rock and hip hop and made me more comfortable exploring other hip hop music. All of the Beastie Boys' albums are good, but I think Licensed to Ill, Paul's Boutique, and Check Your Head are all masterpieces demonstrating the band's evolution and artistic growth.
"It's Tricky" // RUN DMC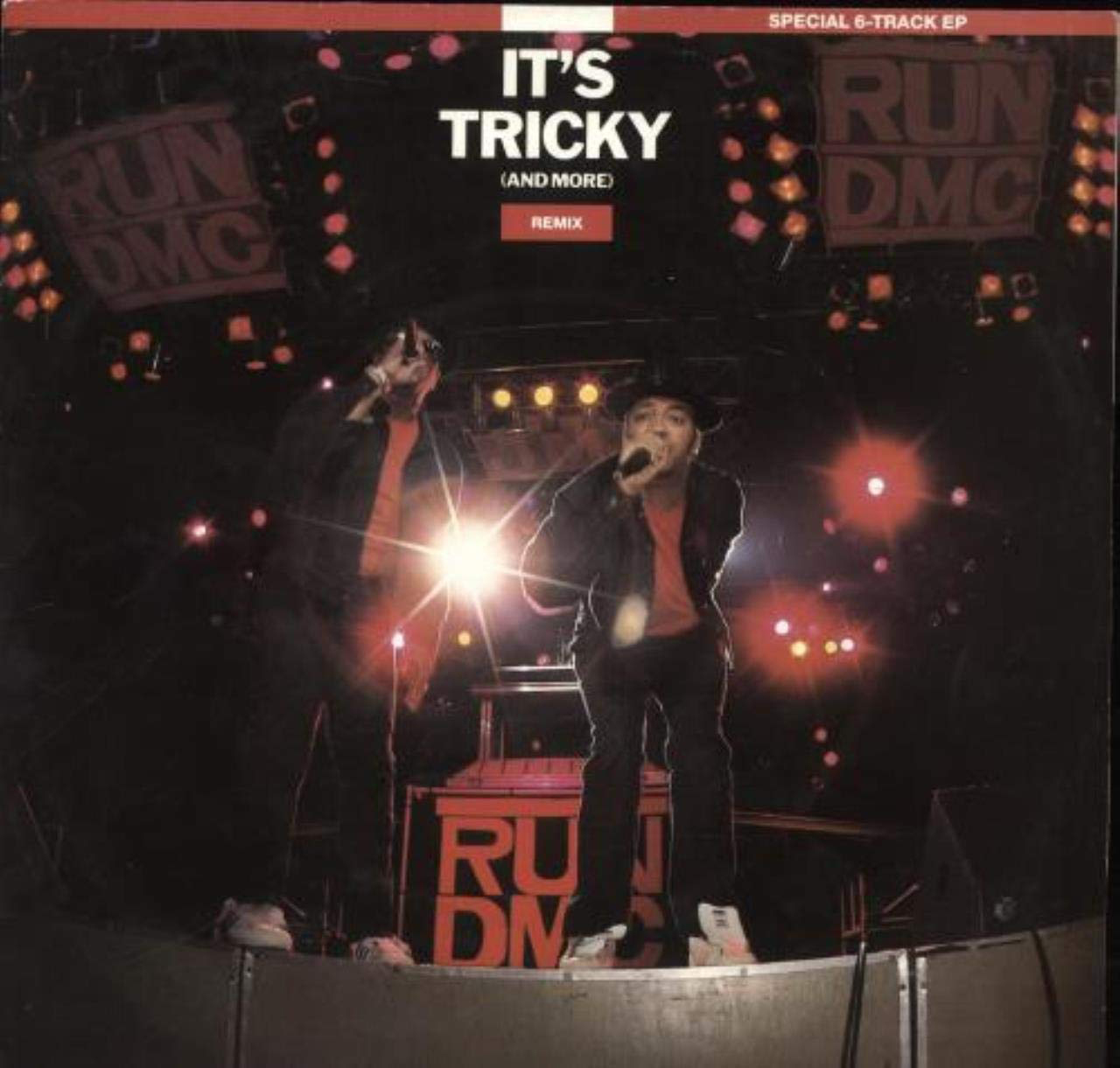 Right when I was on the brink of getting into punk, I was listening to things like Michael Jackson, Prince, and RUN DMC. For some idiotic reason, I thought I had to shed all music I had enjoyed up to that point in my life if that music wasn't punk. I made it back to listening to RUN DMC after I decided that the Beastie Boys crossing over from punk to hip hop made it OK. It was clear to me that the Beastie Boys were heavily influenced by RUN DMC on their debut album, Licensed to Ill, and the Beasties even had a song on the album, "Slow and Low," which was written by RUN DMC. I love almost all of RUN DMC's 80's output, but the album Raising Hell is probably the group's creative and commercial peak. Raising Hell, produced by Rick Rubin and Russell Simmons (Run's brother), features great songs like "Peter Piper," Walk This Way," "My Adidas," and my favorite… "It's Tricky." The majority of 80's hip hop ranges from 90 to 110 BPM, but "It's Tricky" is 127 BPM… in the same zone as most dance music. The tempo of "It's Tricky" gives it an infectious exuberance, and the chorus is designed for a group chant. I love the song as a listener, with its amusing lyrics about the hazards of musical celebrity, but "It's Tricky" is also a crowd-pleaser when I spin it as a DJ. Darryl McDaniels told me that "It's Tricky" is modeled after Toni Basil's song "Mickey" but it samples clipped bits of the Knack's song "My Sharona." When I pointed out to Darryl that both "Mickey" and "My Sharona" were produced by Mike Chapman, who also produced Blondie's "Heart of Glass," he saw the structural similarity between the two songs and credited Rick Rubin with choosing "My Sharona" as the sample. I can't believe how lucky I am to hear inside stories from my musical heroes!
"This Charming Man" // The Smiths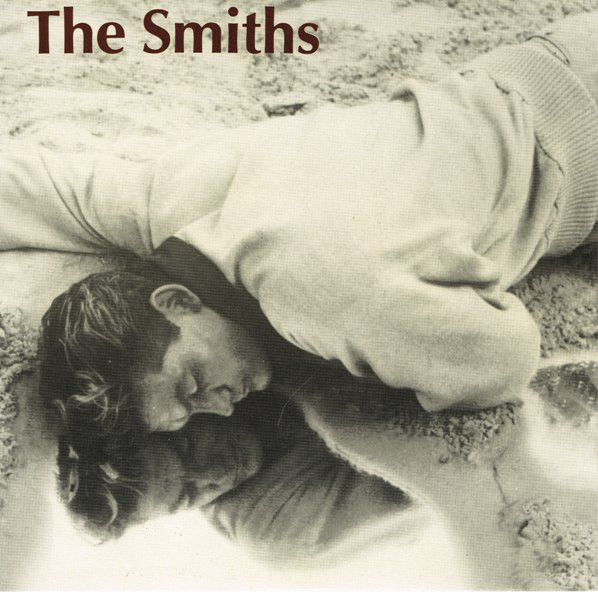 A lot of my high school friends loved the Smiths, and I liked them enough to enjoy when friends played them, and even to borrow and tape the cassette of their 1986 album The Queen is Dead from a friend. Nonetheless, I didn't fully embrace the band because I was still in my punk rock phase of wanting everything to be harder, faster, and heavier. The Smiths didn't quite fit my self-image at the time, but when my friend Jay Haley found out the Smiths were playing in NYC at Pier 84 in early August 1986 and GBH, 7 Seconds, the Cro-Mags, and Toxic Reasons were playing the Ritz a few days later, I painted porches in the sweaty Charleston summer to save some money to fly with Jay to NY where we'd stay at his aunt's loft in Williamsburg, Brooklyn. Jay's aunt Nade taught at RISD and basically let us run around unsupervised, with no curfew in NY as 16-year-olds! We skated the Brooklyn banks and went to St. Mark's Place to look at punk boutiques, skate shops, and record stores, occasionally using our "emergency" money on records, t-shirts, etc. The way I looked at it, getting my hands on cool stuff I'd never find in Charleston did constitute a real "emergency"! The Smiths show at Pier 84 was massive and the band sounded great. I began to re-think my ambivalence about the Smiths. Over the years, the Smiths have only grown on me because Johnny Marr's guitar playing and Morrissey's vocals are so distinctive not only as elements but in their chemistry. Morrissey may tend toward melodrama lyrically, but there is no denying that his lyrics and their delivery are poetic and evocative. "This Charming Man" has a great bouncy riff and beat with a protagonist who channels a more flamboyant version of Holden Caulfield. Morrissey is always great at portraying the persecution free-thinkers feel under the weight of conservative social norms. Fortunately, Morrissey also has a sense of humor and of absurdity. The entire Smiths catalog is great, and though I'm not a cult member, as my ear and mind have matured, I now understand why the Smiths have such a devoted and enduring following.
"Black Dog" // Led Zeppelin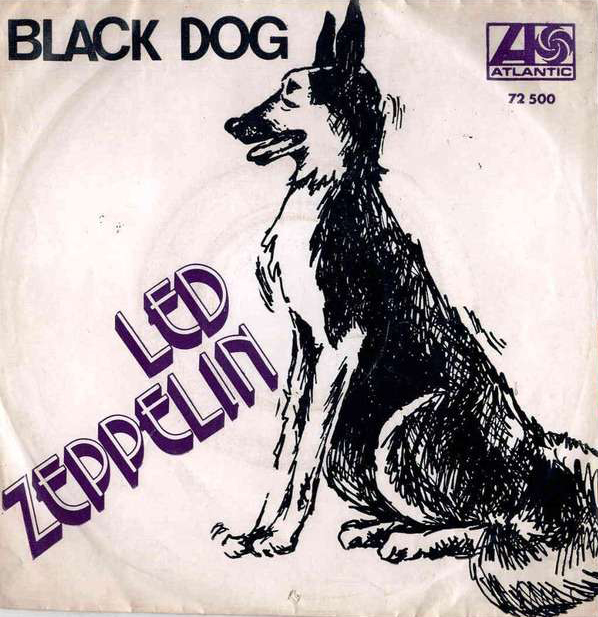 An older skater named Brad Constable used to skate at my friend Blaize Blouin's ramp, and he listened to classic rock and hard rock. Brad was a really good skater and seemed wise, so I paid attention to what he listened to. Of course, I'd heard "Stairway to Heaven" by Led Zeppelin, but that song had a flute and was kind of slow, so I was pleasantly surprised when Brad played "Black Dog," and it had a unique heavy groove with a very powerful vocal. I later learned that the appealingly unruly feel of the arrangement was because drummer John Bonham was playing in 7/8 while the rest of the band was in 4/4. "Black Dog" is the opening track on Led Zeppelin IV, and I quickly liked the whole album, including "Stairway to Heaven," once I understood it in the context of the entire body of songs on the record. I was hungry for more Zeppelin music, so I immediately picked up copies of Led Zeppelin II, Led Zeppelin I, Physical Graffiti. And by age 18 or 19, I owned all of their albums. I was astounded by the stylistic variety of the music, but the consistency of quality. As far as my taste is concerned, Led Zeppelin might be the band most successful in balancing quantity and quality during their entire existence. Robert Plant, Jimmy Page, John Paul Jones, and John Bonham are all brilliant, but the chemistry of the four together created a lot of the greatest rock music ever! I was honored to create the album package for the Led Zeppelin greatest hits album Mothership as well as their 2007 live album Celebration Day. I've done some work for Robert Plant, and he is a kind, charming, and thoughtful humanitarian. I admire Robert's dedication to Native American rights, and it was a joy for me to work with him along with Ernesto Yerena on the video for his song "New World."
"Fire" // Jimi Hendrix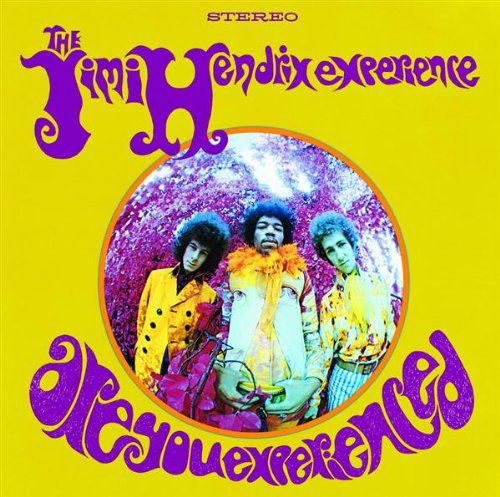 I've been a fan of Jimi Hendrix since late high school. After what I call my "punk rock orthodoxy" phase waned, I was open to looking back to older music that had some of the same attitude and expression as punk. Hendrix stood out to me as being soulful and cool, but also intense and feral in ways. The debut Hendrix album, Are You Experienced, is a masterpiece all the way through, and though it opens with the banger "Purple Haze," I really love the groove and vocal swagger of the song "Fire." To me, "Fire" has a heavier funk feel, almost like James Brown with more guitar power. Most people focus on Jimi's guitar prowess, but I think he was a great vocalist and songwriter with his guitar brilliance, just adding flair to superb songs. I made several home-made Hendrix shirts when I was in high school and college just to have one for myself. One of the first "art" prints I ever made was a tribute to John Van Hamersveld's Pinnacle Hendrix poster from 1968. I saw Hendrix as a cultural icon to reference and honor, even as I subverted his image. I'd like to think that my art playfully, stood on the shoulders of Hendrix and John Van Hamersveld when I hijacked elements of the Pinnacle Hendrix poster!
"Bring the Noise" // Public Enemy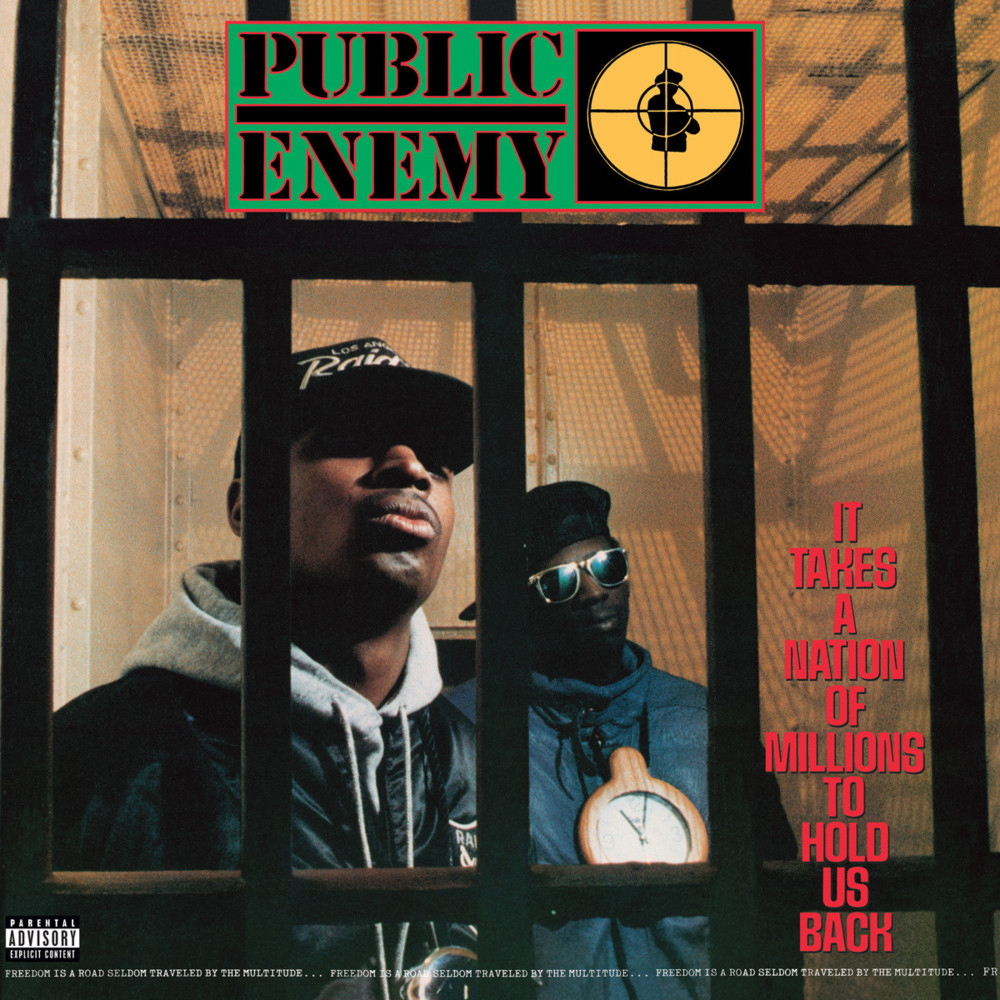 I was turned on to Public Enemy by a Thrasher magazine review of their debut album Yo! Bum Rush the Show. Thrasher magazine, which was the closest thing to a Bible in my life at the time, described Public Enemy's music as "the new punk rock." By '87-88 I felt punk and hardcore had become a bit formulaic, and I was ready for some new raw power. I picked up Public Enemy's Yo! Bum Rush The Show album, and it floored me with by its heaviness and defiant swagger of the music. Songs like "Public Enemy No. 1" and "Right Starter" have booming delivery and immediate but razor-sharp lyrics from Chuck D, the man who was soon to become a hero of mine. Yo! Bum Rush The Show is a powerful debut statement for Public Enemy, but it was only the warm-up for the sonic and lyrical firestorm of its follow-ups It Takes a Nation of Millions to Hold Us Back and Fear of a Black Planet. With It Takes a Nation of Millions to Hold Us Back Public Enemy rose to an artistic level not seen before in hip hop and set a standard for musical, lyrical, and image genius that has rarely been achieved by any artist since. It Takes a Nation of Millions to Hold Us Back dealt with politics and race in a supremely sophisticated yet visceral way over a backdrop of densely collaged and diverse samples. The opening track, "Bring the Noise" begins with air raid sirens and a sampled voice saying "too black… too strong" and then launches into the meat of the song with one of the most memorable lyrics ever: "Bass! How low can you go… death row, what a brother knows." The tension between melody and dissonance is maintained through the album in the music and lyrics. Chuck D's lyrics are the precise reason I took a deeper interest in black movements and leaders like the Black Panther Party and Malcolm X. Chuck turned historical black figures into superheroes, in a way that spoke to teenagers everywhere. "Fear of a Black Planet" once again demonstrated the production wizardry of Public Enemy's Bomb Squad production team. With intensely layered tracks like "Welcome to the Terror Dome" and "Fight The Power," which was the anthem for Spike Lee's masterpiece "Do The Right Thing," and has since become a protest anthem for the ages, Public Enemy proved it was possible to reach the bourgeoisie and rock the boulevard… to make you shake your rump and pump your fist. Those records showed Public Enemy to be one of the most outspoken forces in music, politics, and culture. The influence on their peers was evident as the late 80's to mid-90's golden age of hip hop was filled with social commentary and gritty storytelling that some called "The CNN of the streets" and others called" Gangsta Rap." Hip hop officially became the new punk rock with this album. Public Enemy's logo was great, their beats were great, their lyrics were powerful. They had all the angles locked down on IT Takes a Nation of Millions.
"I Wanna Be Your Dog" // The Stooges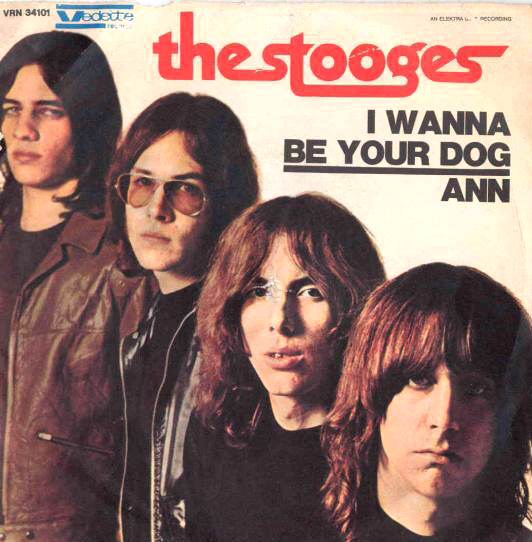 The Sex Pistols were the gateway drug for a lot of good things for me (or bad depending who you ask), including my discovery of the Stooges, because the Sex Pistols covered the Stooges song "No Fun." The Stooges made a lot of great music, so it's hard to pin down only one song, but I'd say my favorite is "I Wanna Be Your Dog" because the Ron Asheton guitar feedback leading into the riff, still makes my arm hair stand up every time I hear it. It's one of the songs that I think most superbly embodies the spirit of surly youthful rebellion that I consider an essential life force. I also love the Iggy Pop solo song "Repo Man," the title track from the movie Repo Man, directed by Alex Cox in 1984 (mentioned earlier). Coincidentally, former Sex Pistol Steve Jones contributed lead guitar to the track. The more I learned about Iggy, his music with the Stooges, his solo material, and his collaborations with David Bowie and many others, the more I realized what a diverse talent and icon he is. During my days of listening to punk almost exclusively, all three Iggy and The Stooges albums were in heavy rotation, but the one I tended to skate to was Raw Power. Raw Power added guitarist James Williamson to the line-up, and his leads made the Stooges sound even more aggressive. When the Stooges re-formed in 2003 (I think), they only performed material from their first two albums because return member and original guitarist Ron Asheton did not play guitar on Raw Power. Don't get me wrong, the first two Stooges records are great, but I always wanted to hear material from Raw Power.
"Johnny Hit and Run Pauline" // X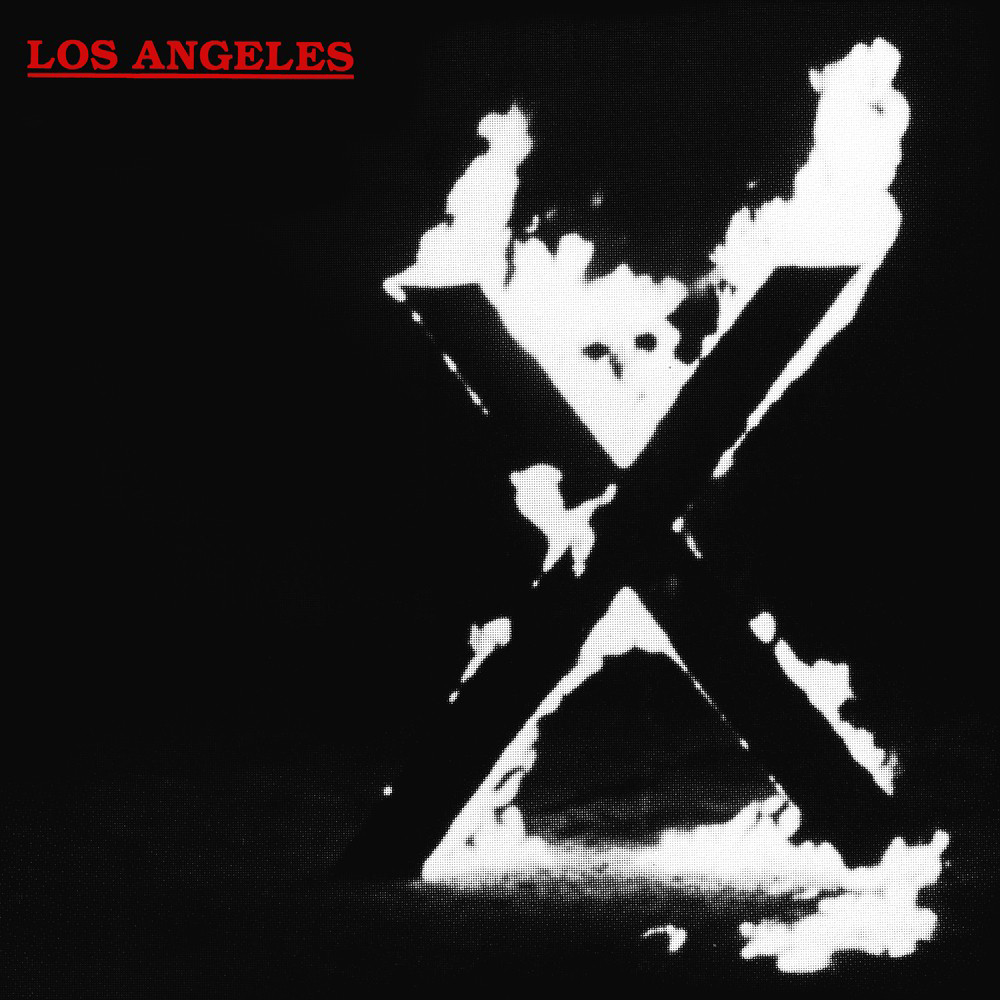 X made great punk records, but there was always more to the band's sound with nods to roots rock' n' roll, rockabilly, and country from the beginning. I doubt I would have looked into Jerry Lee Lewis, Johnny Cash, Chuck Berry, or Eddie Cochran (maybe I'd have checked out Cochran because of the Sex Pistols) if I hadn't loved X's different sounds. X's lyrics tackled seedy desperation, the "New World" under Reagan, music industry conservatism, death, lies, betrayal, and other classics of human existence with wit, passion, humor, depth, and a dynamic interplay between John Doe and Exene Cervenka. John and Exene being a couple as co-writers and front people of a band had my mind racing with excitement and possibility for my romantic and creative future! "Johnny Hit and Run Pauline" from the debut X album, Los Angeles, channels Chuck Berry on speed into a story of sex, drugs, and danger. It was a tough call to pick a top X song because the Los Angeles album is so strong all the way through, but "Johnny Hit and Run Pauline" grabbed me by the throat. Be sure to check out the X albums Los Angeles, Wild Gift, Under the Big Black Sun, and More Fun in the New World. John Doe asked me to create the cover art for his 2016 album The Westerner, which is another incredible honor for me.
"King Contrary Man" // The Cult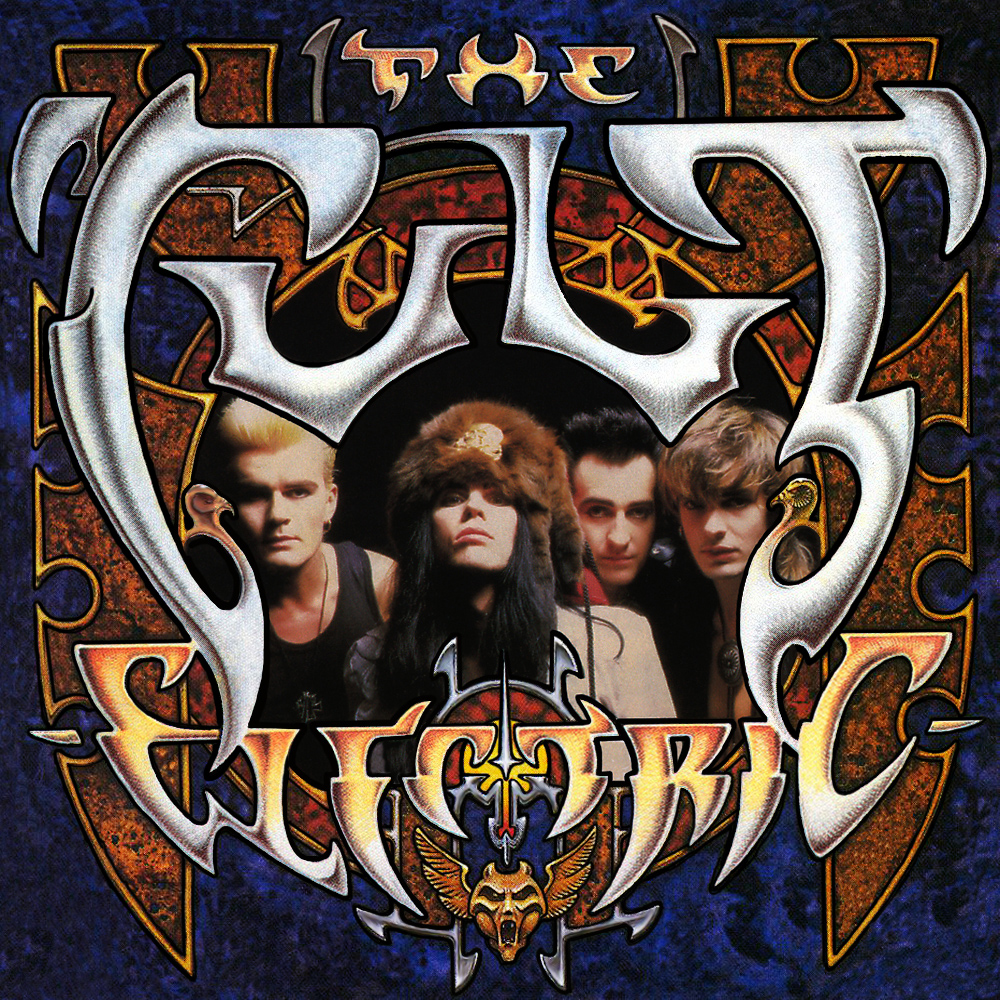 I first heard the Cult album Love in 1986, but I thought it was too soft and jangly because I was listening to a lot of stuff like Discharge, G.B.H., and Black Flag. About six months after the Cult album Electric came out in 1987, I borrowed a friend's cassette and immediately dug it. I was listening to a good bit of classic rock by then, so the AC/DC feel of the album appealed to me, but Electric had another dimension to it that I'd describe as mystical and sometimes even artsy. Apparently, there was an aborted version of Electric tentatively called Peace that sounded more like the Cult's previous album Love. Rick Rubin was brought in to produce Electric and give it a more hard rock feel, with special emphasis being given to the power of the kick drum. I loved the resulting sound. I additionally loved the album artwork that had clear inspiration from psychedelic poster artist Rick Griffin. I think Electric is perfect from start to finish with the possible superfluous inclusion of a cover of Steppenwolf's "Born to be Wild." The Cult's Ian Astbury is a phenomenal vocalist, with much greater range and dynamics than the AC/DC singers Bon Scott and Brian Johnson, allowing the Cult to transcend stylistic similarities between the bands. Electric has so many great songs like "Wild Flower," "Lil' Devil," and "Love Removal Machine." Still, my favorite is "King Contrary Man" because the music rocks and the "deal with the devil" lyrics are a great metaphor for youthful recklessness and lust for life.
"Pigs in Zen" // Janes Addiction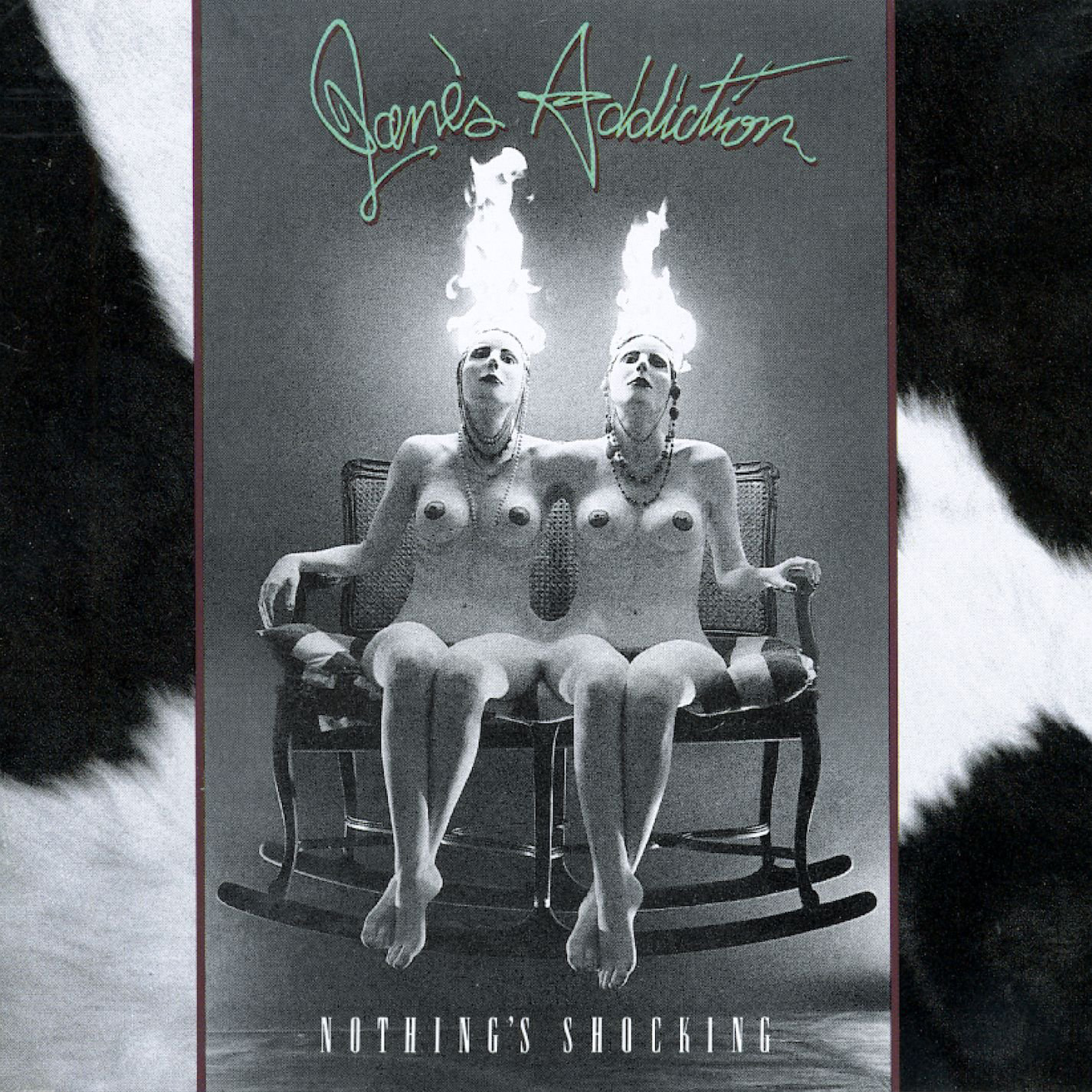 I did a year of art boarding school, 1987-88, in Idyllwild, California, for my senior year of high school and a goth girl I was friends with had a Jane's Addiction demo tape with maybe three songs, including "Jane Says" and "Pigs in Zen." I HATED "Jane Says" because it seemed like sappy, hippy crap to me at that time. However, I liked "Pigs in Zen." When I heard Jane's Addiction were playing with the Ramones in the fall of '88, I decided to go early enough to catch the Jane's Addiction set. I was blown away by how great the band sounded live (I've seen them many times over the years, and they ALWAYS sound great). Songs like "Mountain Song" had a huge hypnotic tribal sound. "Pigs in Zen" grooved and rocked, propelled by a very distinctive vocal from frontman Perry Farrell. After the show, I bought Jane's Addiction's XXX live album which includes "Trip Away," "Whores," and a great version of "Pigs in Zen." I still think that album is one of the best sounding live records ever. Later, I got a copy of the recently released Jane's Addiction studio album Nothing's Shocking, which had excellent songs like "Ocean Size," "Ted Just Admit It," "Mountain Song," and a version of "Pigs in Zen" with a different spoken-word section. I love both versions of "Pigs in Zen" almost equally, but I think the slightly more feral quality of the live version makes it my favorite. All of Nothing's Shocking is great, and the album proved the commercial viability of alternative rock and paved the way for bands like Nirvana to break big. Perry Farrell also founded the first, and still running, alternative music festival Lollapalooza.
"Power" // Ice-T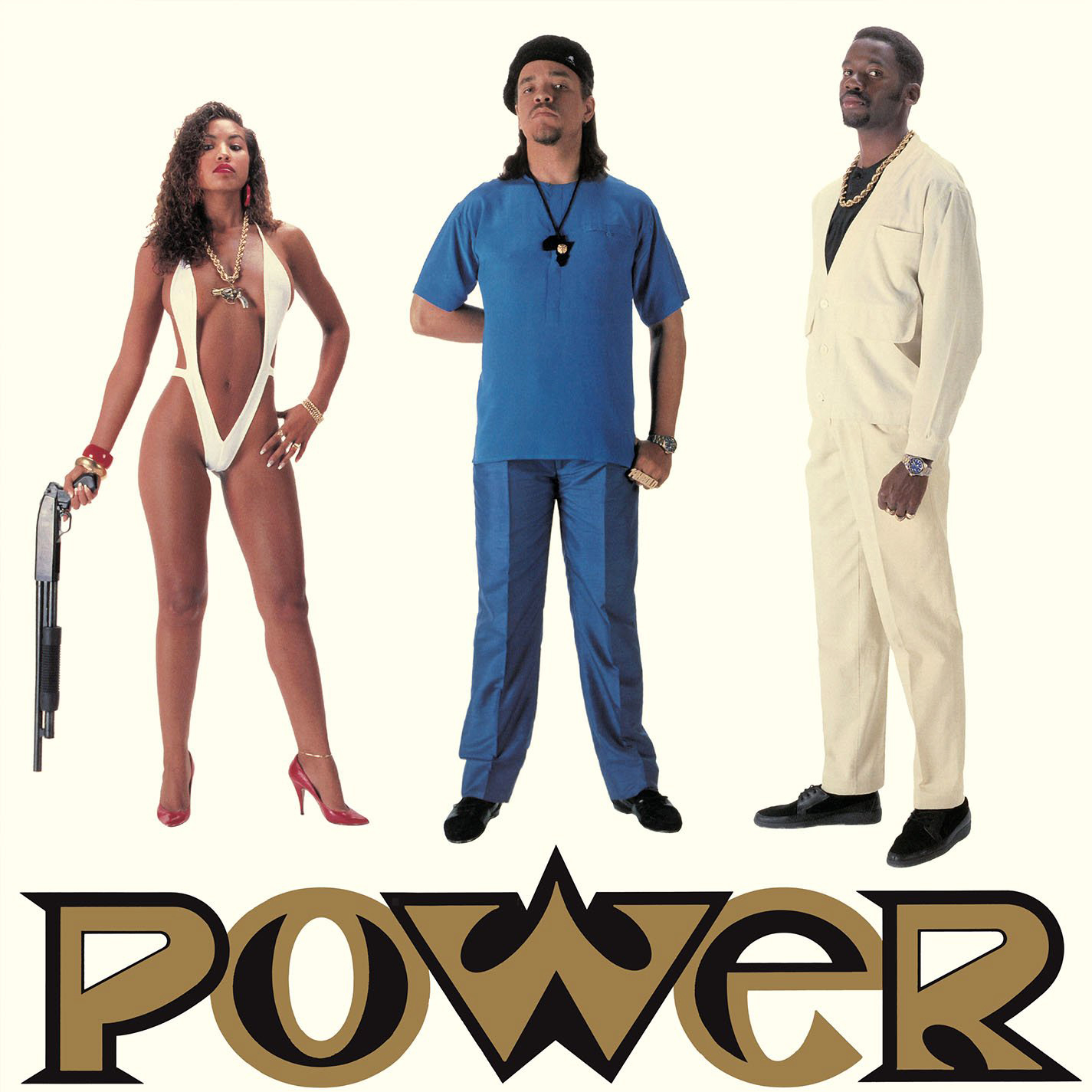 "I'm livin'
large as possible, posse unstoppable
Style topical,
vividly optical
Listen, you'll see
'em sometimes I'll be 'em
Cops, critics and
punks, never ever want to see me in POWER
Well, that's too
bad, Apocalypse Now I'm back and I'm mad
We're comin',
you're runnin' cold and cunning
Ice T on the mic, Top-Gunning"
That opening line really stuck with me and ended up being the inspiration for the use of the word "posse" in my "Andre the Giant has a Posse" sticker a few months after I heard it in 1989. "Power" is my favorite Ice-T album, but he has several excellent albums, including Rhyme Pays, Iceberg/Freedom of Speech, and O.G., Original Gangster. Three out of four of those records have cover photographs by Glen E. Friedman. Glen and I both think that Ice-T is a very important figure in the golden era of hip hop who deserves to be celebrated for his contributions.
"Helter Skelter" // The Beatles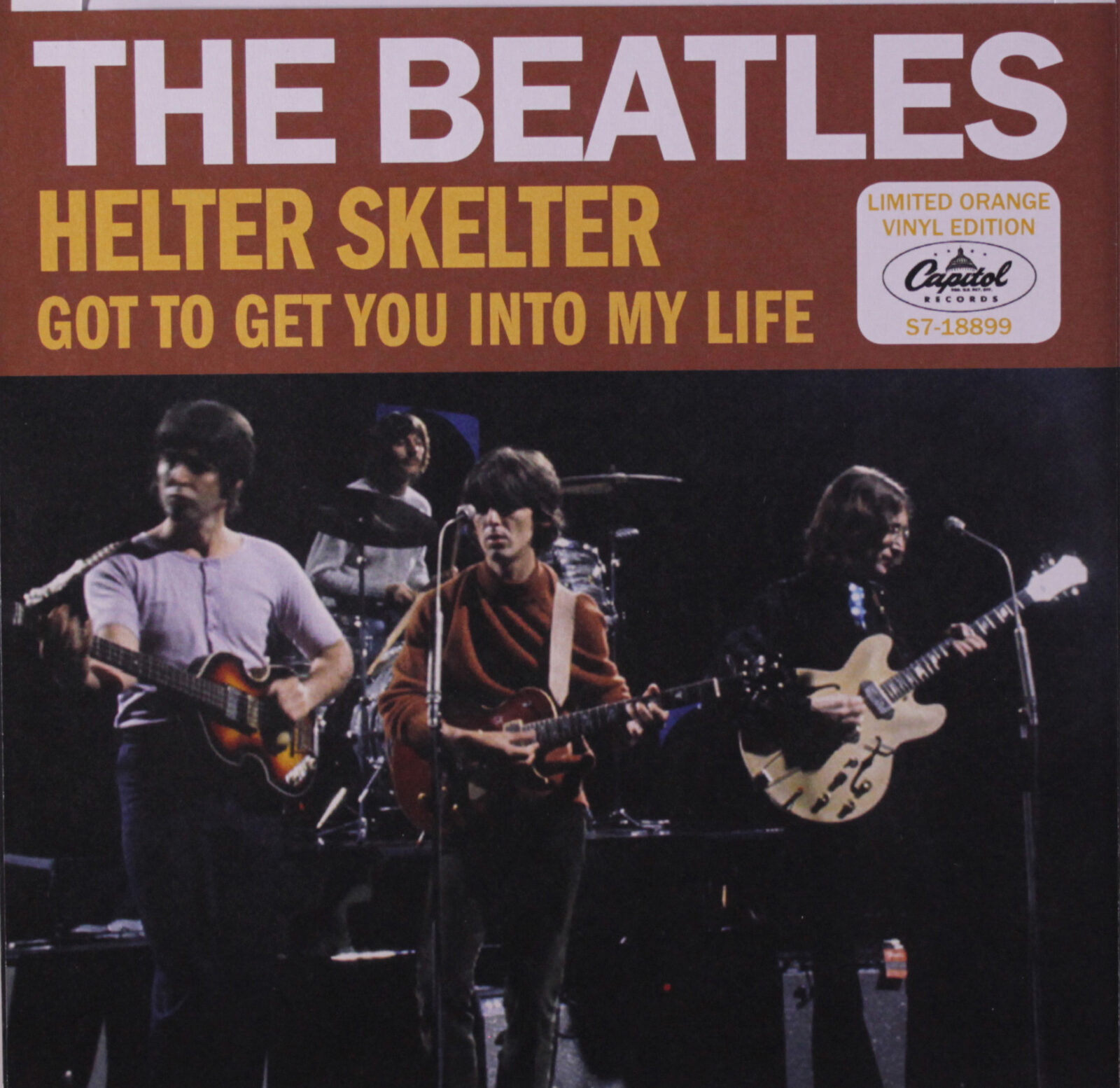 My parents loved the poppy early Beatles songs like "Love Me Do" and "I Want To Hold Your Hand,"… which meant that as a teen punk, I thought those songs were sappy and too sugary. I wanted nothing to do with them (the Beatles and my parents). I now like those early Beatles songs even if I think they are less weighty and sophisticated than some of their later material. I basically ignored the Beatles until I was at college, where hearing them was pretty unavoidable. Luckily a few friends were dedicated fans and played me albums like Sgt. Pepper's, the White Album, and Abbey Road. Listening to those albums more closely I realized that the Beatles were a lot more avant-garde and multi-dimensional than I had realized as a teen. There are so many amazing Beatles songs that I can't even begin a proper list, but I decided to highlight "Helter Skelter" because while I was ignorantly dismissing the Beatles as too sugary, thinking I was super punk, I failed to realize that they may have created one of the first proto-punk songs with "Helter Skelter" from the White Album, an eclectic masterpiece. I love "Helter Skelter," but it is not my favorite Beatles song… I focused on it because it provided a eureka moment for me and opened my mind to the rest of their music. "Revolution" is pretty punk too! However, several of the prettier and more delicate songs on the White Album really grew on me, especially "Blackbird," "Good Night," and "Dear Prudence" (which I first heard as a cover by Siouxsie and the Banshees). The Beatles made great songs in every style, and were compelling while being serious or playful. I think the most astounding example of the Beatles' range and genius is the 16 minute "Medley" on side two of their Abbey Road album. The 16 minutes of "Medley" are a profound journey through a range of sounds and emotions touching on the theme of selfishness vs. generosity.
"Super Bad" // James Brown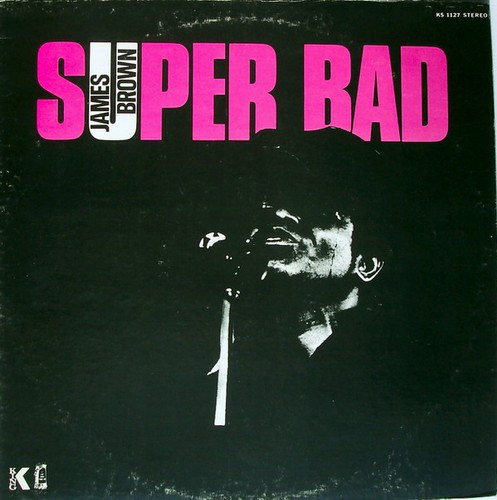 After I started listening to a lot of hip hop in the late '80s, I became interested in the music it sampled and was built from. I had a few friends who were record collectors and knew hip hop as well as the funk and soul artists it sampled. I slowly started listening to, and buying, records by Parliament, the Meters, Curtis Mayfield, and James Brown. The most sampled artist by my favorite hip hop artists like Public Enemy, Eric B. & Rakim, N.W.A. and Boogie Down Productions, was James Brown. I only knew Brown's "I Feel Good" as a kid, so it was amazing to discover how awesome his early to mid-70's funk songs are. There are tons of great tracks by Brown, and his band the J.B.'s, including "The Big Payback," "Get Up Offa That Thing," "Give it Up or Turn it Loose," and "The Grunt," but my favorite is "Super Bad." The song "Super Bad" is uptempo with an ultra-funky rhythm, precision horn stabs, and some of the most awesomely braggadocios lyrics like "Sometimes I feels so nice, good god, I jump back, I want to kiss myself" accompanied by emphatic yelps that Brown ever put on wax. Brown's song "The Funky Drummer" features a drum break by Clyde Stubblefield that is the most sampled piece of music in classic hip hop. Aside from James Brown being a musical pioneer and force of nature on his own, a large portion of the classic hip hop I love wouldn't be the same without utilizing bits of his catalog.
"Sound System" // Operation Ivy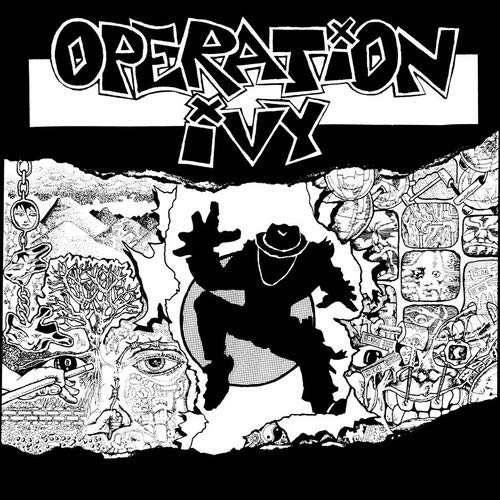 Even though I was listening to English punk in the '80s, I somehow missed the music from the Two-Tone ska scene like The Specials, The English Beat, Madness, and the Dance Craze soundtrack. In the spring of 1989, Bay area punks Operation Ivy put out their only full length album, Energy, which fused ska and hardcore. Somehow a couple of my friends from the skate shop were playing the Energy album and introduced me to Operation Ivy. I listened to that album daily at the skate shop where I worked, which was also where I was cutting and handing out the first "Andre the Giant Has A Posse" stickers I ever made. Operation Ivy, along with the first Fishbone album and a few other ska classics were basically the soundtrack of that summer and my obsession with my new sticker project. Energy is appropriately titled, packed with 37 minutes of fun and thoughtful bursts of punk in songs such as "Knowledge," "Unity," "Caution," and "Sound System," which celebrates the escape provided by the fleeting but transcendent power of music. After the band broke up, Operation Ivy members Tim Armstrong and Matt Freeman formed Rancid, one of the most successful independent label punk bands. I've become good friends with Tim Armstrong, who is also a great visual artist, and I find his prolific output of art and music to be the ideal embodiment of the D.I.Y. spirit. I'll always be grateful that Operation Ivy was the gateway for me to discover Two-Tone ska.
The 1990s, age 20 to 29 years-old
"Moonage Daydream" // David Bowie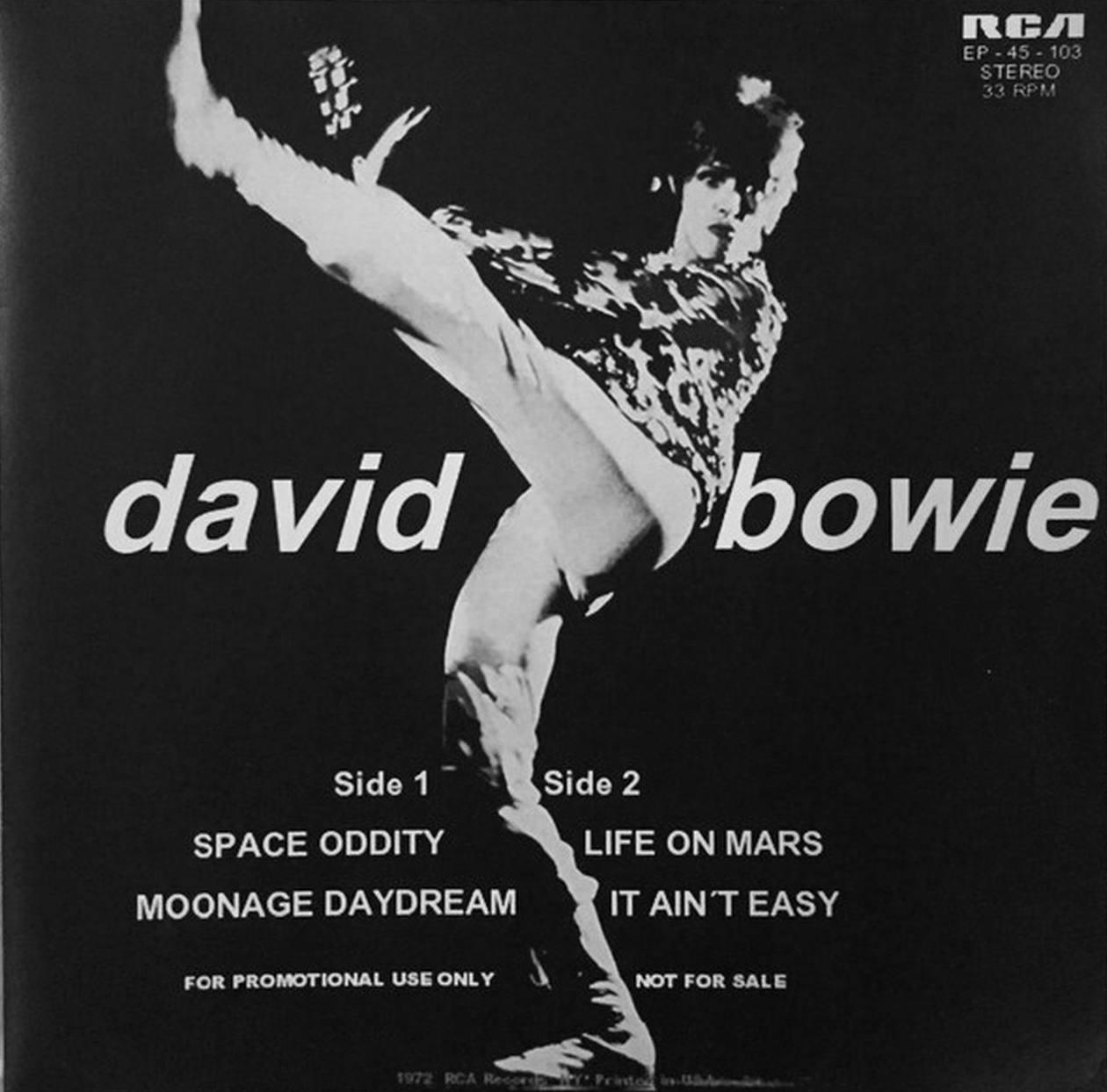 I first noticed David Bowie in 1983 when his Let's Dance album came out, and its hits like "Let's Dance," "China Girl," and "Modern Love" were getting heavy radio play. I liked those songs, and I think I even connected the dots that he was the collaborator with Queen on the great song "Under Pressure," but I did not become a die-hard Bowie fan until I picked up Ziggy Stardust and the Spiders From Mars from a flea market in my early 20's. My used copy of the album had a scratch that skipped in the first song "Five Years," and I listened to that album so much, that I can't hear it in any format without expecting I'll need to lift the needle to keep the word "people" from repeating infinitely. Ziggy Stardust is one of my favorite albums ever. It makes sense that it was Bowie's breakthrough album, not just because his newly adopted androgynous glam image was provocative and mesmerizing, but because the songs on the album are incredible! At first, my favorites were obvious rockers like "Suffragette City" and "Ziggy Stardust," but over the years, folkier songs like "Soul Love" and "Starman" really grew on me. It's almost impossible to pick a favorite Bowie song from Ziggy Stardust and the Spiders From Mars, much less his entire catalog. But I'm focusing on "Moonage Daydream" because it has Mick Ronson's rocking guitar, and also features unexpected instrumentation including piano, strings, sax, and flute that make it both tough and pretty. I love the lyric, "don't fake it baby… lay the real thing on me," and all the lyrics have a sci-fi hipster coolness to them. The song is powerful, beautiful, hypnotic, cool, and a great indication of Bowie's vision to push boundaries with his art. He did that for the next 40 years, but my favorites are the three of the albums he did with Mick Ronson, Hunky Dory, Ziggy Stardust and the Spiders From Mars, and Aladdin Sane.
"Folsom Prison Blues" // Johnny Cash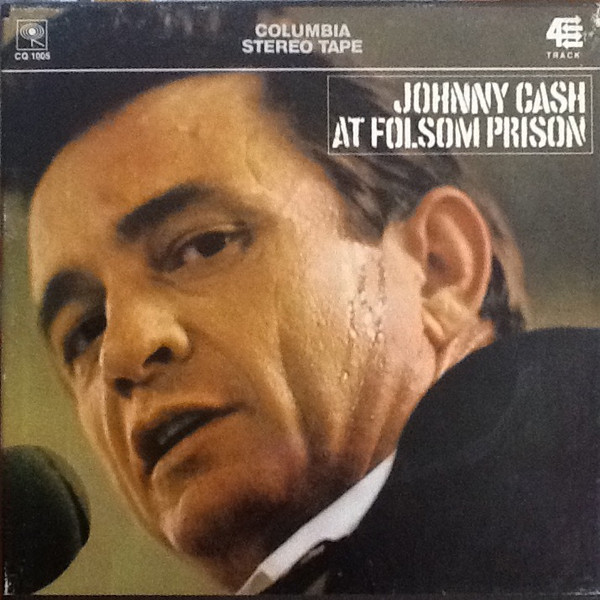 As a kid from Charleston, South Carolina, I heard a lot of country music, and I associated it with conservative and redneck attitudes. I didn't know Johnny Cash's music, even though I knew his name, but I associated him with country music, meaning that I was completely uninterested in listening to him. In 1989 De La Soul released their debut album 3 Feet High and Rising, which I found out was named after a Johnny Cash lyric from "How High is the Water Momma." I loved De La Soul, so I was intrigued. Around the same time, the Beastie Boys released Paul's Boutique, which included a sample from the song "Folsom Prison Blues" in one of the tracks. The following year, 1990, Social Distortion released their self-titled album, which contained a fantastic cover of Cash's "Ring of Fire." Social Distortion started as a punk band but they were shifting stylistically to include nods to roots rock and rockabilly/country. At that point, I decided all these Cash references were an indication that I should check out his music. I picked up some of the early Sun Records stuff like "Walk the Line" and "Get Rhythm" and "Cry!, Cry!, Cry!" which are all great, but I really realized the genius and power of Johnny Cash when I heard his Live at Folsom Prison album. Cash has so much energy and charisma on these songs live, that the studio versions sound tame in comparison. The live version of "Folsom Prison Blues" is the rebel essence of Cash at its best. There are tons of great Cash songs, and I think his late-career albums produced by Rick Rubin demonstrate how he made even cover songs his own with his soul-baring interpretations. I was very happy when I was able to create one of the promotional posters for the excellent biopic Walk the Line with Joaquin Phoenix delivering a convincing and impressive performance as Johnny Cash.
"Paranoid" // Black Sabbath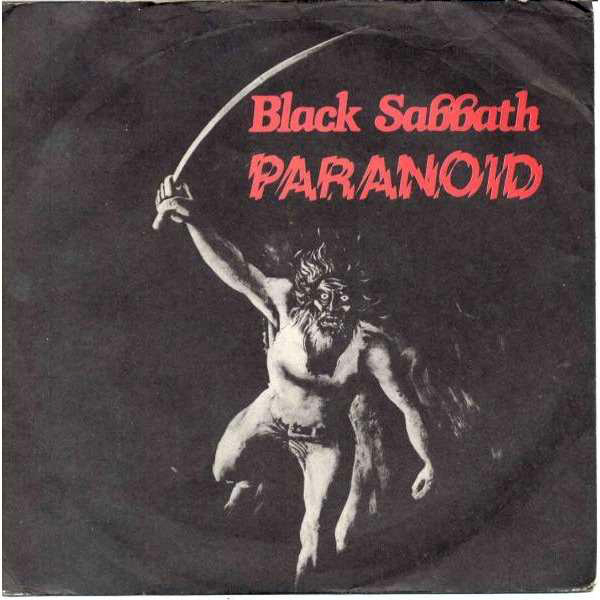 Black Sabbath has been one of my favorite bands for 25 years. The album Paranoid is perfect start-to-finish. Opening song "War Pigs" is an anti-war song that is alternately slow, menacing, frenzied, and energetic. However, since I came to Black Sabbath at a time when I was listening mostly to punk, the faster tempo of the song "Paranoid" was immediately appealing to me. It provided the gateway for me to dive into the rest of Sabbath's music enthusiastically. I often played the song "Paranoid" over-and-over for an adrenaline boost while skating my mini-ramp. The Paranoid album set the metal sound template that many others imitated, but few could write the great songs Sabbath could. I methodically acquired all of the Sabbath albums with the original lineup, fronted by Ozzy, and they all have great material, with their self-titled debut, Paranoid, Master of Reality, Sabbath Bloody Sabbath, and Sabotage all being masterpieces.
I was fortunate enough to meet Jack Osbourne through my friend Big Dave in 2000. My relationship with Jack and Big Dave has led to several great Ozzy and Sabbath projects over the years. One of my biggest "I'm not worthy!" moments took place when Dave took me backstage to meet the Sabbath guys in 2004 at Ozzfest and bassist and lyricist Geezer Butler was wearing an Obey shirt! Amanda and I saw their final show in Birmingham, England and Sabbath remained a phenomenal live band until the end! It was an honor to create the art for Sabbath's vinyl box-set, The Ten Year War.
"Zodiac" // Melvins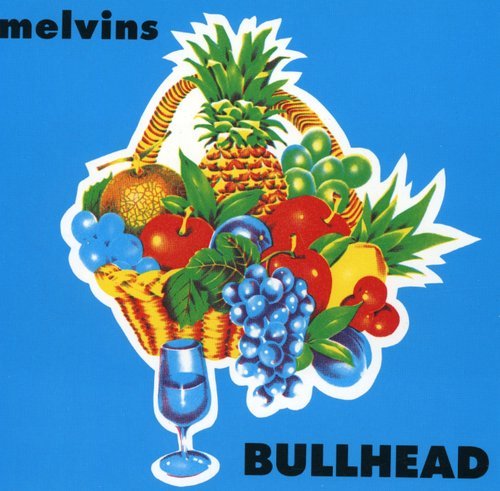 The Melvins are one of my all-time favorite bands. In 1991, I discovered their albums Ozma and Bullhead courtesy of my friend John Reigart and became obsessed. The Melvins channeled Black Flag and Black Sabbath but had their own unique style that utilized power and negative space, with sublimely controlled fuzzed-out distortion and precise percussion. "Zodiac" is the first song on side two of Bullhead, and for a good while, it was the song I put on every morning as a substitute for an adrenaline and espresso shot. As far as my taste goes, "Zodiac" is a heavenly piece of electric power, starting with a break-neck hardcore section, segueing into a dirge with one of the best riffs and drum parts ever. Bullhead turned the Melvins into something close to a religion for me. I love all of the early Melvins albums, but the peak of my fanaticism was when they put out Houdini, their first album for Atlantic Records, produced in part by Kurt Cobain. The music on Houdini is great, and so is the album art by Frank Kozik. I followed the Melvins around the northeast and saw them four times on the Houdini tour, including a show in Amherst, Massachusettes the day Kurt Cobain's body was discovered. It was a tough day, and I thought the Melvins would cancel, but they played the best show of theirs I've ever seen (and I've seen them 15+ times). I was happy to be able to create the poster art for the Melvins documentary "The Colossus of Destiny: A Melvins Tale."
"Smells Like Teen Spirit" // Nirvana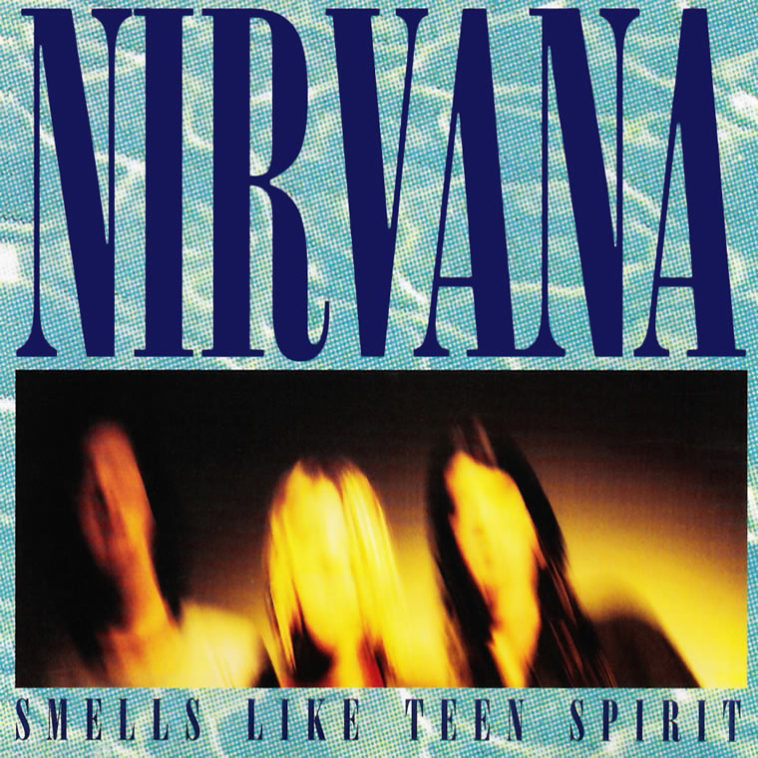 I had an opportunity to see Nirvana and the Melvins in the fall of 1991, but I had a college project due, so I skipped it to finish my work. At the time, it seemed like both bands would remain underground and would be making the rounds of the smaller clubs for the foreseeable future. As it turns out, that Club Babyhead show happened the day after Nevermind came out, and Nirvana would sell millions of albums and dramatically change the musical landscape. Up until then, I considered Nirvana a lightweight Melvins imitation, because that is what Bleach sounded like to me. After I bought Nevermind a week or two later, I realized that Nirvana had made an incredible album. Album opener "Smells Like Teen Spirit" is a song with a more muscular version of the Pixies quiet/loud dynamics plus great structure, melody, and anthemic but unusual lyrics. "Smells Like Teen Spirit" made me want to jump around, sing, ponder the vigor of youthful rebellion, and I was sure it would conjure similar feelings in my "indie" friend group. What I did not realize is that the song would soon dominate pop radio, creating many debates about the term "sell-out." Some of my so-called "indie" friends, who originally loved Nirvana, chose to distance themselves from the band after they became popular. I chose to be happy for the band's success and see their breakthrough as a triumph for good music, and I hoped they could maybe pave the way for more good bands to get on the radio. I like all of Nirvana's albums, but the one I find astounding and surprising, especially considering the turmoil Kurt and the band were experiencing at the time, is the MTV Unplugged Live in New York because the performance is so intimate and soulful, but powerful. Seeing and hearing Nirvana stripped-down magnifies what great musicians and what a great band they were.
"Paranoid Android" // Radiohead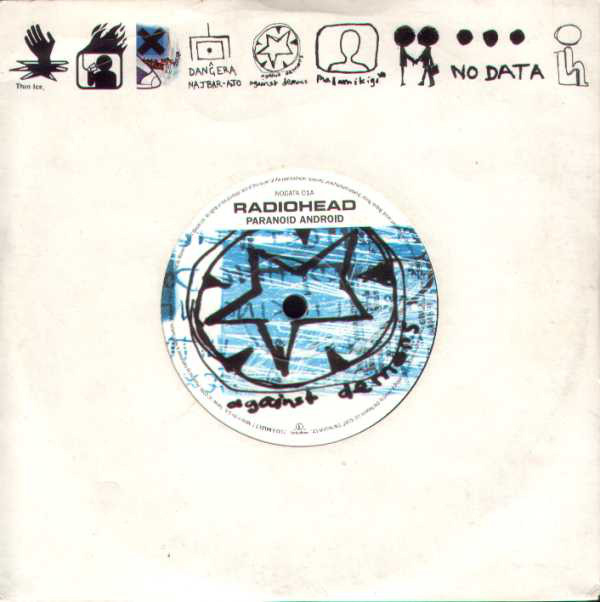 OK Computer might be the best album of the '90s. It is beautiful, but it rocks. It's experimental but accessible. A true masterpiece that adheres to traditional rock structures in some ways, but is avant-garde in others. All of OK Computer is beautiful, powerful, melodic, and permeated with anxiety. I think the album's complexity and range of sonics and emotions, while remaining cohesive, is miraculous and astounding. To me, no song embodies the range and depth of Radiohead better than "Paranoid Android." With it's four distinct parts woven together over six and a half minutes, "Paranoid Android" isn't just a song, it's an art-damaged spiritual odyssey. The delicate beginning, with weaving guitar lines joined by keys and ominous bass, gives way to a full-force heavy acidic section. Which is followed by one of the most beautiful vocal parts I've ever heard, comprised of Thom Yorke and a luxuriously layered set of backing vocals. The song ends with a layered guitar freakout that is both dangerous and melodic. OK Computer has lots of dazzling moments, including "Airbag" and Karma Police," but I don't think music gets any better than "Paranoid Android." I was extremely happy when I was asked to create street marketing materials for Radiohead's KID A and Amnesiac albums. I was able to remix and design with Stanley Donwood's art for stickers, stencils, and posters. I was especially happy to hear that Them Yorke liked my concept of red stickers for stop signs using the Amnesiac typeface that with white text reading REMEMBERING, which yielded the message STOP REMEMBERING. In 2012 we did an art show at Subliminal Projects with Radiohead collaborator Stanley Donwood and his friends Thom Yorke and Nigel Godrich DJ'ed in the gallery.
"Cowboy Dan" // Modest Mouse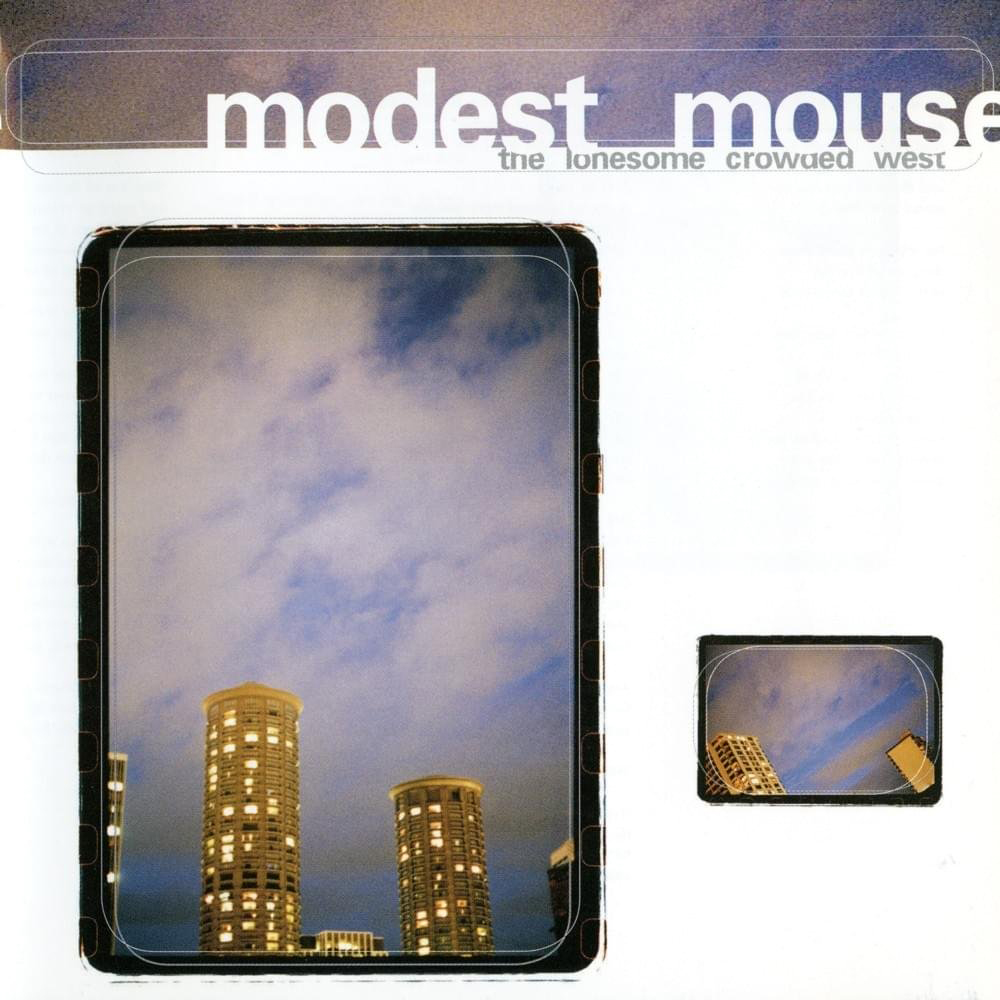 I first started hearing Modest Mouse here and there in late 1998. I hated their name (I hated it less when I realized it was a Virginia Woolf story reference), but I eventually succumbed to the power of the music. I borrowed a friend's copy of the album The Lonesome Crowded West, and it grew on me quickly. The whole album is great, very multi-dimensional ranging from aggressive and dissonant on songs like "Teeth Like God's Shoeshine" to folky, jangly, and intimate on "Trailer Trash." My two favorite songs on The Lonesome Crowded West are "Doin' the Cockroach," which builds steadily into an exhilarating staccato guitar frenzy, and the following song, "Cowboy Dan," which is full of tension, struggle, anger, and beauty. "Cowboy Dan" is very layered in its musical and emotional elements… and they feel perfectly complementary in conveying the weight of the world for the song's protagonist. Lyrically, Isaac Brock comes across as an empathetic world-weary sage. I rarely call someone a poet, but Isaac wrote with such depth for someone only 23 years old, that I think poet is the only title that properly conveys his elevated craft as a lyricist. I got to do Modest Mouse's 2000 Black Mirror tour poster, which was a huge deal for me. Modest Mouse has put out a lot more great music and always powerful in their live performance.
"Tired of Sex" // Weezer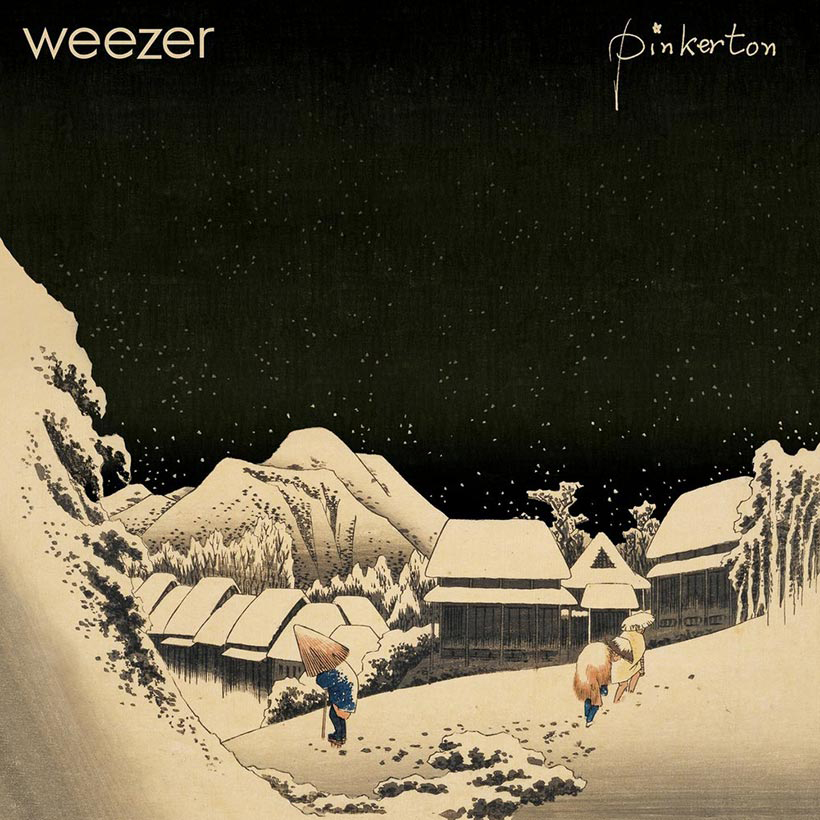 I didn't like Weezer when their debut "blue" album came out. I had just gone through a rough break-up and I was listening primarily to angry, heavy music like the Melvins, Butthole Surfers, and Black Sabbath. To me, the "blue" album seemed too slick and poppy, so I didn't give the music a real chance, even though Ric Ocasek of the Cars (who I love) produced it. In late 1997 or early 1998 I was working on an album package for the Specials through MCA Records. I was in their LA offices, and they offered for me to grab some CD's from their inventory. Even though Weezer was on DGC, they had a stack of their album Pinkerton. I grabbed a copy, even though my expectations were low, but figured I could trade it for credit at a record store if it sucked. I went to my print studio, put on Pinkerton, and was astounded by the rawer production of the album, which also has a power and emotional intensity very different from the "blue" album. "Tired of Sex" is the album's opening track and sets the tone for an album that feels personal and honest as well as a bit more punk. Rivers Cuomo's vocals are full of angst and desperation rather than being smooth. To me "Tired of Sex," and the whole Pinkerton album sound like a soul-baring diary put to catchy distorted power-pop with a bit of punk in the mix, which is why I and many others LOVE the album. It's also why songwriter Rivers Cuomo disowned it after it sold poorly. Ironically, the cult that built around Pinkerton on the internet, re-energized Weezer's career going into the early 2000's. Pinkerton was the first gift I gave my wife Amanda for her birthday about a week after we started dating in 1999. She said she loved Weezer's "blue" album so I thought it was imperative that she experience the beauty and power of Pinkerton. I've come to love the "blue" album and admit the error in my original rash judgment. Weezer's "green" album, also produced by Ric Ocasek, is a return to the sound of the "blue" album but is full of great tunes. One of the coolest things to happen to me up to that point in my life, was when Pat, Weezer's drummer, put a 15-inch Obey icon sticker on his bass drum while the band performed late afternoon at Coachella 2001!
The 2000s, age 30-39 years

"Hello Operator" // The White Stripes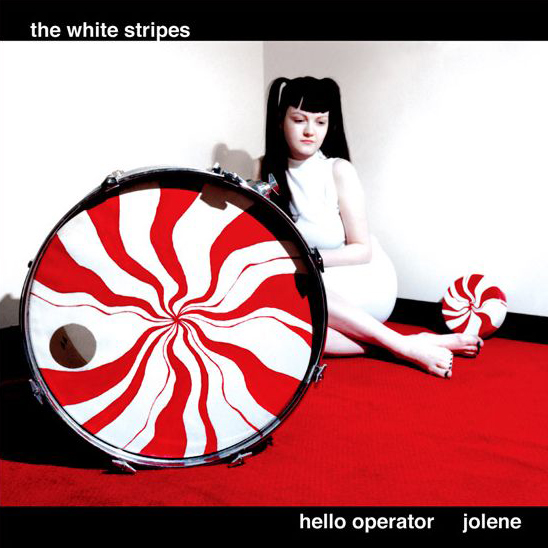 I first heard the White Stripes in 2001 when some hip friends in San Francisco recommended their newest album White Blood Cells. I immediately liked the raw garage rock sound of the album and the catchiness of songs like "Dead Leaves and the Dirty Ground" and "Fell in Love with a Girl." It was hard to believe that the duo of Jack and Meg White could produce so much power with only two members. My soon to be wife Amanda and I went to see the White Stipes at the Casbah in San Diego in 2001 and they sounded just as powerful live as they did on record. As well as songs from White Blood Cells, they played older material from what I soon realized was their previous album De Stijl. I really loved the slide guitar performance of a blues song called "Death Letter," which sounded sort of early Zeppelin-ish. I found out it was a cover of bluesman Son House and that Jack White and Led Zeppelin had many of the same blues influences. I wanted to find the album that "Death Letter" was from and picked up De Stijl in short order. All of De Stijl is great, but I love the stripped-down blues power of "Hello Operator," which features only guitar, drums, vocals, and punchy harmonica. Though Jack White wanted to distance himself from the label of his band as "blues revivalists," I think De Stijl transcends nostalgia with its garage rock edge and power. I like all of the White Stripes' albums, but De Stijl is my favorite from start to finish.
"Obstacle 1" // Interpol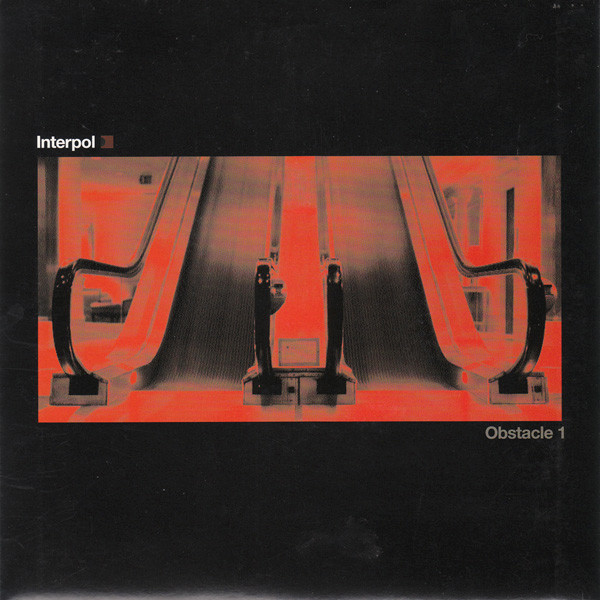 I bought the Interpol album Turn on the Bright Lights in the fall of 2002 just because I liked the cover art, and the Tower Records in Boston, where I picked it up, had given it the esteemed end-of-aisle endorsement. I put the CD on, and it instantly seduced my wife and me with the moody and intimate, but propulsive songs. I listened to this album obsessively for months. There have been many Joy Division comparisons (which is not a bad thing), but I think they bring their own thing to the party as well. The mood is dark, but the songs rock as well. There is a great balance between atmospheric and energetic. All of the songs on Turn on the Bright Lights are great, but I think the beat, dynamic interplay of the two guitars, and the power of the bass and vocal in "Obstacle 1" are as good as it can get in terms of my taste. I sort of stalked Interpol at Coachella in early 2003 and found out that singer, Paul Banks, was a fan of my art. I became friends with the band and had the opportunity to create some art for their follow-up album, Antics, in 2004. Ten years later, we discussed working together again for their album El Pintor (Spanish for "The Painter"; also an anagram of the band's name). I liked the challenge of creating an anagram from a song title, and Daniel Kessler suggested I interpret the song "Everything Is Wrong." I decided to explore the idea of being complicit in an unhealthy relationship with a person or a broader system. When I shuffled the letters of "Everything Is Wrong," I came up with the anagrams "the very growing sin" and "every wrong insight." Interpol has put out great music for close to 20 years now.
"Natural's Not in It" // Gang of Four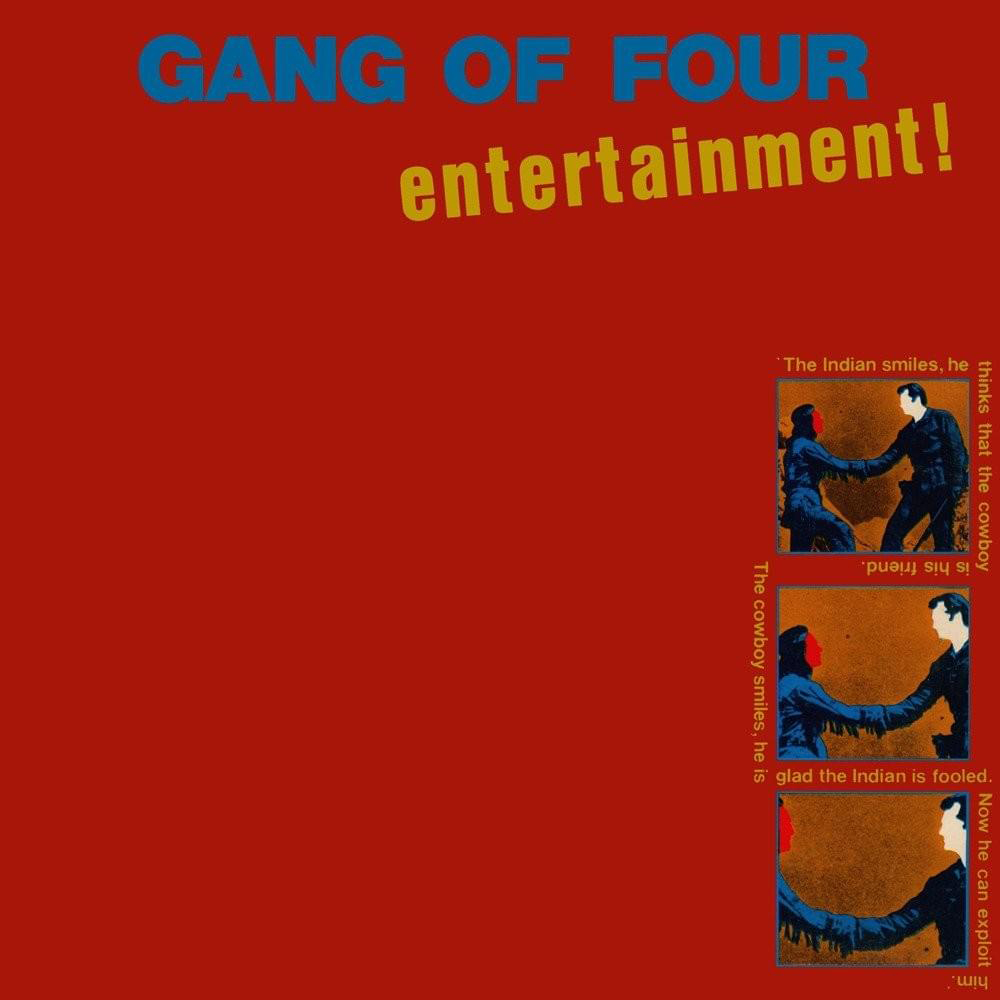 I have to admit that I was late to the party of cool people who understood the importance and brilliance of Gang of Four. I finally bought their debut album Entertainment in 2002, right before Gang of Four began to be recognized as an influence on bands like The Rapture, Radio 4, and Franz Ferdinand. Gang of Four is a great band musically with an excellent tension between funk, rhythm, and noise. Still, I was equally excited by their lyrics, with many of their songs tackling subjects like consumption, capitalism, obsession with power, exploitation, narcissism, and class structure. "Natural's Not in It" is my favorite song because the interplay and negative space between the musical elements is awesome, plus the lyrics are a very smart critique of consumerism and superficial social constructs. I was lucky to see the Gang of Four original line-up live several times in the early to mid-2000s, and they sounded tight and powerful every time. I was very happy when I was asked to design the sleeve for a Gang of Four remix 7-inch in 2005. In 2012 I made my Not Great Men print, which was inspired by the Gang of Four song of the same name from their album Entertainment. The song Not Great Men has long struck me as a wise indictment of the contradiction or paradox of leadership and power. I like to think that art and music are rare zones where pleasure and intellectual provocation can co-exist powerfully. Gang of Four exemplifies that idea and is a content source of inspiration for me!
"Take Me Out" // Franz Ferdinand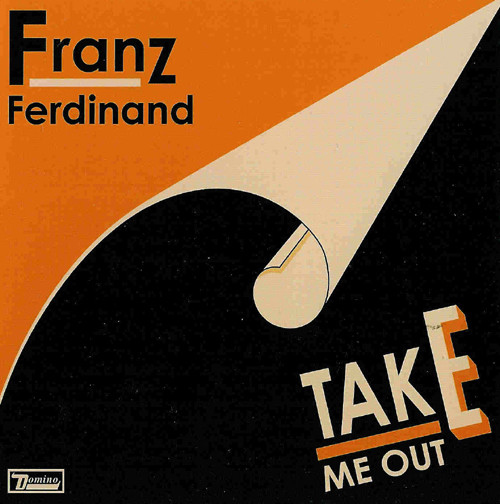 I've been a big fan of the Scottish band Franz Ferdinand since they first hit the scene in 2003. Stylistically, Franz mixes a pinch of glam rock, a nice serving of post-punk, and a bit of dance-punk to create a sound that is irresistibly infectious. The band is undeniably stylish in their fashion and their album artwork which is frequently inspired by Russian Constructivism, one of my biggest inspirations as well. The lyrics of singer Alex Kapranos are witty, charming, and often insightful about human nature. Franz Ferdinand is a band of style and substance. The song "Take Me Out" is Franz's breakthrough single and is, in my opinion, one of the catchiest songs ever written. The song starts with the lines, "so if you're lonely… you know I'm here waiting for you… I'm just a cross hair… I'm just a shot away from you," which reveals the double entendre of romance and danger in the meaning of the song's title. The song has a killer guitar lick and danceable beat that are taut, exuberant, and make me want to jump up and down in a dance-pogo that would be embarrassing if witnessed publicly. I met the Franz guys at a gig in L.A. a few years ago and mentioned I'd be excited to collaborate if the opportunity should arise. That moment arrived when the band and I had a mutual desire to block a certain demagogue from ever entering the White House. We obviously failed, but I'm still incredibly proud that Alex reached out to me to collaborate on an image for possibly the band's first overtly political song, "Demagogue." I loved the song which aligned with my thoughts about Trump as a sociopath and a destructive force in politics and society. 1984, with Big Brother and double-speak, came to mind and served as inspirations for the image I created for Franz Ferdinand's "Demagogue."
ADDITIONAL LISTENING: A very incomplete list, but better
than nothing!
Minor Threat, Fugazi, LL Cool J, The Specials, Queen, N.W.A., Joy Division, Boogie Down Productions, Parliament, Fishbone, T-Rex, Husker Du, T.S.O.L., Portishead, Velvet Underground, Kraftwerk, Slick Rick, The Talking Heads, The Police, The Pretenders, The Doors, The Germs, G.B.H., Bikini Kill, The Pixies, The Cure, The Donnas, The Breeders, Kiss, The Sweet, Elvis Costello, The Damned, M.I.A., Delta 5, P.I.L., AC/DC, The Meters, Sugarhill Gang, Stevie Wonder, Sonic Youth, 7 Seconds, Discharge, Ice Cube, Dr. Dre, De La Soul, L7, The Runaways, Booker T. and the MG's, Slayer, Sleep, The Slits, The Gorillaz, Wu-Tang Clan, Rancid, P.J. Harvey, The Jesus Lizard, Jon Spencer Blues Explosion, The Reverend Horton Heat, The Replacements, Tribe Called Quest, Neil Young, Alice Cooper, Thin Lizzy, Bob Dylan, Rage Against the Machine, The Modern Lovers, Cro-Mags, Michael Jackson, Daft Punk, The B-52's, Generation-X, Van Halen, The Seeds, Deep Purple, Grandmaster Flash, Buzzcocks, Primus, The Cars, Creedence Clearwater Revival, Cypress Hill, House of Pain, Dag Nasty, Youth Brigade, S.N.F.U., Richard Hell, DJ Shadow, Flipper, Eagles of Death Metal, Eric B. & Rakim, The Flaming Lips, Eminem, D.O.A., Guns 'N' Roses, Fu Manchu, Zapp & Roger, Gary Numan, The Undertones, George Harrison, The Jam, Girlschool, Jay-Z, LCD Soundsystem, Queens of the Stone Age, MC5, Minutemen, Mission of Burma, Moby, Missy Elliot, E.L.O., Murphy's Law, Naked Raygun, Nas, M.D.C., Notorious B.I.G., Peaches, Prince, Reagan Youth, Roxy Music, Mudhoney, Snoop Dogg, Stray Cats, Tom Petty, The Strokes, The Who, The Kinks, Wire, Yeah Yeah Yeahs, Ministry, Z-Trip, ZZ Top, The Black Keys, Le Tigre, Siouxsie and the Banshees, Suicide, D.R.I., Patti Smith, Judas Priest, Tupac, Sugarhill Gang, Schoolly D. Dr. Octagon, Cheap Trick, Isaac Hayes, Kool & the Gang, Rick James, Blur, The Supremes, Chic, Desmond Dekker, Jimmy Cliff. Chuck Berry. The Hives. Fear. Beck, Bo Diddley, Adam Ant. Big Black, Big Audio Dynamite. E.S.G. Stiff Little Fingers, The Ventures, The Faint, The Kills.