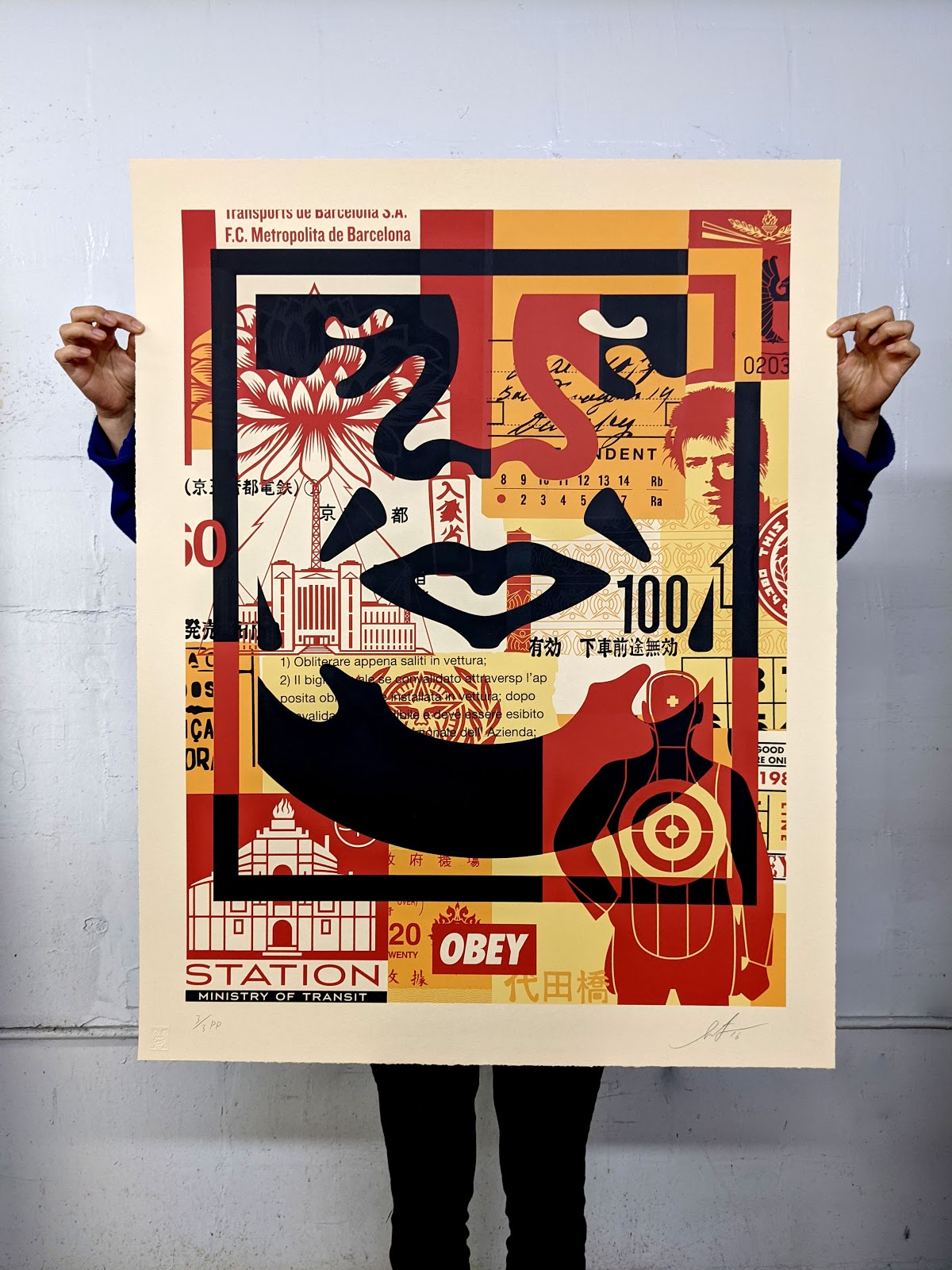 💥GIVEAWAY!💥 We've teamed up with our friends at @seriopress to give away ONE free "Collage Icon Bottom" Large Format Screen Print (originally released in 2016!). Giveaway starts today (5/24) @ 9:30am PDT and ends on Wednesday (5/26) @ 5pm PDT. Follow the rules below for a chance to win:

1.) Follow @obeygiant & @seriopress on Instagram.
2.) LIKE this post.
3.) COMMENT on this post and tag 3 friends in the comment.
4.) MUST FOLLOW ALL THESE STEPS TO QUALIFY!
This particular copy is a printer's proof signed and numbered 3/3. Limit of one entry per person. Please only comment once, as accounts that comment multiple times will be disqualified. Thanks for entering, and good luck!

We'll pick a winner at random on Wednesday, May 26th announcing winner at 5pm PDT on our Stories.
This contest is not sponsored by, endorsed by, or associated with Instagram. This contest is only open to US residents who are 18 years of age, or older. Read below for full T&C's.
Terms & Conditions

Official Rules
NO PURCHASE OR PAYMENT OF ANY KIND IS NECESSARY TO ENTER OR WIN THIS SWEEPSTAKES. A PURCHASE WILL NOT INCREASE YOUR CHANCES OF WINNING. THIS SWEEPSTAKES IS IN NO WAY SPONSORED, ENDORSED OR ADMINISTERED BY, OR ASSOCIATED WITH INSTAGRAM. FAILURE TO COMPLY WITH THESE RULES AND/OR INSTAGRAM RULES, POLICIES AND PROCEDURES WILL VOID AN ENTRY.
The Serio Press x Collage Icon Bottom Large Format Screen Print Giveaway (the "Sweepstakes") begins on May 24, 2021 at 9:30:01 am PDT and ends on May 26, 2021 at 3:59:59 pm PDT (the "Sweepstakes Period"). Following the Sweepstakes Period, one (1) potential winner will be chosen at random from among eligible entries. Odds of winning depend on the number of eligible entries received.
You ("You" or "Entrant") agree that, by submitting an entry, you will be bound by these Official Rules and you acknowledge that you meet all of the eligibility requirements and other conditions.
Eligibility
This Sweepstakes is open to current legal residents of the 50 United States and the District of Columbia, who are 18 years of age or older at time of entry. Void in Puerto Rico, Guam and any other U.S. territories or possessions or military installations. Employees of Obey Giant Art, Inc., Serio Press, Studio Number One, Inc., their affiliates, agents and their immediate family members and persons living in the same household with them are not eligible to enter or win. VOID WHERE PROHIBITED.
Sponsor
This Sweepstakes is sponsored by Obey Giant Art, Inc. ("Obey"), 1331 W. Sunset Blvd, Los Angeles, CA 90026, and Serio Press ("Serio Press"), 953 S. Raymond Ave, Ste C, Pasadena, CA 91105 (collectively, "Sponsor").
How To Enter
Before entering the Sweepstakes, Entrant's Instagram account must be on the "public" setting. To enter, Entrant must follow (or be following) @obeygiant (at www.instagram.com/obeygiant) ("Obey's Instagram account") and @seriopress (at www.instagram.com/seriopress); 'like' the post dated May 24, 2021 on Obey's Instagram account regarding the Sweepstakes ("Sweepstakes Post"); and tag three (3) other Instagram accounts in a single comment ("Comment") to the Sweepstakes post.
PLEASE NOTE that participation in the Sweepstakes requires an Instagram account, which is free, and the Entrant must comply with all terms and conditions of Instagram registration and participation. No purchase or payment is necessary to join Instagram. Please note that an Instagram account is not controlled by and cannot be controlled or guaranteed by Sponsor. Entrant must be following Sponsor's Instagram accounts in order to receive a direct message from either Sponsor should their Entry be selected as a possible winner.
Limitations
One (1) Entry per Entrant's Instagram account per natural person. An eligible Entrant may post as many Comments as the Entrant desires, but only the first Comment on the Sweepstakes Post will be eligible as a Sweepstakes entry. Entrant's Sweepstakes Entries will be determined as received according to Sweepstakes administrator's time clock. No entries will be accepted except by the means outlined above. Use of multiple Instagram accounts will disqualify Entrant upon discovery by Sponsor. The use of scripts or any automated system to enter is strictly prohibited. Sponsor, in their sole discretion, reserves the right to disqualify any person who tampers with the entry process or the operation of Obey's Instagram webpages or other websites, or who otherwise violates these rules.
Comment Guidelines and Rights Granted
In order to qualify for a Sweepstakes entry, any Comment posted to Sponsors' Instagram page must comply with the following terms and conditions:
The Comment must comply with Instagram's requirements, Terms of Use and any applicable Instagram rules or guidelines;
The Comment must be Entrant's original creation and owned one hundred percent (100%) by the Entrant;
The Comment must not contain material that violates, misappropriates, or infringes upon any law or regulation or the rights of any third party, including any copyright, trademark, or any rights of publicity or privacy, or any other intellectual property or proprietary rights;
The Comment must not disparage any person or entity;
The Comment must not contain material that is inappropriate, indecent, obscene, hateful, tortious, and/or defamatory;
The Comment must not contain profanity, sexual content, material promoting alcohol, tobacco, illegal drugs or firearms, or material that promotes bigotry, racism, hatred or harm against any group or individual or promotes discrimination based on race, gender, religion, nationality, disability, sexual orientation or age; and
The Comment must not contain material that is unlawful, in violation of or contrary to the laws or regulations in any jurisdiction where the Comment is created.
Rights Granted to Sponsor: By posting a Comment, Entrant grants to Sponsor, Sponsor's licensees and assigns, a royalty-free, irrevocable, perpetual, non-exclusive license to use, reproduce, modify, publish, create derivative works from, and display such Comment in whole or in part, and otherwise exploit the Comment including, but not limited to, entertainment, promotional, advertising and/or marketing purposes in connection with this Sweepstakes, including by re-posting on Sponsor's website, and social media pages. If necessary, Entrant will sign any necessary documentation that may be required for Sponsor or its designees to make use of the non-exclusive rights Entrant is granting to use the Comment.
All Comments may be initially screened by Sponsor to ensure compliance with the requirements. Any Comment, or portion thereof that is in Sponsor's sole discretion, obscene, profane, lewd, defamatory, contains any third party materials, or otherwise violates or infringes (or may infringe) any copyright, trademark, or other proprietary right of any person living or deceased (including but not limited to rights of privacy or publicity or portrayal in a false light) or entity, or is otherwise objectionable or not in the spirit of the Sweepstakes, will not be considered and may disqualify the Comment as a Sweepstakes entry. Entrants may not copy or otherwise plagiarize the Comment from any source. Incomplete or unintelligible Comments will be disqualified. Sponsor reserves the right to determine in their sole discretion which Comments have satisfied the requirements. In the event of a third-party claim alleging infringement or violation of rights by the Comment, Sponsor may, at their sole discretion, prevent the Comment from the being displayed on Obey's Instagram pages and disqualify the Comment and the Entrant from the Sweepstakes. Each Entrant hereby agrees to indemnify and hold Sponsor, Instagram, and each of their respective subsidiaries, affiliates, licensees, distributors, dealers, and vendors, and these companies' officers, directors, shareholders, trustees, agents, and employees (collectively, the "Released Entities") harmless from and against any and all third party claims, actions or proceedings of any kind and from any and all damages, liabilities, costs and expenses relating to or arising out of any breach or alleged breach by the Entrant of any of the warranties, representations, agreements, requirements, or terms of these Official Rules.
Prizes
As set forth below, Sponsor will award one (1) prize ("Prize") based on a random drawing selected from all eligible entries received on Obey's Instagram account. Subject to compliance with these Official Rules, the confirmed Winner will receive a Prize composed of one (1) "Collage Icon Bottom Large Format" screen print (printer's proof), signed by Shepard Fairey and numbered 3/3. The total value of the Prize is $750.00 USD. The Prize is non-refundable and non-transferable, cannot be combined with any other special offer or promotion and must be accepted as awarded. Sponsor is not responsible for replacing the Prize if lost, stolen, mutilated or is otherwise rendered unusable due to any act or omission of prize winner or other third party. Prize may not be exchanged for cash value or substituted, except that Sponsor reserves the right in their sole discretion to substitute with either the cash value of the Prize, or a prize or prizes of equal or greater value. Applicable federal, state, or local taxes and any other costs or expenses associated with the Prize or the use thereof are the sole responsibility of the winner. The Prize will be awarded, and will be delivered to the confirmed winner's valid U.S. address. No more than the stated number of prizes will be awarded.
Drawings
A total of one (1) potential winner will be determined by random drawings on or about May 26, 2021. One (1) random drawing will be made by Sponsor from all eligible entries collected on Obey's Instagram account. Random drawings made by Sponsor or its designee, the judge of the Sweepstakes, will be final and binding. The potential winner will be notified by a direct message via the Entrant's Instagram account within one (1) hour following the end of the Sweepstakes Period. Entrant must be following Obey's Instagram account in order to receive a direct message from Sponsor should their Entry be selected as a possible winner. If the potential winner does not respond within one (1) hour of the date of the prize notification, fails to comply with the instructions contained in the prize notification within that time period, is ineligible for the Prize, or refuses to accept the Prize, Sponsor reserves the right to randomly choose an alternate potential winner from the pool of remaining eligible entries. Return of any prize notification as undeliverable will result in disqualification and selection of an alternate potential winner. In the event of a dispute concerning the identity of the person submitting an entry online, the Entry will be deemed to be submitted by the person in whose name the Instagram account is held. Potential winner may be required to provide a driver's license and/or other evidence of identity in connection with claiming the Prize. Potential winner may be required to complete and sign an Affidavit of Eligibility, Compliance with Rules, and Liability Release and, except where prohibited, a Publicity Release in the form provided by Sponsor, to claim prize. An Entrant is not a winner unless and until the Entrant's eligibility and has been verified and Entrant has complied with all Sweepstakes requirements. All Prizes will be awarded.
Odds of Winning
Odds of winning depend on the number of eligible entries received.
General Conditions/ Releases/ Disputes
Sponsor may, to the maximum extent permitted by applicable law and in its sole discretion, cancel, suspend, terminate or modify this Sweepstake if it cannot be completed as planned due to computer virus, bugs, tampering, fraud, unauthorized intervention, technical failures, Force Majeure, or other conditions beyond Sponsor's control, and, if feasible, to select winner from eligible, salvageable and non-suspect entries received on or before the termination date. Inclusion in such drawing shall be each Entrant's sole and exclusive remedy under such circumstances. In no event will more than one (1) Prize be awarded. In the event there is a discrepancy or inconsistency between disclosures or other statements contained in any Sweepstakes-related materials, privacy policy or terms of use on the website and/or the terms and conditions of the Official Rules, the Official Rules shall prevail, govern and control and the discrepancy will be resolved in Sponsor's sole and absolute discretion. The invalidity or enforceability of any provision of these Official Rules shall not affect the validity or enforcement of any other provision.
Entrants acknowledge that Sponsor and/or the other Released Entities do not make, nor are in any manner responsible for any warranty, representations, express or implied, in fact or in law, relating to the quality, conditions, fitness or merchantability of any aspect of the Sweepstakes or the Prize. All prizes are awarded AS IS.
All Entrants acknowledge that the Released Entities (defined above) are not responsible for and shall not be liable for: (i) Entries that are lost, misdirected, unintelligible, corrupted, incomplete, late, or otherwise not in compliance with these rules; (ii) any act, failure to act, delay, or error relating to the transmitting or processing of entries; (iii) telecommunications network, phone system, computer system, hardware, or software malfunctions, failure, disconnection, data loss, or other difficulties of any kind, including any injury or damage to an Entrant's or other person's computer related to or resulting from participating in the Sweepstakes, or accessing or downloading materials relating to the Sweepstakes; (iv) any conditions caused by events beyond the control of the Sweepstakes Entities that may cause the Sweepstakes to be disrupted or corrupted; (v) any losses, injuries, or damages of any kind resulting directly or indirectly from participation in the Sweepstakes and/or acceptance, use, or misuse of any prize awarded in the Sweepstakes or any prize-related activity; or (vi) any printing or typographical errors in any materials relating to the Sweepstakes.
BY PARTICIPATING IN THIS SWEEPSTAKE, ALL ENTRANTS AGREE TO RELEASE, INDEMNIFY, DEFEND AND HOLD HARMLESS THE RELEASED ENTITIES FROM AND AGAINST ANY AND ALL LIABILITY, LOSSES, DAMAGES, RIGHTS, CLAIMS, AND ACTIONS OF ANY KIND ARISING OUT OF OR IN CONNECTION WITH ENTRANT'S PARTICIPATION IN THIS SWEEPSTAKE, CREATION OF ENTRANT'S PHOTO, IN WHOLE OR IN PART, OR ACCEPTANCE, POSSESSION, OR USE/MISUSE OF ANY PRIZE OR PRIZE-RELATED ACTIVITY, INCLUDING WITHOUT LIMITATION, PERSONAL INJURIES, DEATH, PROPERTY DAMAGES, DEFAMATION, INFRINGEMENT OF INTELLECTUAL PROPERTY RIGHTS, AND CLAIMS BASED ON THE RIGHTS OF PUBLICITY AND PRIVACY.
IF ENTRANT IS A CALIFORNIA RESIDENT, ENTRANT WAIVES ANY AND ALL RIGHTS UNDER SECTION 1542 OF THE CIVIL CODE OF THE STATE OF CALIFORNIA, WHICH PROVIDES AS FOLLOWS: "A GENERAL RELEASE DOES NOT EXTEND TO CLAIMS WHICH THE CREDITOR DOES NOT KNOW OR SUSPECT TO EXIST IN HIS FAVOR AT THE TIME OF EXECUTING THE RELEASE, WHICH IF KNOWN BY HIM MUST HAVE MATERIALLY AFFECTED HIS SETTLEMENT WITH THE DEBTOR."
Except where prohibited, by entering the Sweepstakes, Entrant agrees that (a) this Sweepstake shall be governed by, and construed in accordance with, the laws of the State of California, regardless of principles of conflicts of laws; (b) any dispute, action or litigation concerning this Sweepstakes shall be resolved individually without resort to any form of class action and shall take place exclusively in the federal or state courts sitting in Los Angeles, California; and (c) Entrant expressly consents to the jurisdiction of and venue in such courts and waives all defenses relating to jurisdiction or venue in such courts.
ANY CLAIMS, JUDGMENTS, AND/OR AWARDS SHALL BE LIMITED TO ACTUAL OUT-OF-POCKET COSTS ASSOCIATED WITH ENTERING THIS SWEEPSTAKES. ENTRANT WAIVES ANY RIGHTS OR CLAIMS TO ATTORNEYS' FEES, INDIRECT, SPECIAL, PUNITIVE, INCIDENTAL, OR CONSEQUENTIAL DAMAGES OF ENTRANT, WHETHER FORESEEABLE OR NOT AND WHETHER BASED ON NEGLIGENCE OR OTHERWISE. BY ENTERING THE SWEEPSTAKES, ENTRANT AGREES THAT TO THE EXTENT PERMITTED BY APPLICABLE LAW ANY AND ALL DISPUTES, CLAIMS AND CAUSES OF ACTION ARISING OUT OF OR CONNECTED WITH THE SWEEPSTAKES OR ANY PRIZE AWARDED WILL BE RESOLVED INDIVIDUALLY, WITHOUT RESORT TO ANY FORM OF CLASS ACTION. SOME JURISDICTIONS DO NOT ALLOW THE LIMITATIONS OR EXCLUSIONS OF LIABILITY SO THE ABOVE MAY NOT APPLY TO ALL ENTRANTS.
No Instagram Endorsement
This Sweepstakes is in no way sponsored, endorsed or administered by, or associated with Instagram. Any information you provide in connection with the Sweepstakes is to Sponsor and/or administrators and not to Instagram. Please see section below. You understand that by using and interacting with the Instagram sites, you are subject to the terms, conditions, and policies that govern the use of those sites. You should therefore review the applicable terms and policies for Instagram, including privacy and data gathering practices, before using or interacting with Instagram.
Privacy
Other than an application for an Instagram account and notwithstanding any terms herein, all information submitted in connection with the online entry process for this Sweepstakes will be treated in accordance with these Official Rules and Obey's Privacy Policy http://www. obeygiant.com/privacy-policy/. An Entrant's Instagram username and/or name may be posted on Sponsors' social media accounts (including but not limited to Instagram and Twitter) and/or shared with other Entrants.
Publicity
By participating in this Sweepstakes and/or accepting a prize, each Entrant gives permission to Sponsor to use Entrant's name, username, photograph, voice, biographical information, and likeness, in any and all media, for advertising and promotional purposes, without further compensation or notice, worldwide and in perpetuity, in any and all forms of media, now known and hereafter devised, including without limitation on-line, unless prohibited by law.
Name of Winner
For the name of the winner, send an email to [email protected].