About
I have been fortunate to work with Billy Idol on several creative projects including his "Devil's Playground" album package and his "Idolize Yourself" greatest hits package. Billy invited me once again to help with the art for his most recent album "Kings & Queens of the Underground." Billy played the record for me and I was impressed with the stylistic range and especially loved the songs "Can't Break Me Down," "Save Me Now," and "Whiskey and Pills." I asked my friend, photographer Michael Muller (with whom I'd collaborated on the "Walk the Line" movie poster), to shoot the portraits for the package and he did a great job. I'm happy with the way the album package turned out, and as part of the project I was able to make an illustration of Billy based on one of Michael's portraits, which I incorporated into this poster to accompany the "Kings & Queens of the Underground" album and tour. I'm very happy with how the poster turned out. On a side note, the "Kings & Queens of the Underground" album is heavily autobiographical because Billy was simultaneously working on his autobiography entitled "Dancing With Myself." I've had the privilege of hearing amazing stories from Billy about his days in the London punk scene seeing the Sex Pistols, forming Generation X, and then moving to NY to go solo. His book tells all of these stories in an amazingly vivid and evocative style. Billy is a superb writer and I'd recommend the book for any fan of rebel music and personal creative evolution. Billy puts on an unbelievably energetic and charismatic live show, so check him out on tour if you have the chance. Oh, Steve Stevens, Billy's guitarist and long-time collaborator is an absolute shredder. They shouldn't be missed.
-Shepard
18 x 24 inch screen print, numbered edition of 400. Metallic silver ink on grey stock. Signed by Shepard Fairey. Limit 1 per person / household. $50. Based on a photo by Michael Muller.
Reference Photo By: Michael Muller
Release date: Wednesday January 21, 2015 at a random time between 10am and 11am (PST) in Prints. Billy Idol is on tour right now in the U.S. and will be touring worldwide this year, in support of his new album Kings and Queens of The Underground.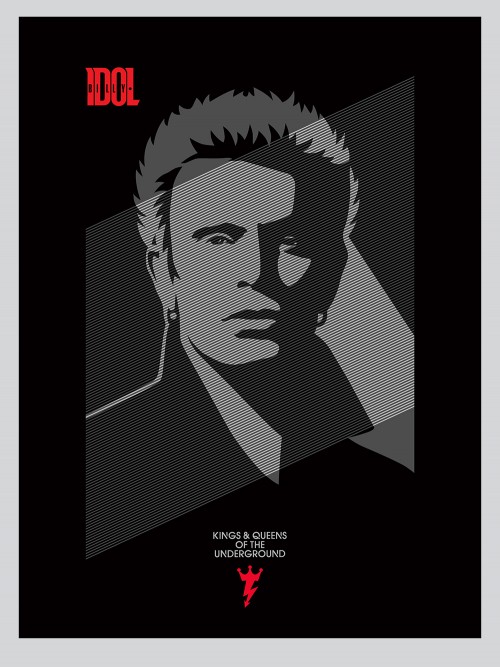 SOLD OUT