My onetime co-worker, sometimes collaborator, and always friend and fighter-of-the-good-fight, Ernesto Yerena, is releasing some hand-stenciled art pieces(not prints) of an art piece we collaborated on. Check it out! -Shepard
All pieces are 100% Hand Spray painted using stencils. Even the backgrounds are hand spray painted. All pieces measure 20 x 26" and on 100% Cotton Coventry Rag Paper with hand deckled edges. All pieces are signed by both Shepard Fairey and Ernesto Yerena.  Available on April 10th, 10am PST at hechoconganas.bigcartel.com.
For Titles, Edition Size & Prices please scroll below to see the details that correlate to each piece.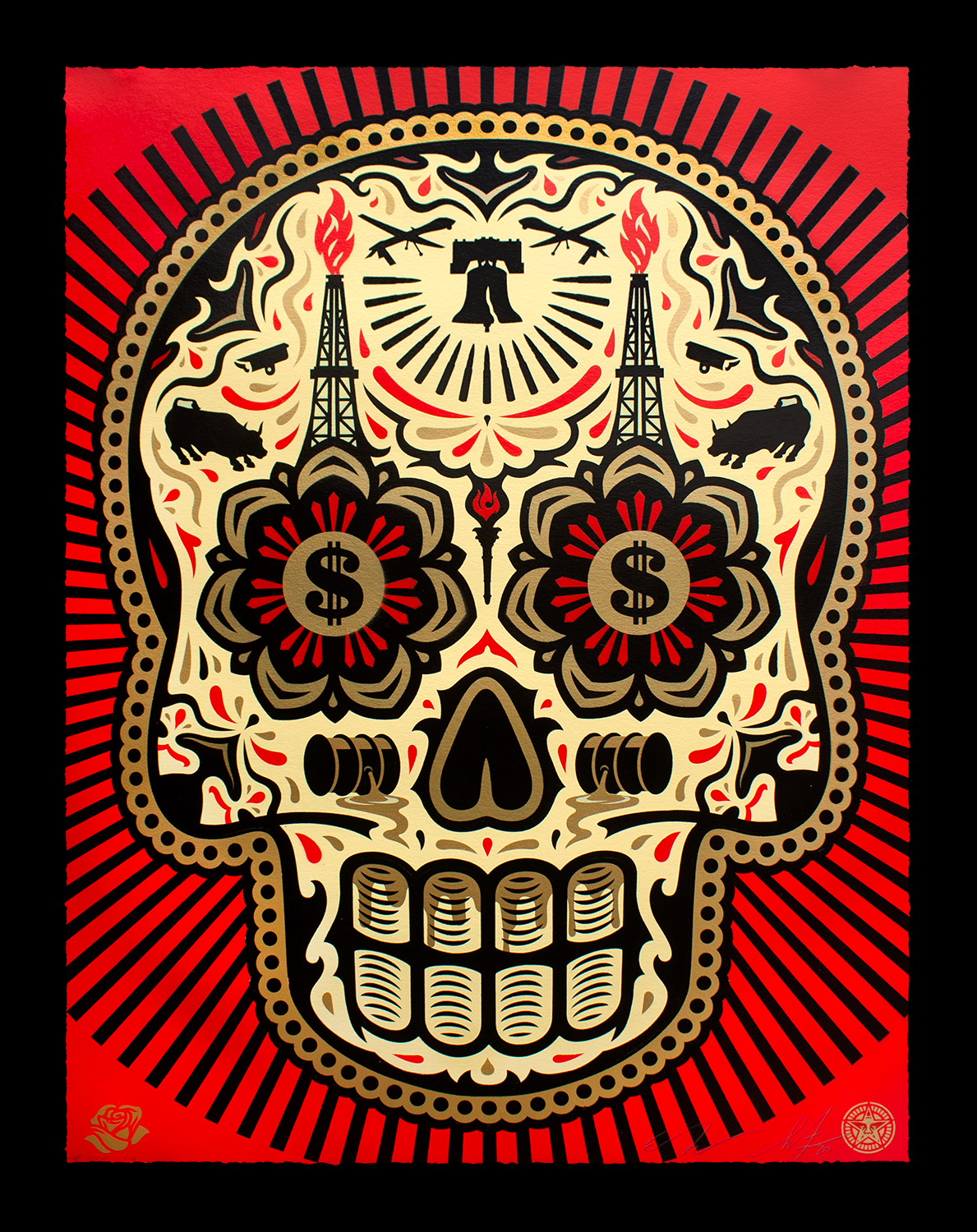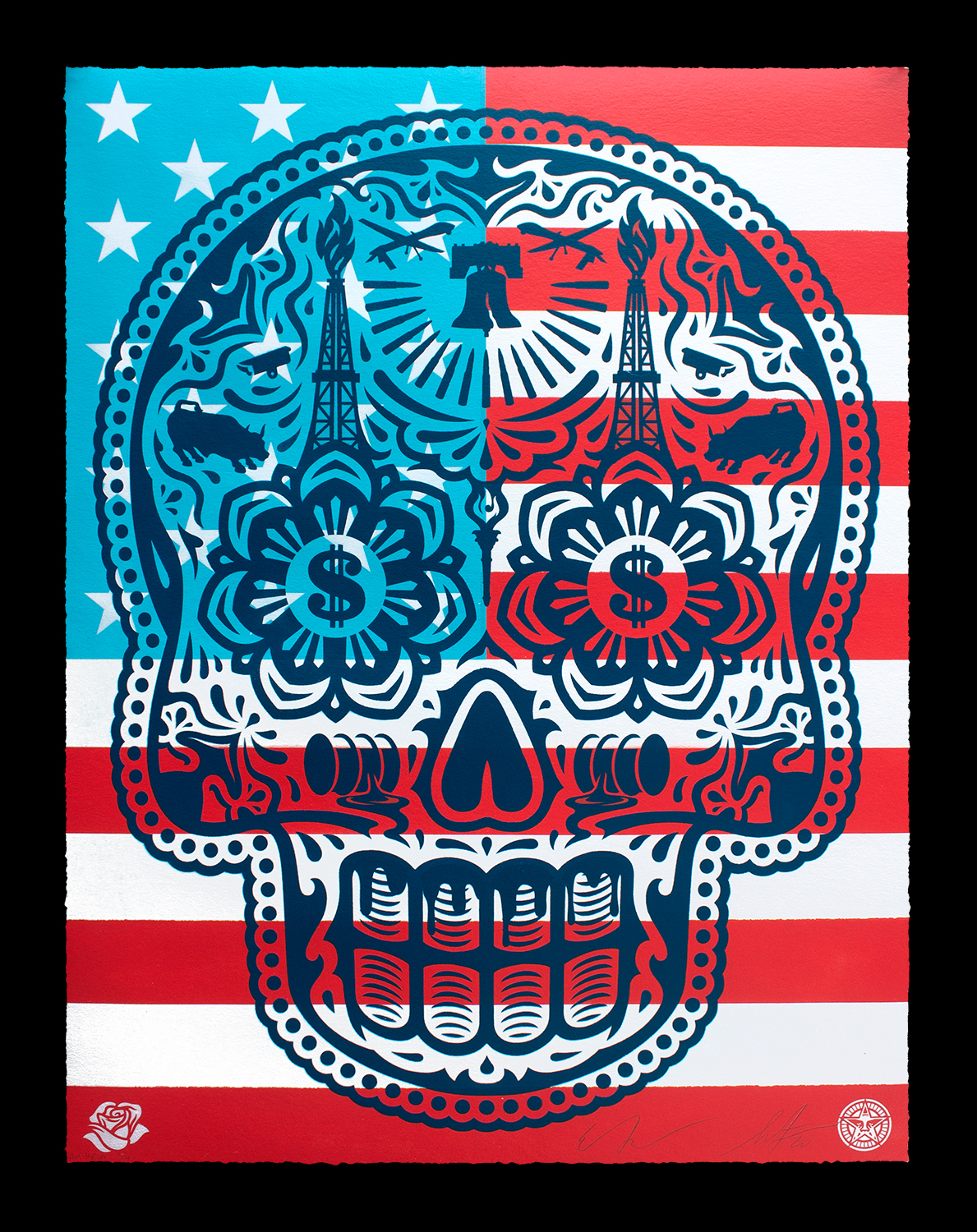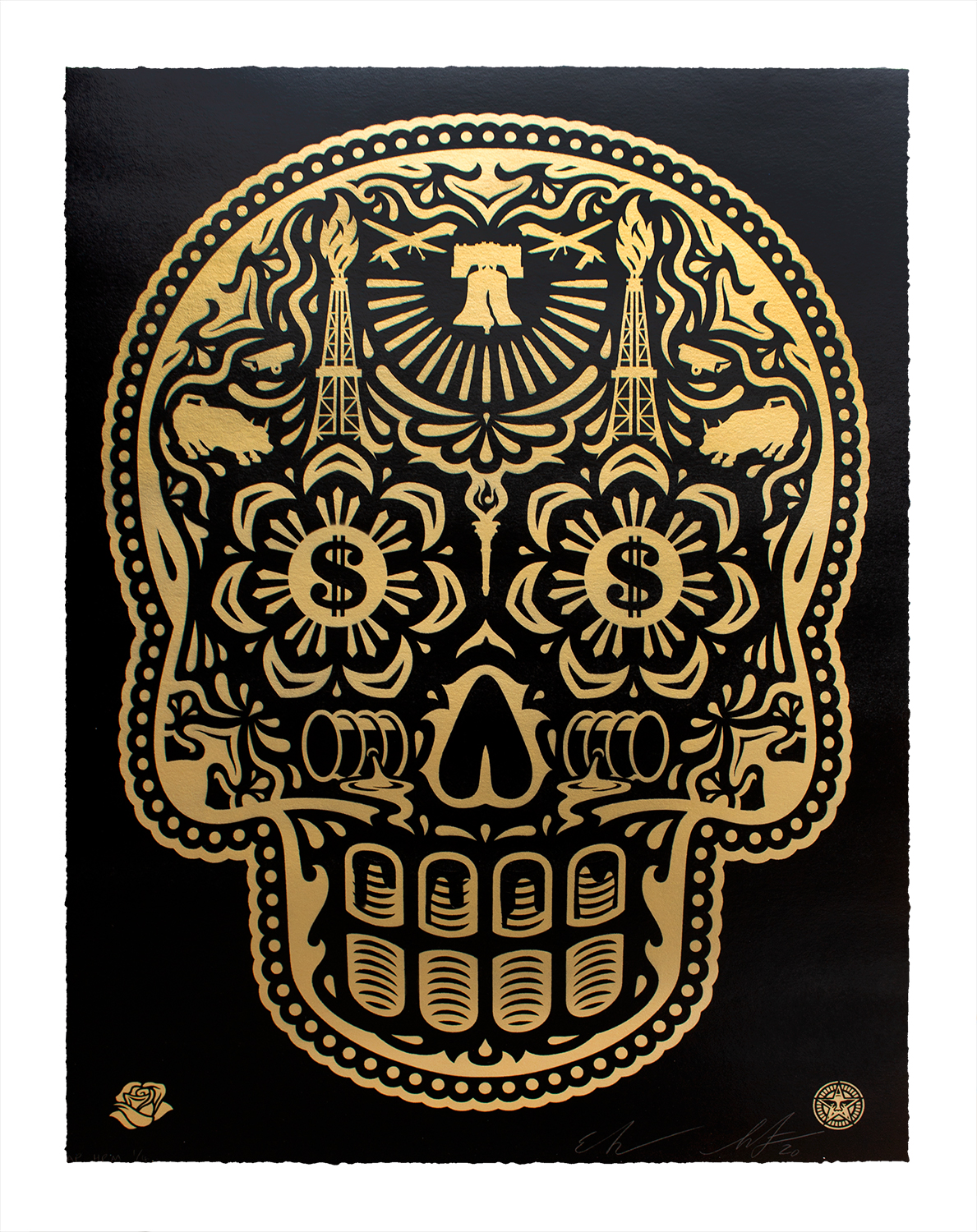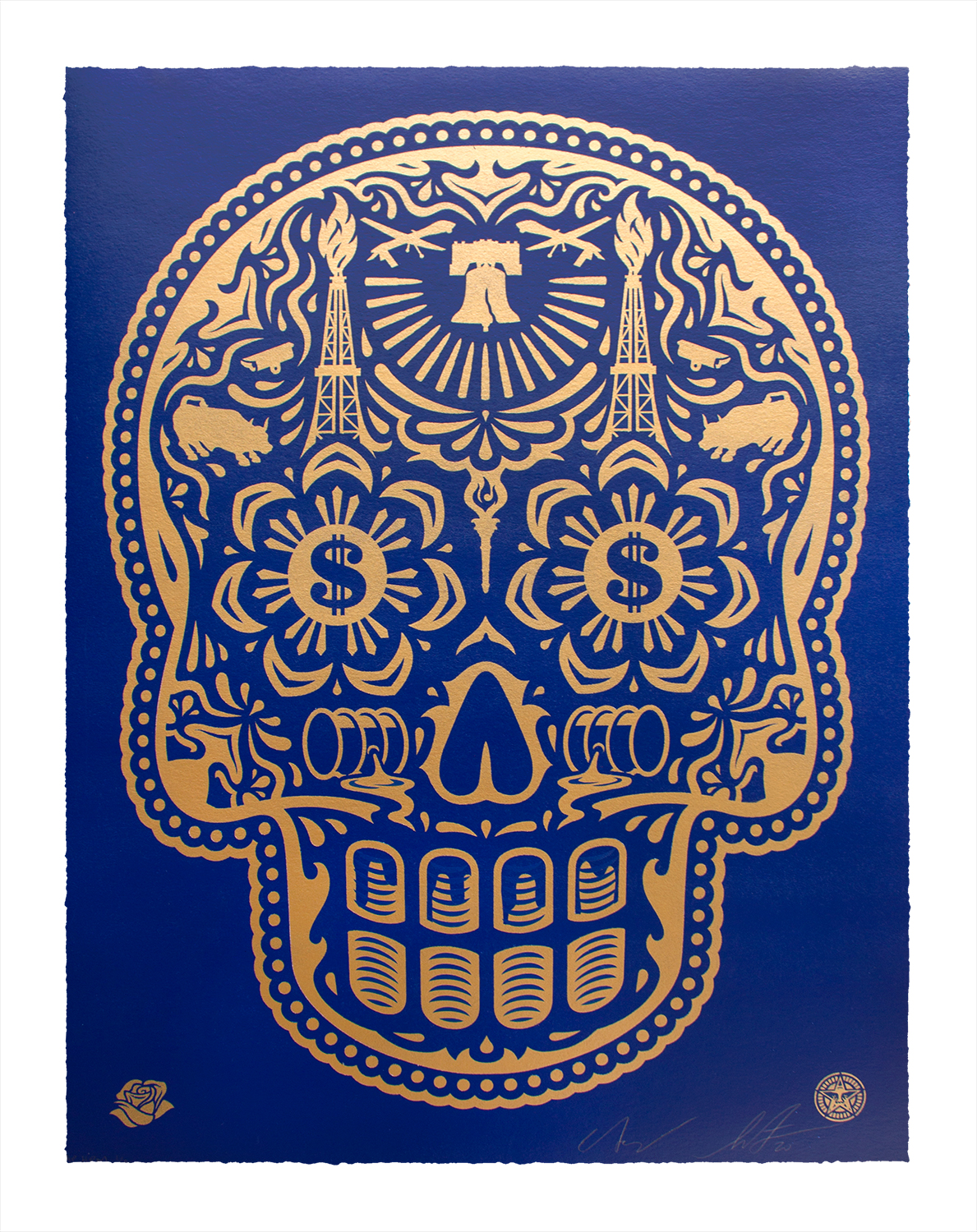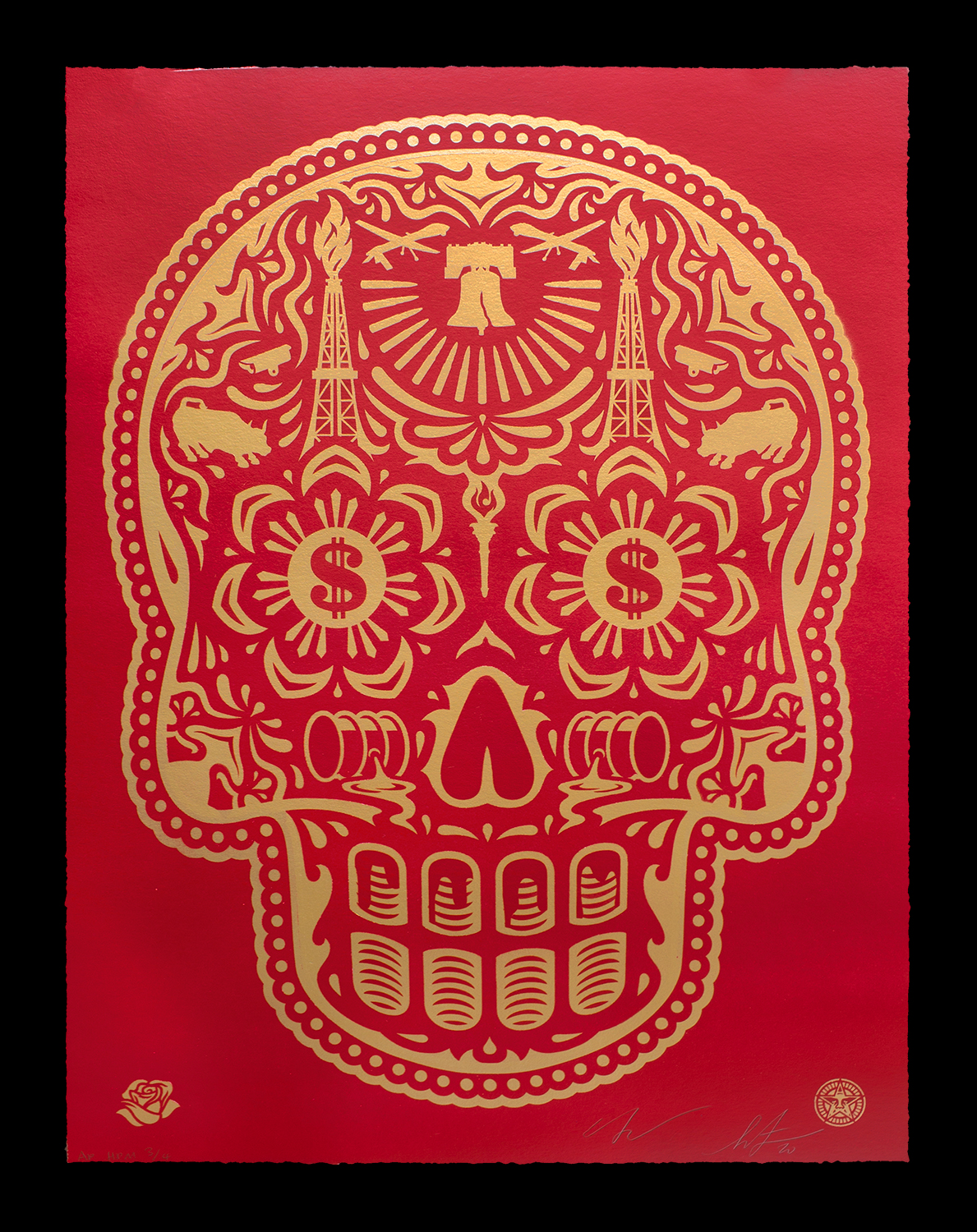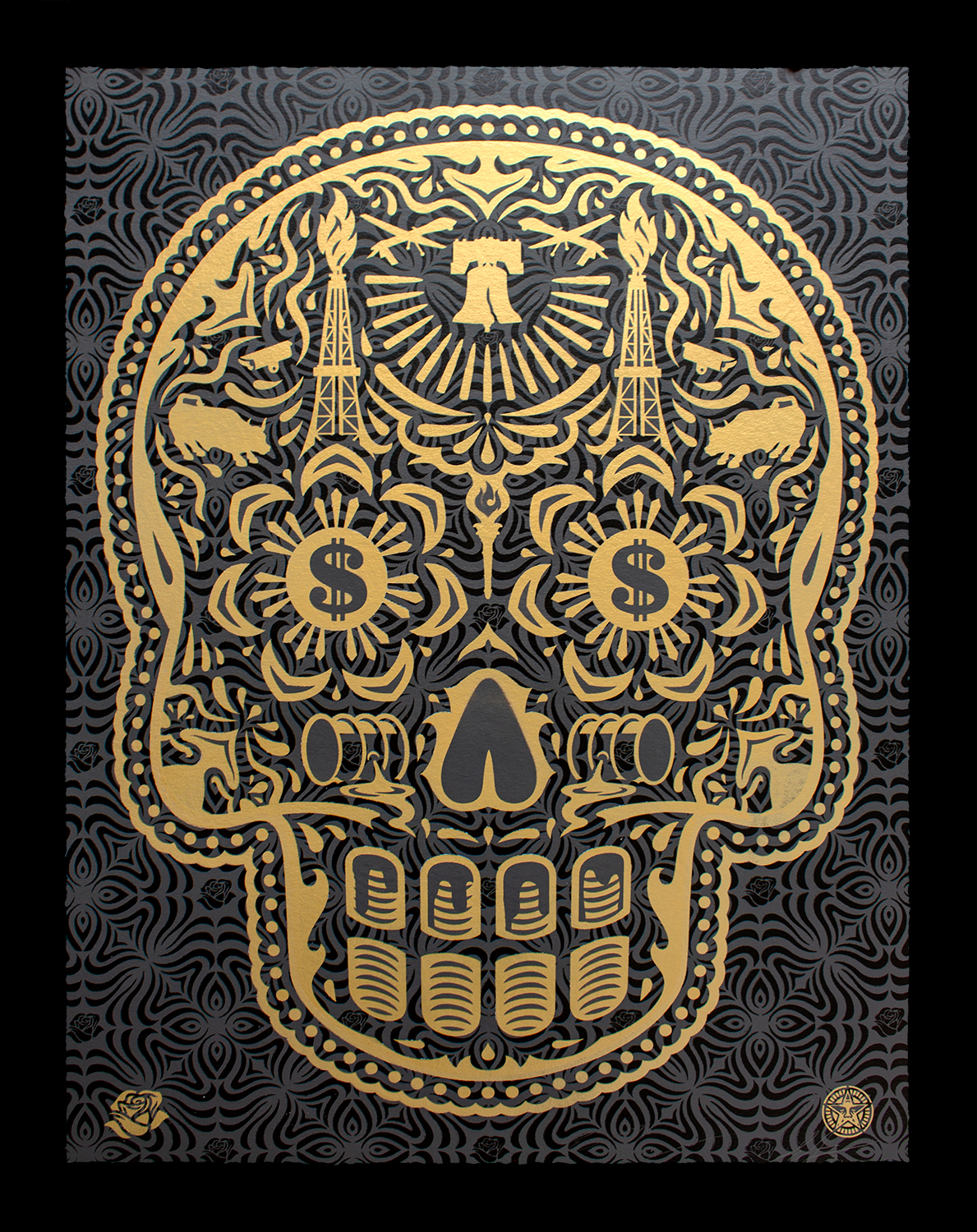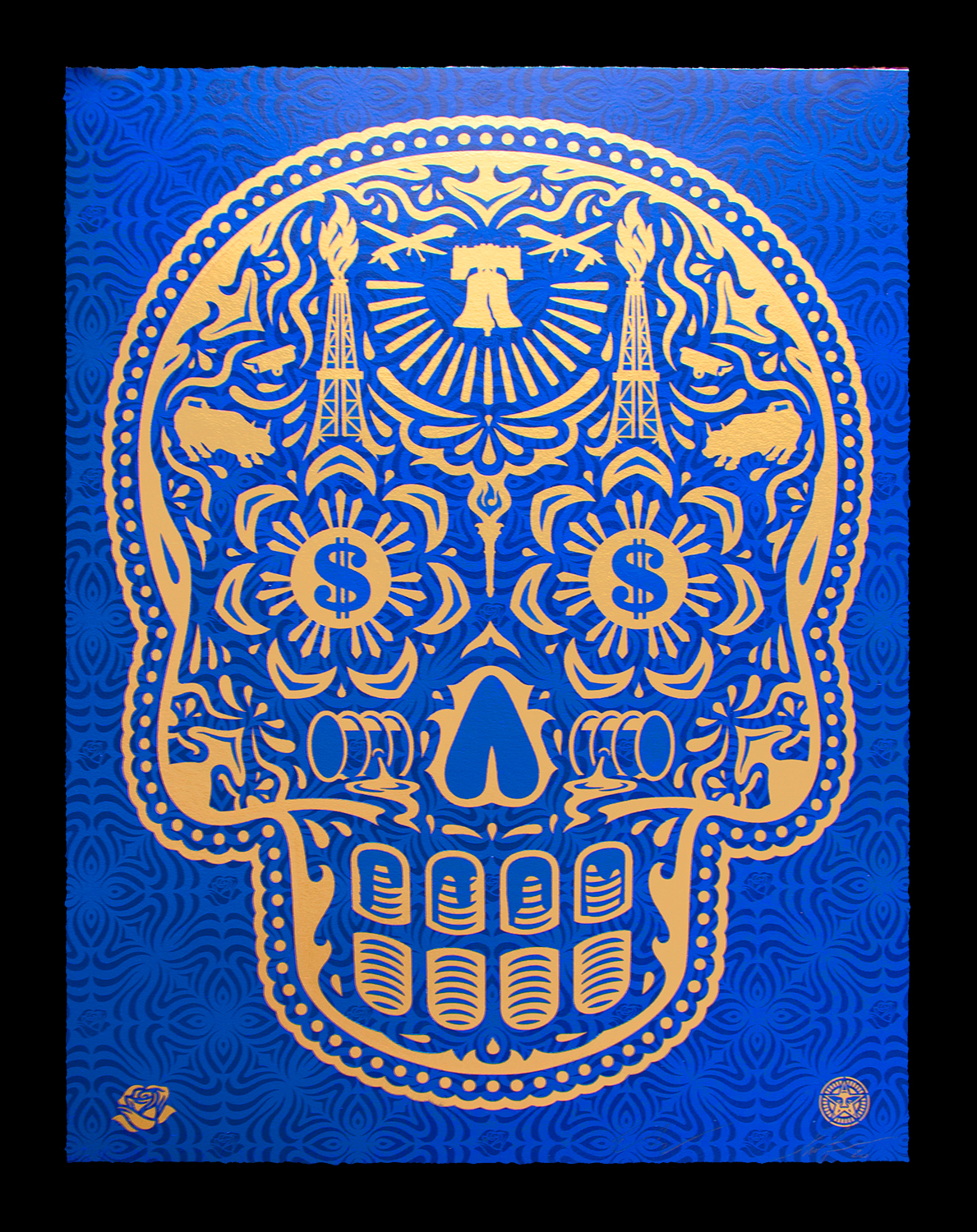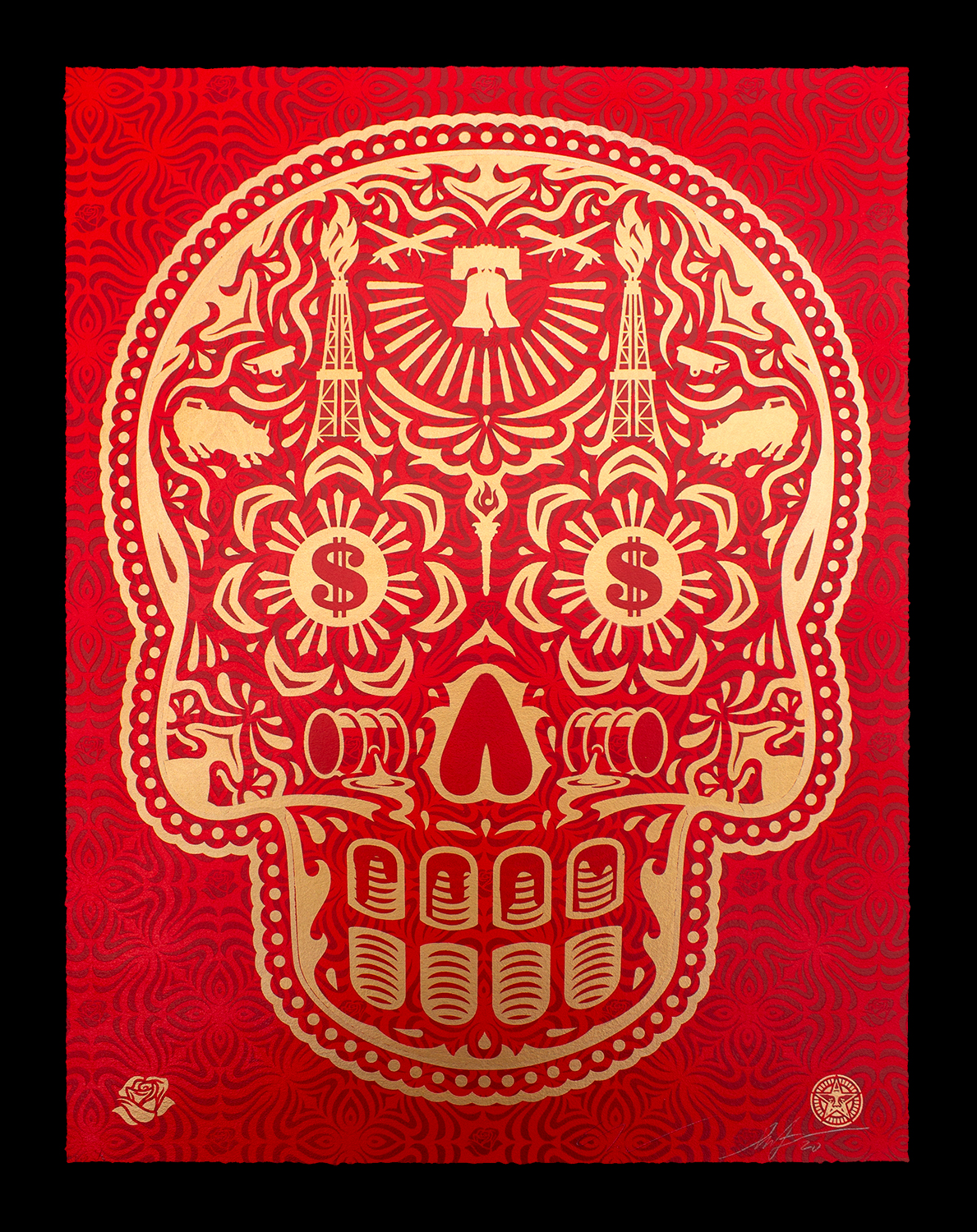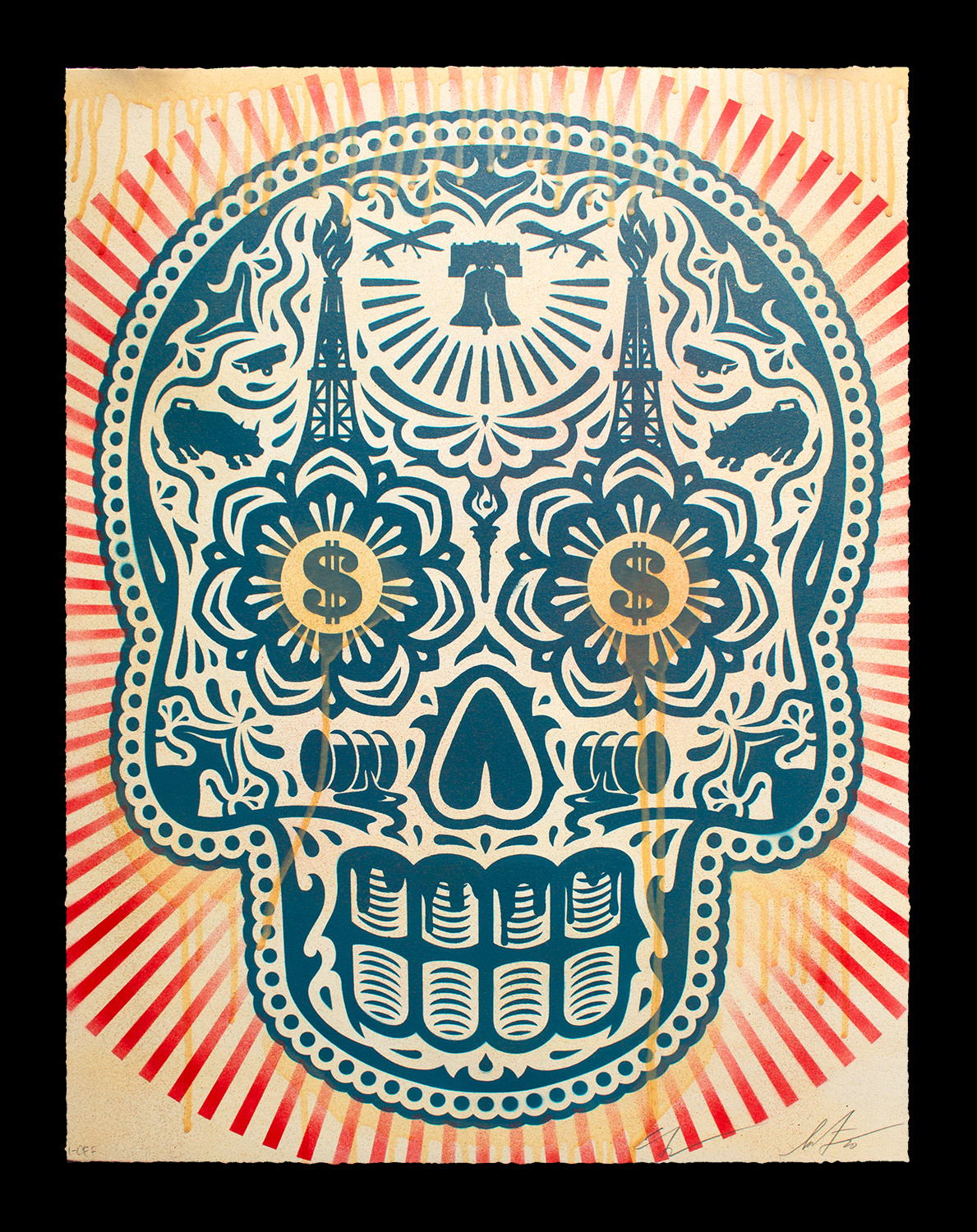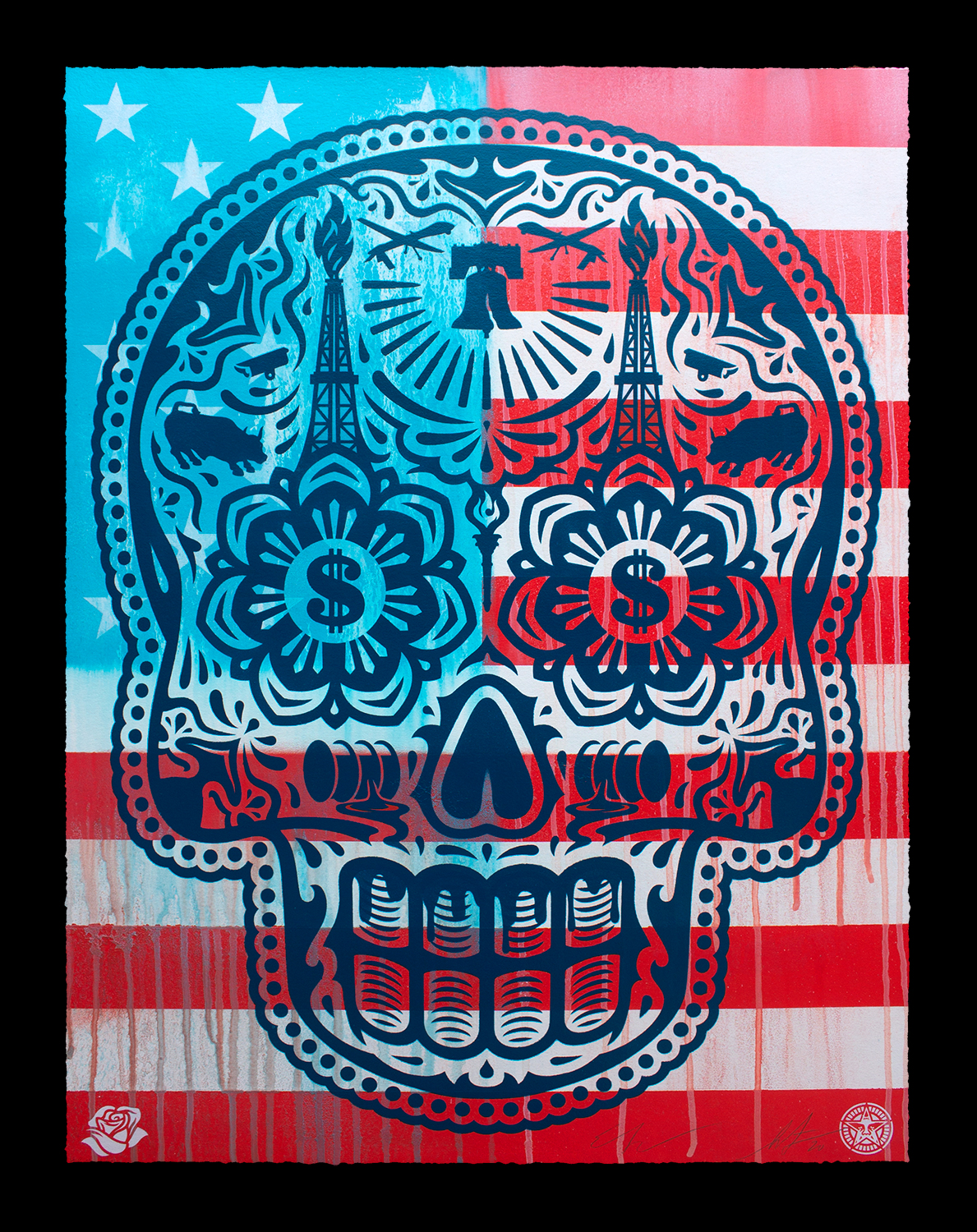 In 2014, Shep and I created this collaborative piece titled "Power & Glory Skull." It was a new take on the Day of the Dead graphic we first collaborated on in 2008. For this piece, we focused on creating something as a critique of American Imperialism with its greed for oil, money, power, etc. This aligned with Shepard's ongoing Power & Glory series, and my review of imperialism and institutional oppression. In 2016, we created a new version of the skull titled "Merica'" in which the American flag is behind the Power & Glory Skull. I had the idea to add the flag in the background to give it an ol' hyper-patriotic touch, and in turn to convey the idea that to me, patriotism and pride is used as a device by empires to gain blind support of its population. Patriotism and propaganda in this country have created a history of people blindly supporting wars fought over false pretenses. We have seen time and time again people voting against their own interests, handing over the presidency to racist, sexist, classist, corporate clowns in an effort to "Make America Great Again." We create this type of artwork to create dialog and hopefully convince people to challenge their views and open their hearts and minds to other possibilities because what we have going on now is not working.
These pieces were all created in my studio in Boyle Heights on the Eastside in Los Angeles. I talked to Shep about making HPM (Hand Painted Multiple) versions of these pieces in early February, not knowing that just a month later we would be in quarantine. It was my goal to create this new take on the skulls by doing them as HPMs but had to wait for my schedule to open up because they are so labor-intensive. Each piece requires roughly 10-15 layers of stencils, with as many as 18 stencils for some versions. It took me and my crew about 4 weeks to make these. I personally painted close to a thousand layers in that time frame. All the pieces were spray-painted by hand using my stencils. Each unique artwork has hand deckled edges as well. By the time these were completed, the Covid-19 crisis was in full effect, so we decided not to release them right away. We wanted to be sensitive to the situation, and we understand that most people are affected either health-wise or financially at the moment. For a lot of working artists including myself, this is a tough time. Most of us that travel to do our work, or work on a freelance contract to contract basis, work has dried up, and we have received notices of cancellations or postponements "until further notice." We are aware that the price range of these HPMs might not be as easily accessible given the circumstances, but please understand that this project began before this situation arose. If you are in a position where you can support this project or support any other artists during this time, we as a community are forever grateful to you. Lastly, I want to publicly thank my assistants Melissa Govea, Nate Contreras & my business partner, Matt Roberts for working tirelessly alongside me in making this project happen. A huge thank you to Shep for agreeing to do this collaboration. And thank you all the art patrons in these times! thanks. -e