"Hannah's work takes a solitary dive that, at once, betrays the pull of gravity and also distorts the vision. It is a dive worth making." – Dave Sitek (TV on the Radio)
Subliminal Projects is pleased to present Oblivion, a debut solo exhibition by Los Angeles-based artist and musician Hannah Hooper. After a decade of performing as the front-woman and art director of Grouplove, Hooper honors her less-known, visual talents with Oblivion. The exhibition features a series of delicate line-drawings and large-scale paintings on canvas, along with sketches and renderings that are used as visual notes in color and composition, in preparation for her finished works. In conjunction with the opening, an edition of 100 silkscreen prints individually hand-embellished by Hooper will be available, as well as a special surprise performance at Subliminal Projects.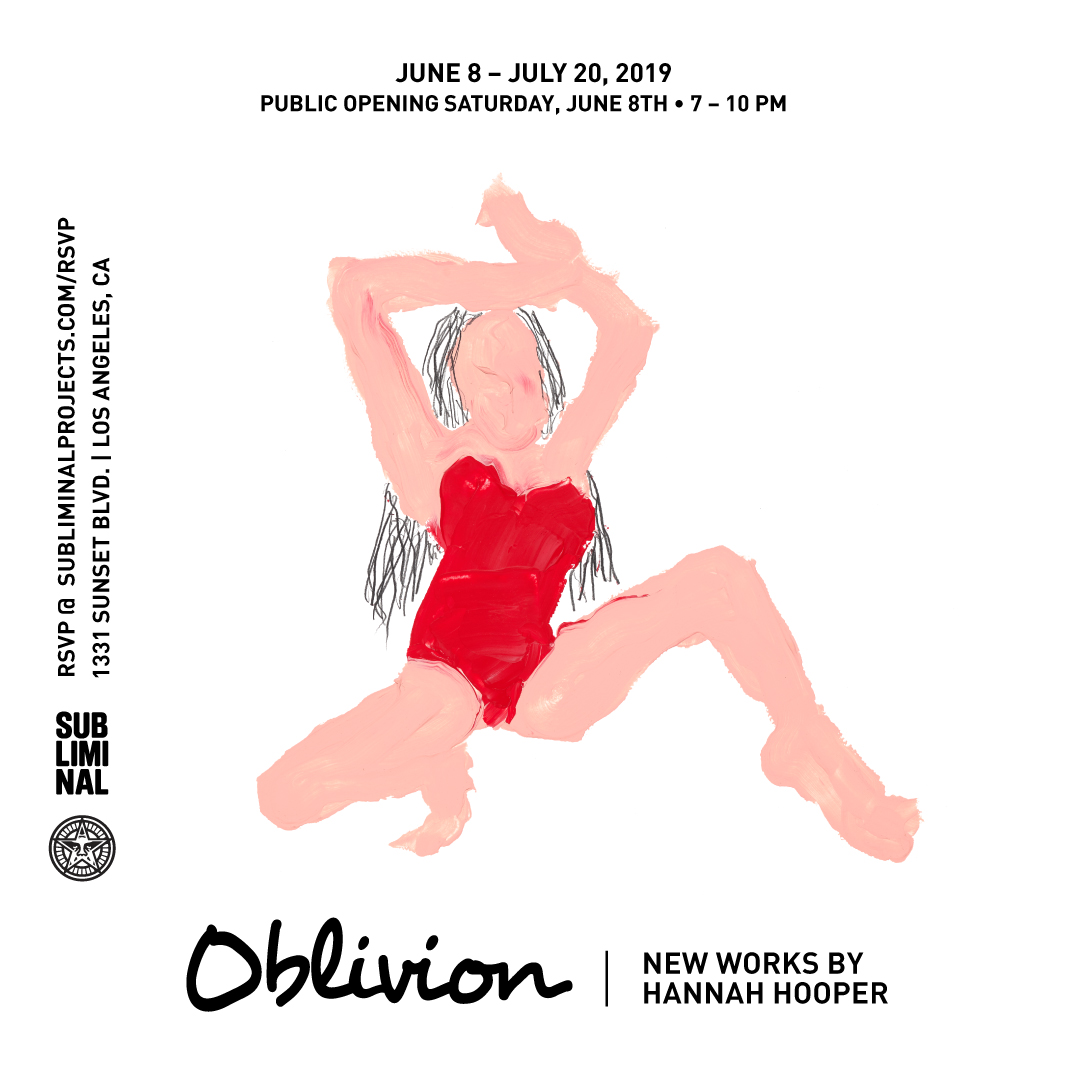 After graduating with a BFA from Parsons School of Design, Hannah cut her teeth in New York's Lower East Side art scene during the 2000s, rubbing elbows with some of today's most notable younger contemporary artists. In 2008, Hooper traveled to Crete for an intensive painting residency with Christian Zucconi, where they soon met the other members of what would become Grouplove.
"Art to me is about understanding your subconscious, and letting it heal, it's primal, like childbirth." – Hannah Hooper
A portal into Hooper's subconscious, Oblivion exhibits intuitive pieces that reveal her emotions and raw instincts as they playfully rise to the surface. Floating bodies, crowded spaces and empty moments draw on Hooper's personal experiences of being both in the limelight and being isolated. Her work also explores the nuances in her relationships to the post-modern expectations of youth against the backdrop of motherhood. Her practice aims to explore the spaces between the material world and the spiritual world, creating a vocabulary of symbolism all of her own.
ABOUT HANNAH HOOPER
"I can never sit still." -Hannah Hooper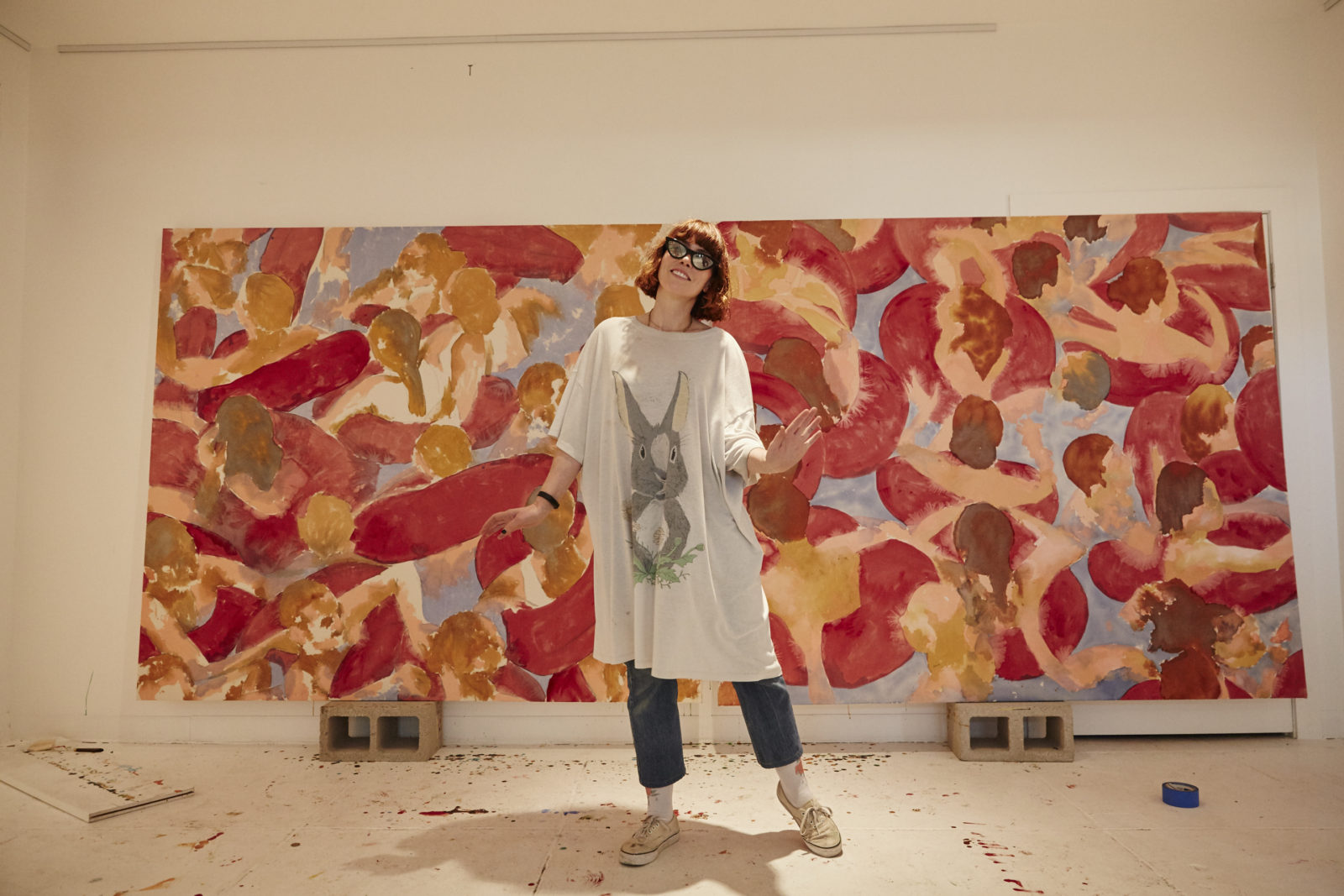 Hannah Hooper is an American artist and musician based out of Los Angeles. Her work deals with a diverse array of subject matter including tragic pop culture figures, claustrophobic beach/crowd scenes and strange figures distorted through bodies of water. Hannah is almost obsessive in her everpresent need to draw. She's filled countless sketchbooks with studies of her surroundings, tours, friends/ family and imaginary landscapes. As the frontwoman of Grouplove, Hannah has also taken on the role of art director for the band. Her work adorns virtually all of the albums, posters, merch and even the costume and stage design. The frenetic energy of her mark making and line-work echoes the inspired and frenzied performances of the group.
Hannah now resides in LA with Christian Zucconi and their daughter, plays music with Grouplove, and maintains a robust and multi-faceted studio practice on and off tour.
For more information on Hannah Hooper, follow her on Instagram: @ladygrouplove
ABOUT SUBLIMINAL PROJECTS
"The driving principle of Subliminal Projects is that art should be accessible to everyone and that art can come from many different perspectives and cultural niches. Good art is good art, whether it's done on an album cover, a skateboard, canvas, or found cardboard." – Shepard Fairey
Subliminal Projects is a multi-functional project space and gallery established by Shepard Fairey and Blaize Blouin in 1995 as a way to introduce skateboard culture and design to the art world. The concept grew and found roots later in Los Angeles, at a time when many artists found themselves shut out by the "art scene." Subliminal Projects emerged as a gallery that championed emerging and margin- alized artists, built out of cultural importance to serve as a center for the community to openly express and spark dialogue about art, music and activism. Now located in the historic neighborhood of Echo Park, Subliminal Projects continues to offer a platform for artistic exploration and innovation.
For more information, follow us on Instagram @subliminalprojects