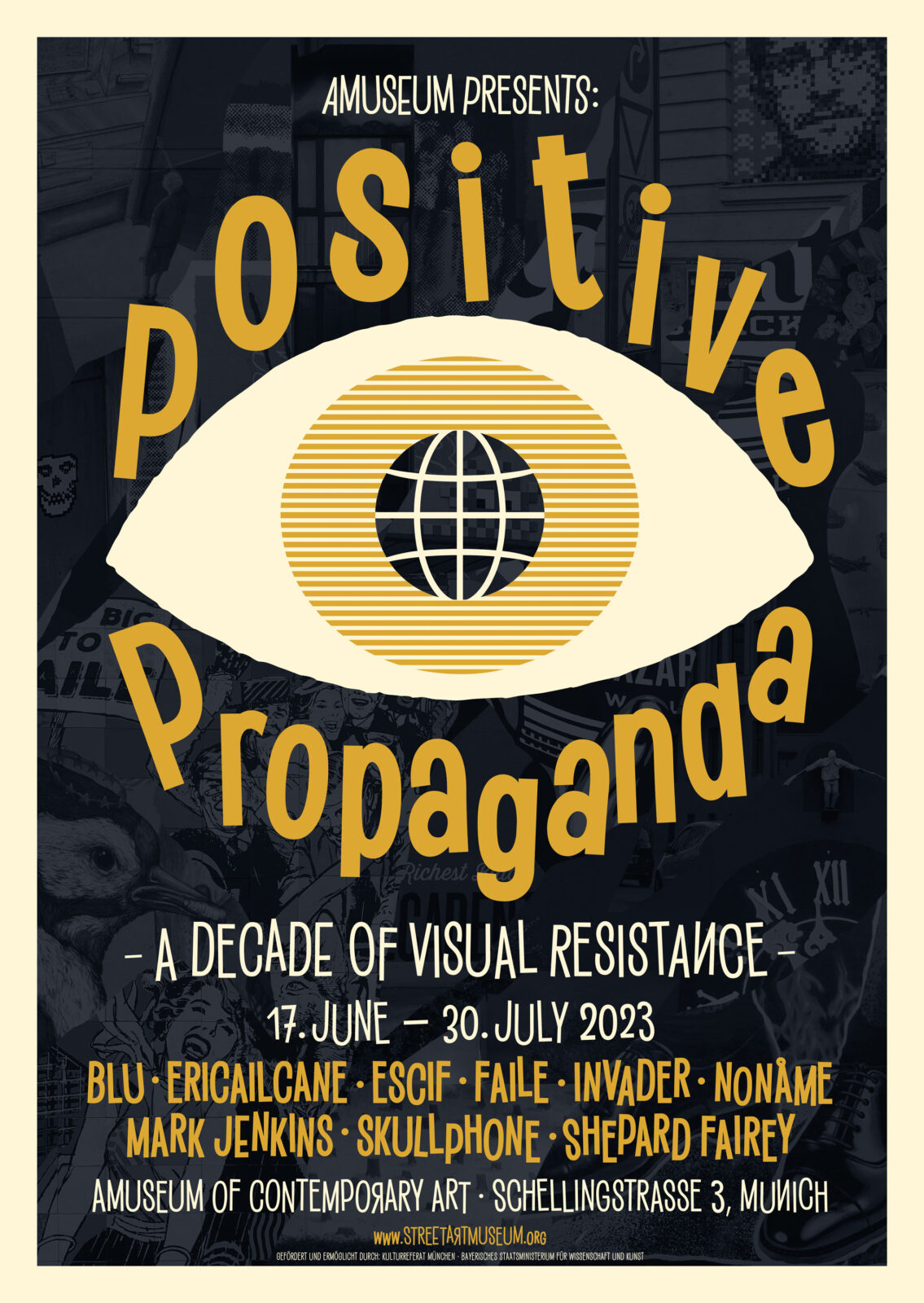 For the 10th anniversary of the non-profit art association Positive-Propaganda, the Amuseum invites you to the group exhibition "Positive-Propaganda – A Decade of Visual Resistance" and at the same time celebrates a decade of Street Art in Munich with you!
In direct cooperation with the most important international art activists of the Street Art movement, you will experience original artworks by:
BLU, ERICAILCANE, ESCIF, FAILE, INVADER, NoNAME, Mark Jenkins, SKULLPHONE, and Shepard Fairey.
A large number of elaborate screen prints and collages, original paintings and drawings as well as sculptures and video works by the artists can be seen.
In addition to friends and supporters of the association, we are also offering a limited number of guests the opportunity to attend the vernissage for the official opening of the exhibition on Friday, June 16, 2023, at 6:30 p.m.
We kindly ask you to register in advance until June 14, 6 p.m. via email to: [email protected]
Please note: due to applicable fire protection regulations, only a limited number of visitors are allowed to attend the opening. We, therefore, ask for your understanding in advance that, despite prior notification, there may be longer waiting times at the door, and we may not be able to confirm all requests for participation with binding effect.
Duration of the exhibition: June 17 – July 30, 2023Amuseum of Contemporary Art, Schellingstrasse 3, Munich
Opening times: Wed – Sun / 12:00 – 7:00 p.m. · Mon & Tues / closed
Admission is free
Further information at: www.streetartmuseum.org
For the inquiry of original artwork, please get in touch with our friends at www.overratedart.com
The exhibition is made possible with lead support from the non-profit art association Positive-Propaganda, Overrated Art Inc., Bavarian State Ministry of Science and Arts, and the Department for Arts and Culture Munich.