Shepard Fairey: Eyes Open, Minds Open
Invaluable Ideas via Art, Great Project for the Next Generation
Artist Shepard Fairey, whose unique works combine advertising, propagandistic graphics, and social messages all based on urban art, brings his large-scale mural project under the theme "environment and hope" to six locations in Seoul to commemorate his exhibition Eyes Open, Minds Open.
Under the slogan "MAKE ART FOR A BETTER WORLD," the campaign aims to build a sustainable society based on invaluable ideas rooted in arts and culture. Fairey's main motifs are environmental conservation and hope, which are also global issues and keywords. Utilizing a practical voice to speak out on the imminent dangers of today's world, his art sends a message of hope while asking questions not only about the environment, but also human rights and social issues for the next generation. The campaign features large-scale murals specifically created by the artist for six urban spots in Seoul: Seokchon Lake Park, LOTTE Museum of Art, LOTTE World Tower, and LOTTE World Mall in Songpa-gu; Seongdong-gu; and Dosan-daero in Gangnam-gu.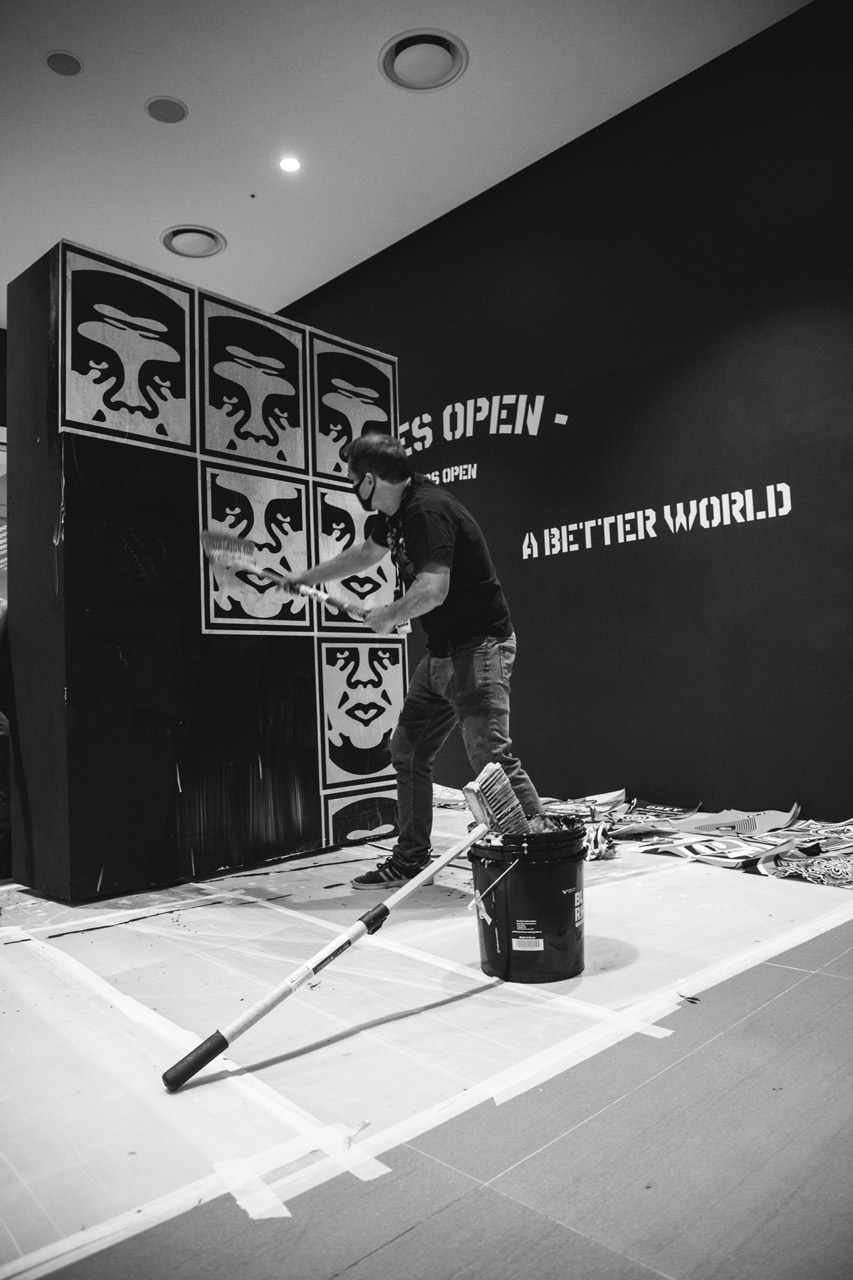 Large murals displayed in public areas raise awareness of issues without coercion. The artist's images and message of hope seek to stimulate a rethinking of the environmental and social impact of human decisions before they act and motivation toward implementing sustainable practices.
The campaign is enthusiastically sponsored by Songpa-gu Office, LOTTE Group (LOTTE Foundation for Arts, LOTTE Chemical, LOTTE Logistics, LOTTE Duty Free, LOTTE Department Store, LOTTE Mart, LOTTE Cinema, LOTTE Hotels, LOTTE Aquarium, Seoul Sky, and Hi-Mart), Artist Company, and Peaches D8NE, which support Shepard Fairey's practical artworks that expound on environmental problems through art.
---
1. Eyes Open, 2022, LOTTE World Mall, Songpa-gu 
Eyes Open (2022), Shepard Fairey's major work based on his deep interest in rapid climate change and environmental destruction, stresses that people must open their eyes and minds and pay attention to the world and their surroundings. Its message of hope is that if everyone thinks and acts together for a better world, surprising changes can result.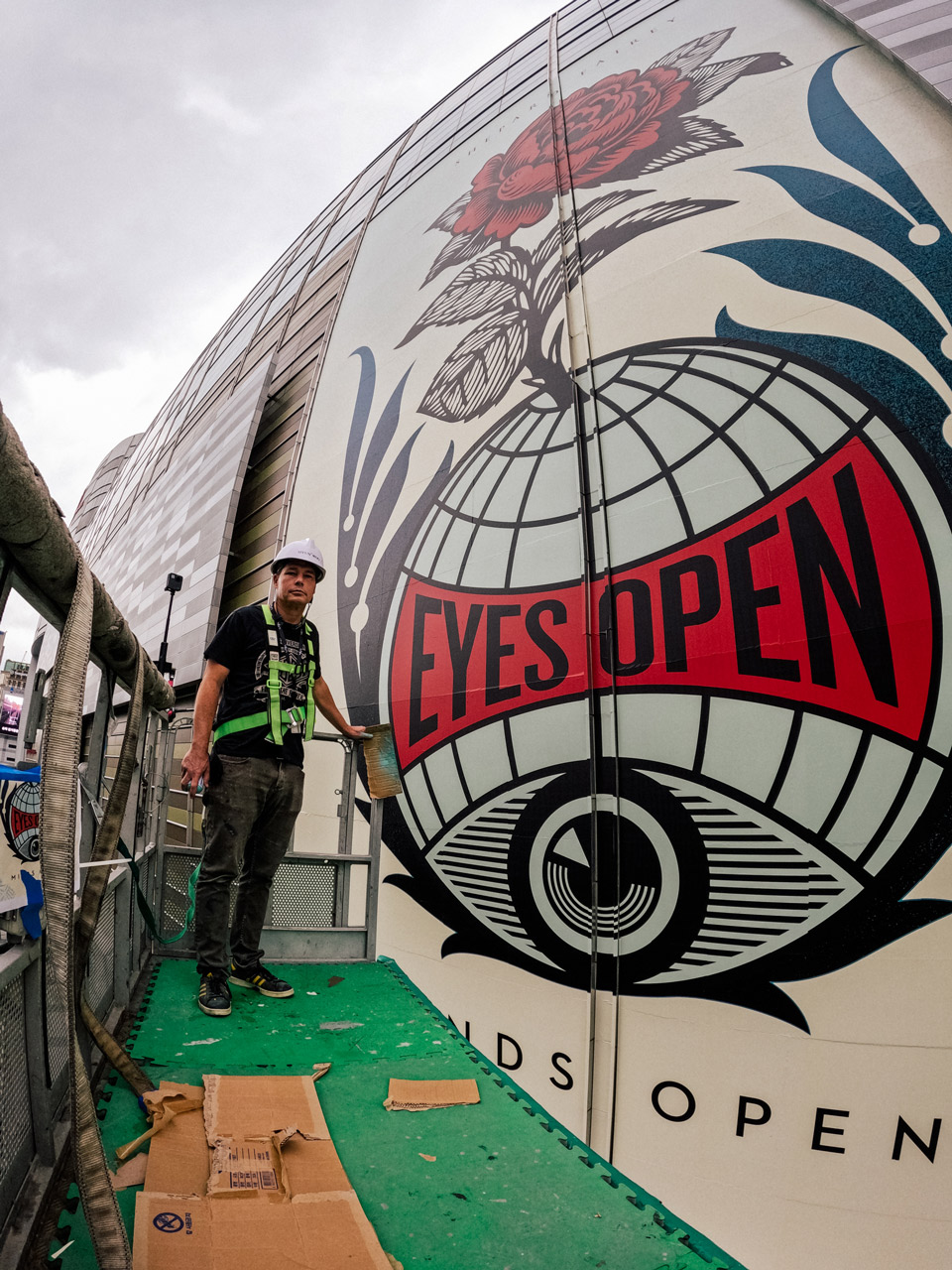 ---
2. Cultivate Justice (front) and Global Harmony (back), 2022, LOTTE World Tower 1F, Songpa-gu
Cultivate Justice illustrates what justice means for the Earth. Efforts to protect the planet impact not only humans but all living creatures. Using symbolic images easy to interpret, the artist sends a message about climate change, environmental conservation, and world peace, raising global awareness and emphasizing just actions as members of society.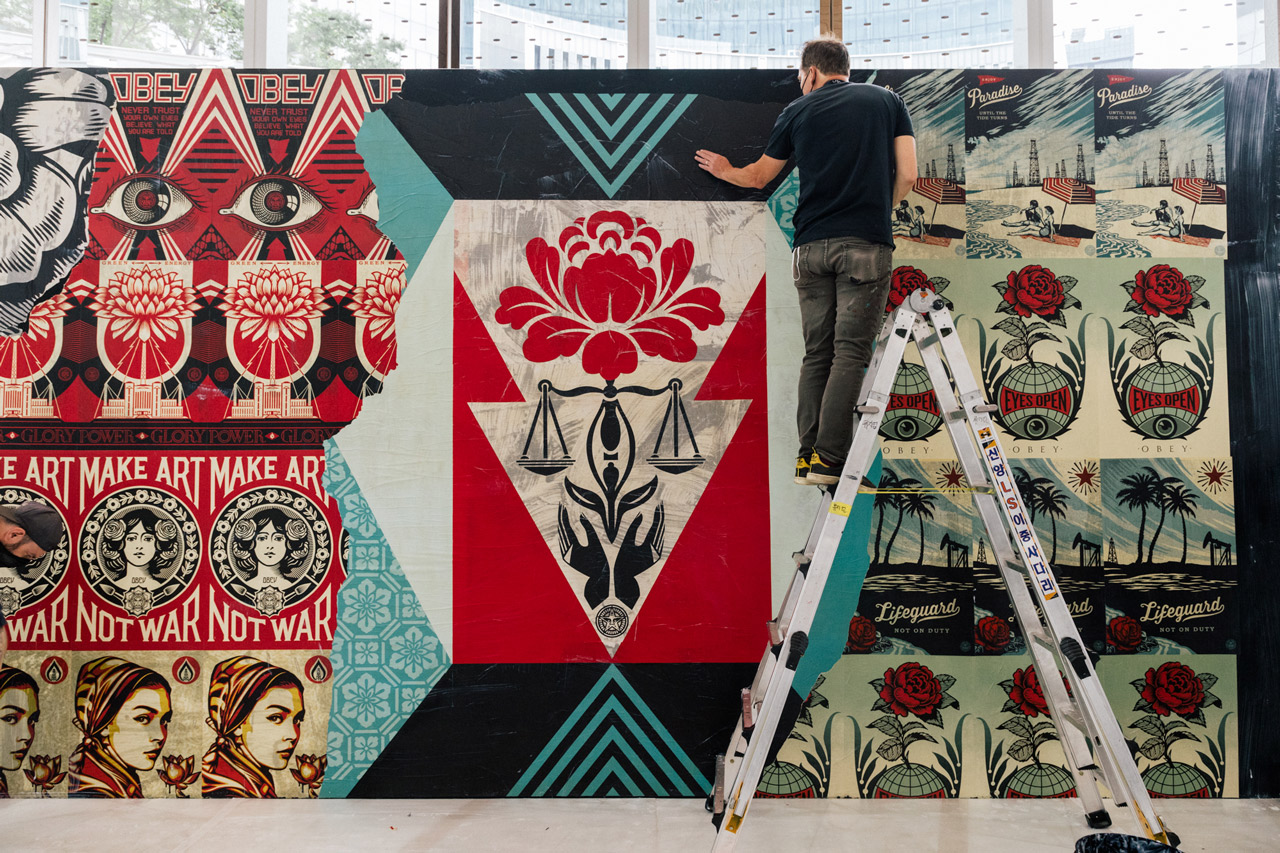 Global Harmony presents on the same plane the drawings of a lotus flower and Goddess Marianne, who symbolizes revolution and liberty. This work symbolizes the masses that stand up to all forms of oppression and violence, while the lotus flower rooted in mud symbolizes beauty that blooms despite hardship. The artist's layers of symbolic images are meant to urge people to show concern and act together with hope and justice for peace and harmony even amid global crises.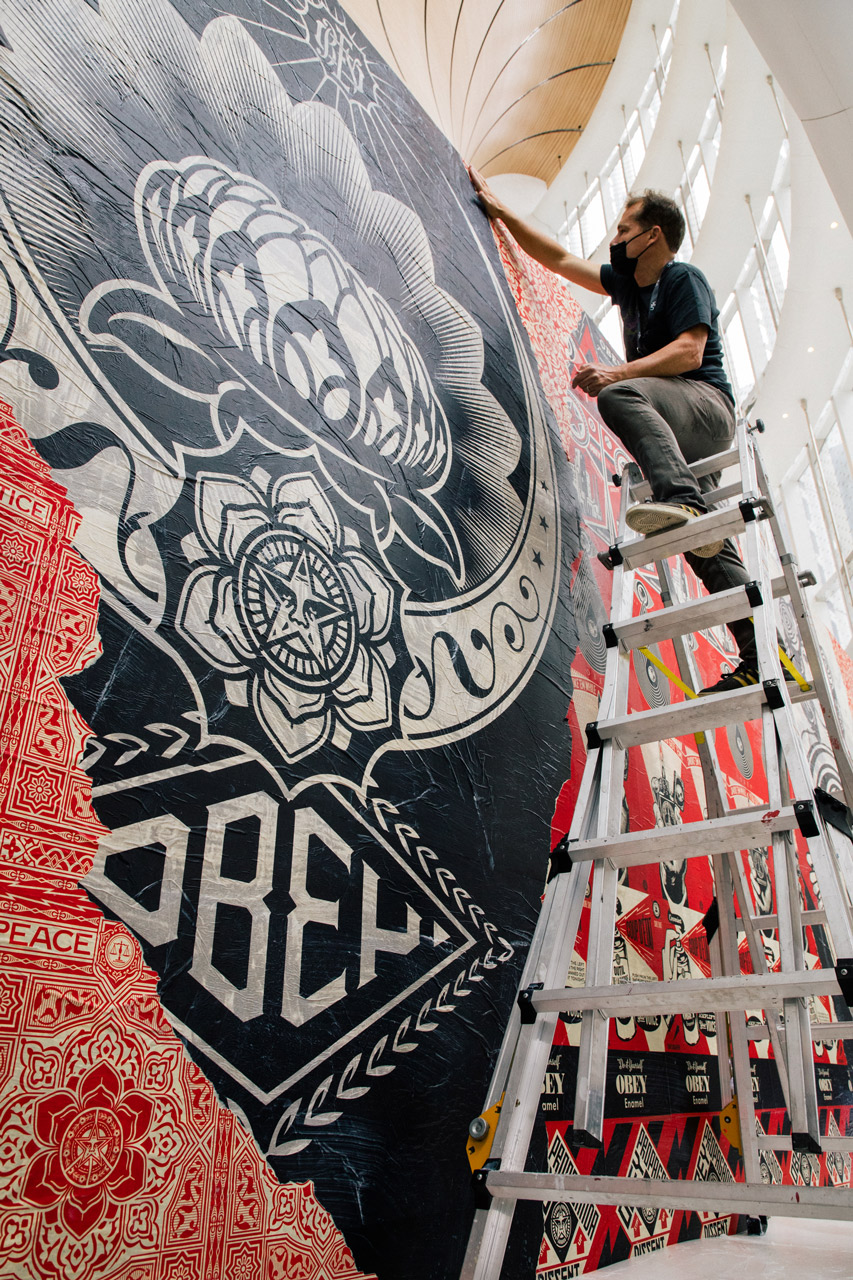 ---
3. Rise Above Rose Shackle, 2022, Dosan-daero Road, Gangnam-gu District
The rose is an important icon that frequently appears in Shepard Fairey's artworks. The flower functions not only as a visual decoration but also represents the beauty of life that forms a harmony under an organic structure. The rose also symbolizes strong resilience to overcome all obstacles. A rose grows upright despite the shackles around its stem, conveying Fairey's message of rising above suffering and flourishing despite pain and oppression. The image symbolizes the nobility of persevering and enduring hardship for justice and belief.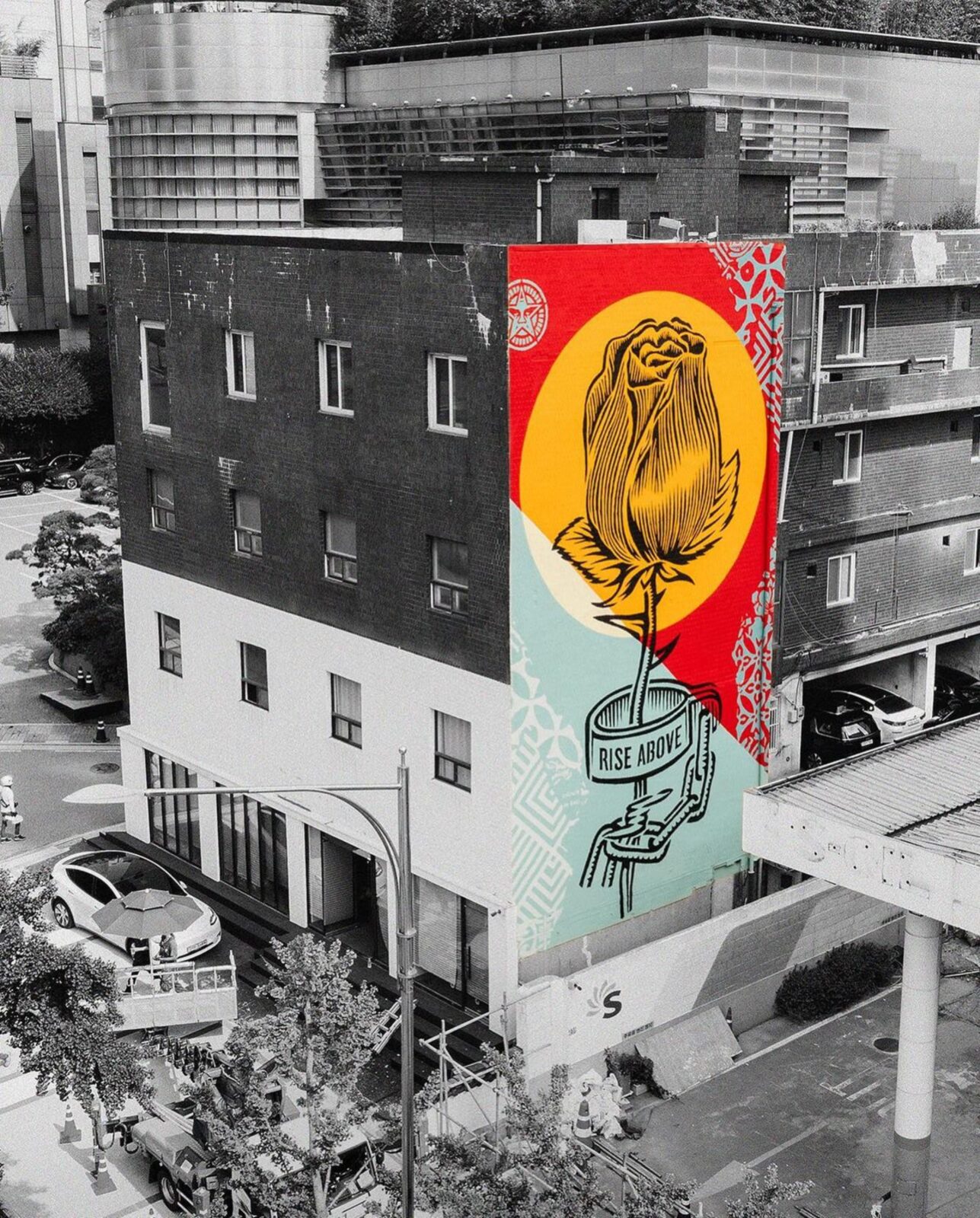 ---

4. Peace Dove, 2022, Seokchon Lake Park, Cultural Experiment Space HOSU, Songpa-gu
Shepard Fairey puts together symbolic images in one picture including a dove that symbolizes wisdom, an elephant symbolizing prosperity and longevity, and flowers symbolizing hope. Together they send the message of living wisely to pass on a better world to the next generation.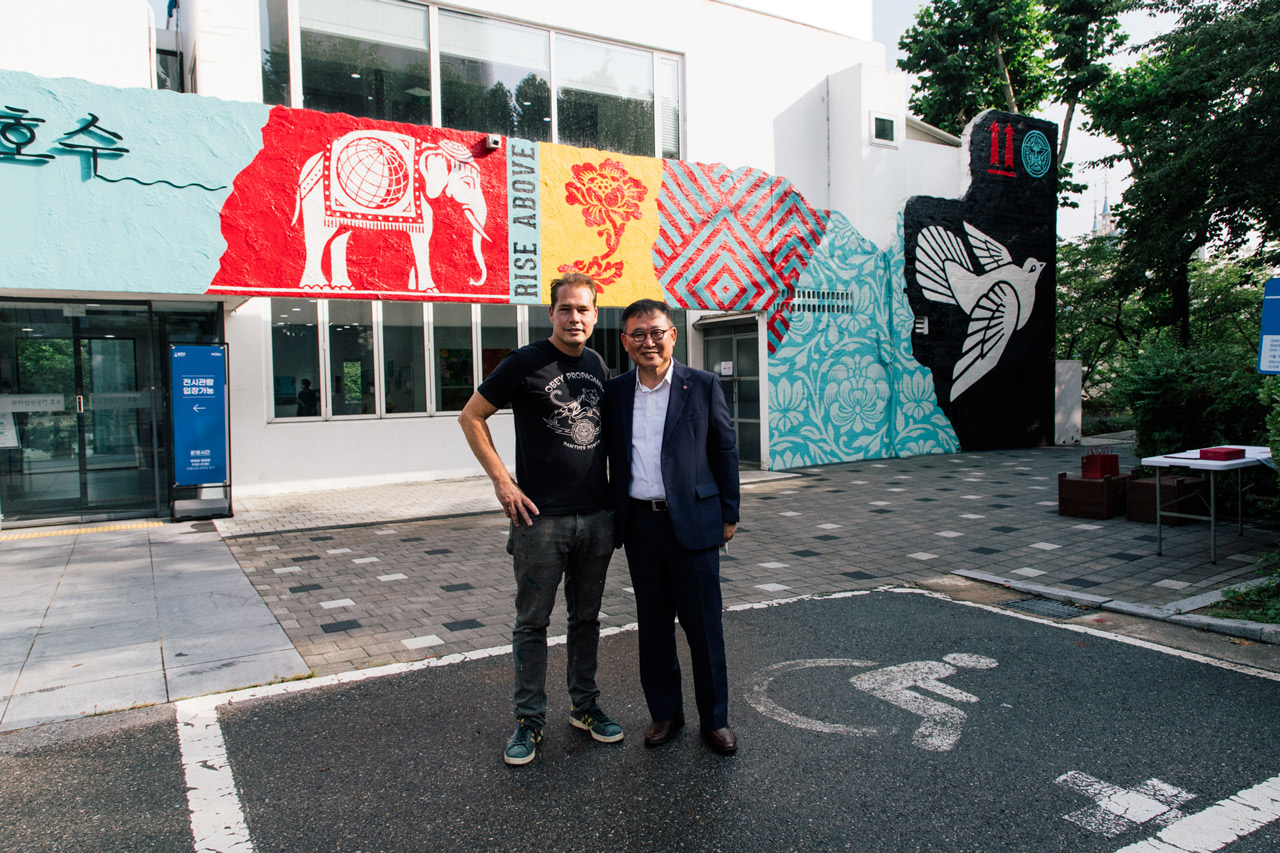 ---
5. Peace in Bloom, 2022, LOTTE Museum of Art, Songpa-gu
Peace in Bloom (2022) expresses the determination to maintain hope to prepare for the future even in difficult situations such as the COVID-19 pandemic. The symbolic image of the peace finger sign sends a familiar yet powerful message that best expresses Shepard Fairey's long-held hope for peace in his works. The flower wrapped in barbed wire conveys the will to overcome hardship and stand up to injustice. Fairey's message is to fulfill one's responsibilities and tasks, speak up, and act as responsible members of society for a better future.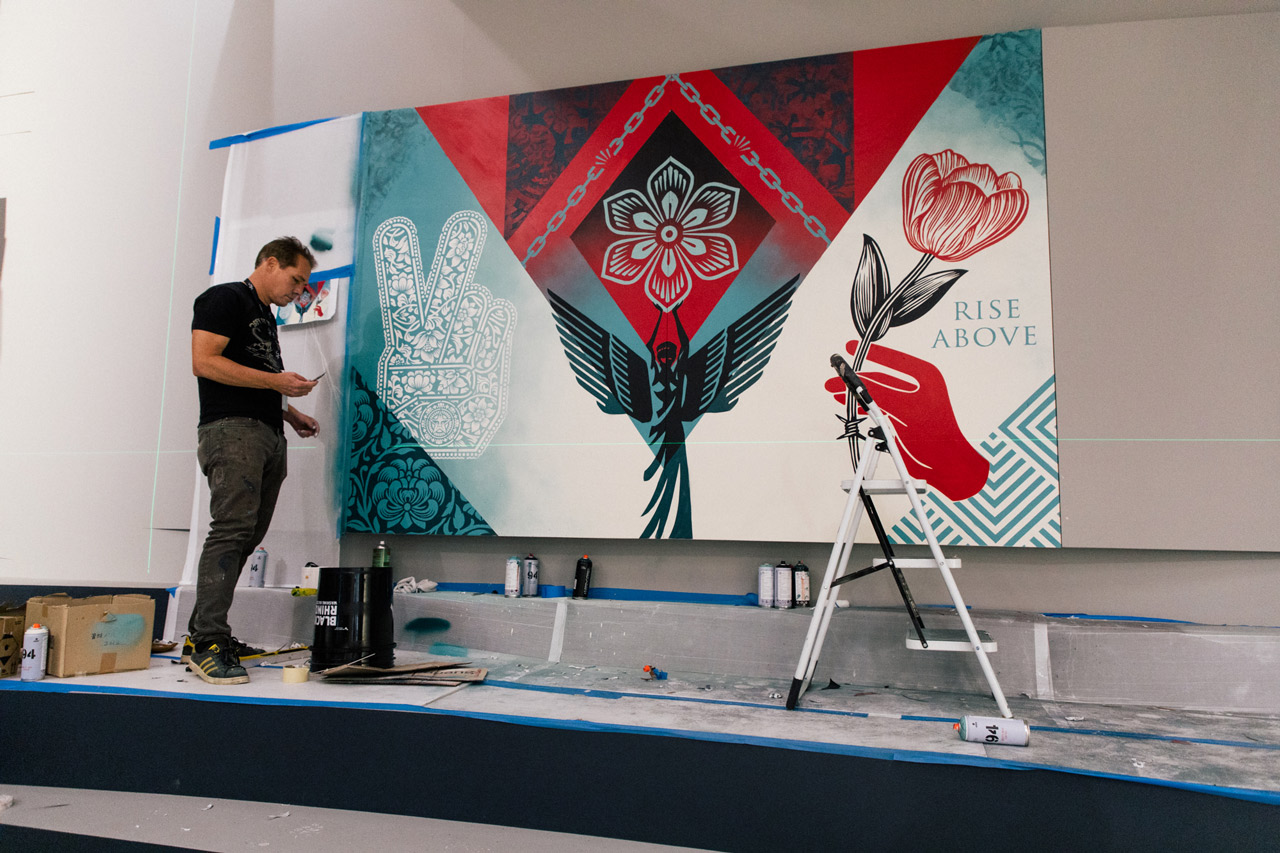 ---
6. Obey Giant, 2022, Peaches D8NE, Seongdong-gu
A multicultural complex that combines garage culture and a lifestyle brand, Peaches D8NE is an iconic space for generations that relate to street culture such as skateboarding, hip-hop, and sticker art. Shepard Fairey, whose works focus on skateboarding communities that inspired him in his childhood, created a vinyl installation at the skateboard park and his early stencil murals at Peaches D8NE for this exhibition. Through his works, he hopes to share the principles he nurtured in his childhood and encourage Korea's young generation to "question diverse issues in the world, speak up, and act ideally."