"On Our Hands" opens at Jacob Lewis Gallery on September 17 in New York. Read more about it in T: The New York Times Style Magazine. Thanks for the support!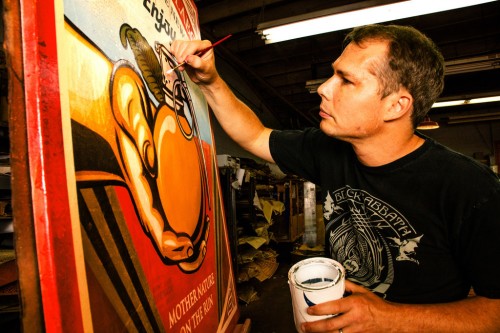 In His First New York Show in Five Years, Shepard Fairey Is Still Questioning Everything
by: Kurt McVey
On Sept. 18, the street artist Shepard Fairey will open his first solo show in New York since 2010's "Mayday" — the suitably colossal closing exhibition at the now-defunct Deitch Projects. Fairey's latest offering, a series of new mixed-media paintings titled "On Our Hands," will serve as his inaugural exhibition at Jacob Lewis Gallery, effectively consummating a 10-year friendship between the artist and Mr. Lewis, the gallery's owner and the first director of the influential Pace Prints in Chelsea. "Jacob looks at every aspect of what the artist is doing, not just the genre, the price or how in fashion you are," notes Fairey from his studio in Los Angeles, where he continues to finalize the collection. "If you look at the other artists he's worked with, whether it's Ryan McGinness or How and Nosm, they're the only people doing what they do."
After more than a quarter-century as a professional artist, Fairey's work has become instantly recognizable, as his particular aesthetic sensibilities — Russian Constructivism, the global wartime propaganda, Barbara Kruger-style advertorial machinations, Jasper Johns Americana — have solidified. So has his motivation: "My mantra has always been 'question everything,'" Fairey says. "I'm not just trying to seduce people with an image, I'm trying to snap them out of a trance." The political concerns that have long spurred his work, from corruption and authority to the environment and universal personhood, are again strongly in evidence here.
But his process, upon closer inspection, has become considerably more complex. The paintings in "On Our Hands," built up in rich, densely collaged relief, continue to evoke Rauschenberg, but illustrate a confidence in deconstruction: not only of the numerous themes at hand, but also of the layers on the canvas itself, as surgically crafted positive and negative space breathe new life into the artist's trademark graphic imagery. "I'm hoping that people take the time to really soak in the work," Fairey says. "Each piece has a lot of history, a lot of energy, and tells a unique story."
For an artist who made a name for himself on the streets — where unique artistic murals are currently being outpaced by the very corporate deluge Fairey famously subverts — it couldn't be a better time to step back into a white-box Chelsea gallery. "Street art has to stand out from the static and contend with the metabolism of the city," says the artist, who recaptured some street-cred this summer when a felony warrant was issued for his arrest after his recent "Printed Matters" outdoor exhibition in Detroit, where he also allegedly created unauthorized tags throughout the city. "A gallery opening, on the other hand, can be a safe place for people to come together, take in the archetypes that I present and use them to work out ideas they were perhaps previously unable to articulate."
Though he isn't able to talk in detail about the Detroit situation, Fairey is hoping to put the notion of a contentious relationship between "street" and "gallery" art — and their respective sway on the public perception of him — to bed. "I'm trying to get my art out to people using as many platforms as possible," he says simply. With that in mind, the opening of "On Our Hands" will coincide with the release of a new monograph, "Covert to Overt," from Rizzoli, featuring contributions from Chris Stein of Blondie, Neil Young, Russell Brand and Billy Idol, as well as other artistic highlights from the last five years, including murals, prints and interviews. "I'm a disciple of Marshall McLuhan in that I agree, the medium is the message," he says. "But for me, it's not versus; it's and."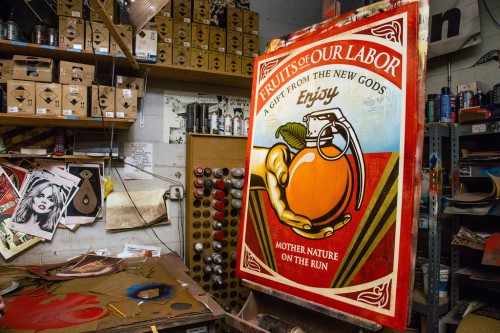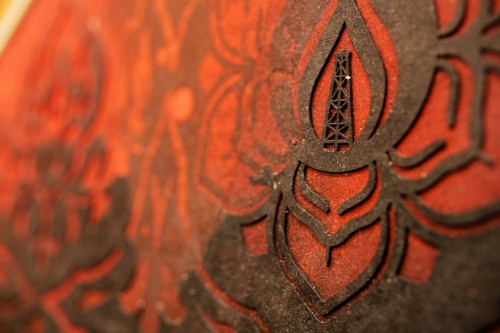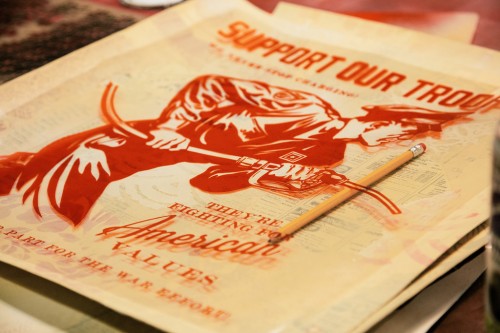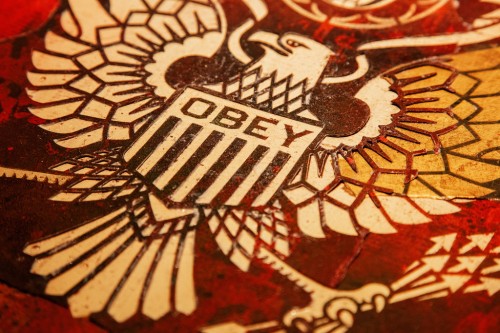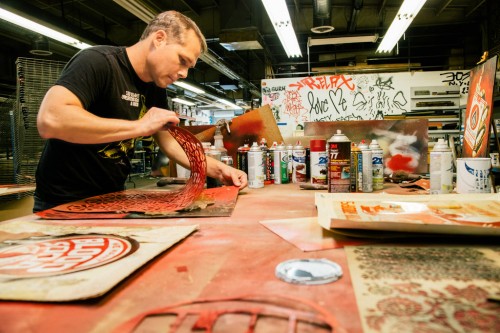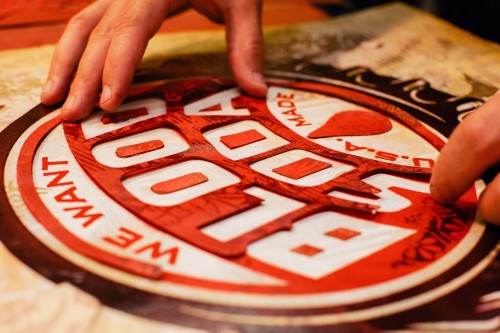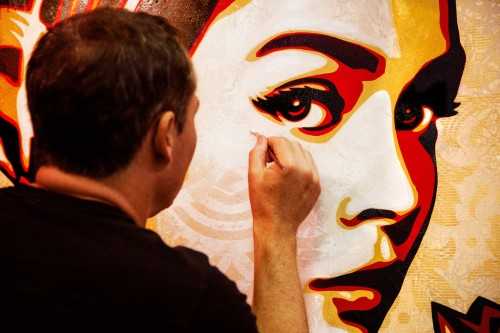 "On Our Hands" is on view Sept. 18 – Oct. 24 at Jacob Lewis Gallery, 521 West 26th Street, 4th floor, New York.
Photographs Courtesy: Jon Furlong / Obey Giant Art