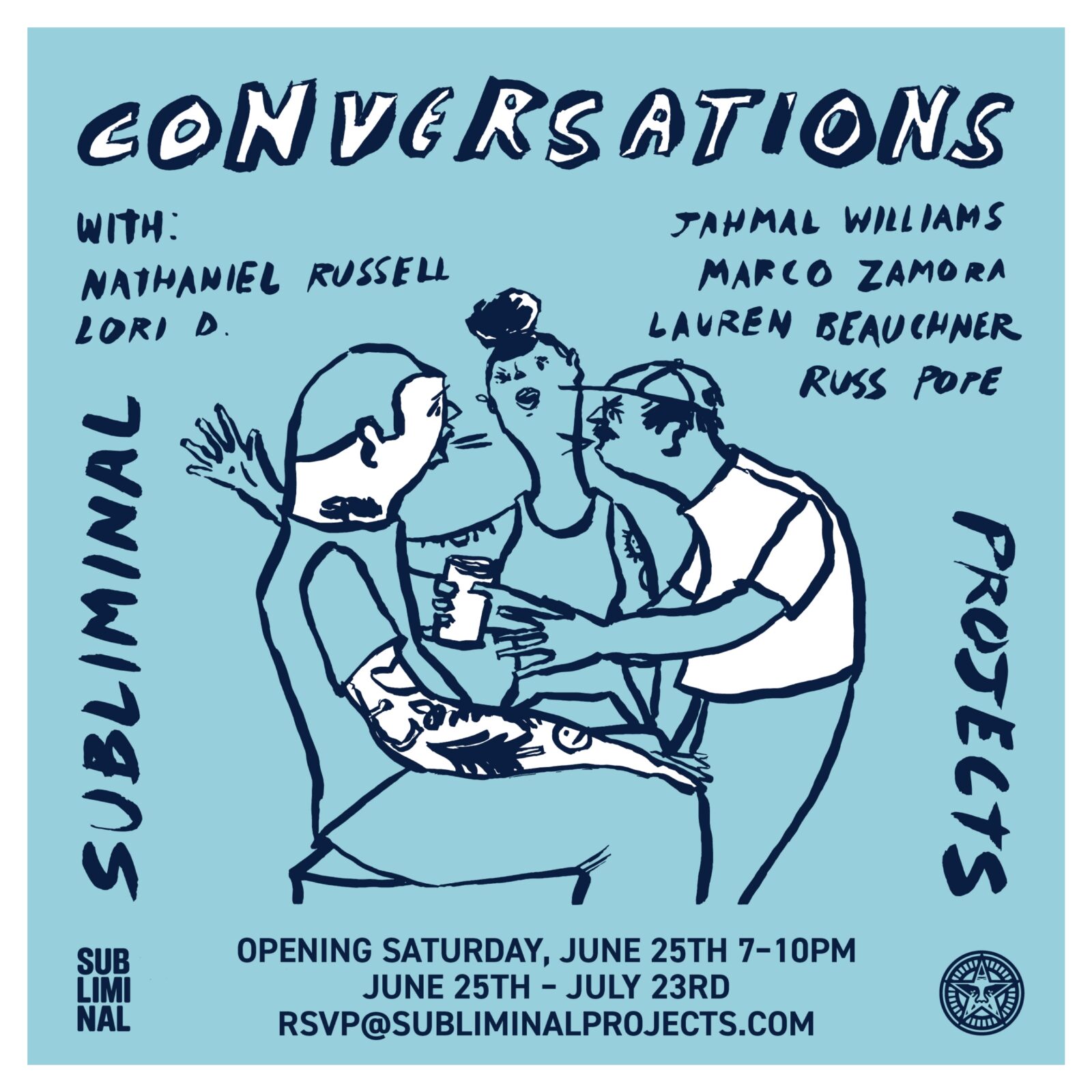 🚨DATE CHANGE FROM FRIDAY, 6/24 TO SATURDAY, 6/25, 7-10PM!🚨
If you have already RSVP'd and can still attend the event you do not need to RSVP again.
Subliminal Projects is pleased to present CONVERSATIONS, a group exhibition curated by Russ Pope. For his third curatorial project with Subliminal Projects, Pope once again brings together a selection of artists rooted in art & design, skateboarding, and surf, this time to investigate conversation and connection.
Pope is widely regarded as an accomplished artist, curator, and writer, with a tremendous influence on skateboard culture. He was the founder of Creature Skateboards and Scarecrow Skateboards, and now has his own brand called Transportation Unit.
CONVERSATIONS threads a group of artists connected to Pope by friendship or acquaintance. Through the fundamental shift in present-day interaction, and utilizing different methods of communication, the exhibition presents a collection of work, conversed about long-distance, created separately, and made to share collectively at Subliminal Projects.
CONTRIBUTING ARTISTS
Nathaniel Russell, Lori D., Jahmal Williams, Marco Zamora, Lauren Beauchner, and Russ Pope.
ABOUT RUSS POPE
Russ Pope's art draws from the social and political environment surrounding him in his daily life. Pope's inspirations have been skateboarding, music and the creative, interesting people he encounters daily. His bold strokes, finite doodles and striking paintings are characterized by faces, still lifes, and humorous events. From the early days in Central California skateboarding, drawing, and attending punk shows, to his current life in New England, Russ has processed life and his interactions with his world through the prism of a pen and a paintbrush.
For more information about Russ Pope visit russpope.com, or follow him on Instagram @russpope.