Let Fury Have the Hour – Premiere's in LA this FRIDAY!
My friend, Antonino D' Ambrosio made a fantastic documentary; "
Let Fury Have the Hour
" which will premiere here in LA this Friday at the 
NoHo 7 in North Hollywood
.   Following the 7:30pm screening, Antonino, MC5's – Wayne Kramer and I will be hosting a Q&A session.  We will be giving away 3 signed and numbered screen prints (Let Fury Have the Hour – Film,  Own the Future and Let Fury Have the Hour – Book) to random attendees who participate in the Q&A discussion.  (Co-signed Shepard Fairey & Antonino D'Ambrosio).   Don't forget to pick up a copy of Antonino's book – 
Let Fury Have the Hour
.
See you at the show!
-Shepard Fairey
Check out what Rosanne Cash has to say about the film:
"This is the most important documentary I've seen in many years. D'Ambrosio traces the current social, economic, political and spiritual chaos of American 'exceptionalism', ruthless individualism, and cultural division back to its roots. 'Let Fury Have The Hour' reminds us of the beauty and necessity of 'creative response' and provides a vision, a real vision, of what citizenship means. We owe Antonino D'Ambrosio our collective gratitude.'
–Rosanne Cash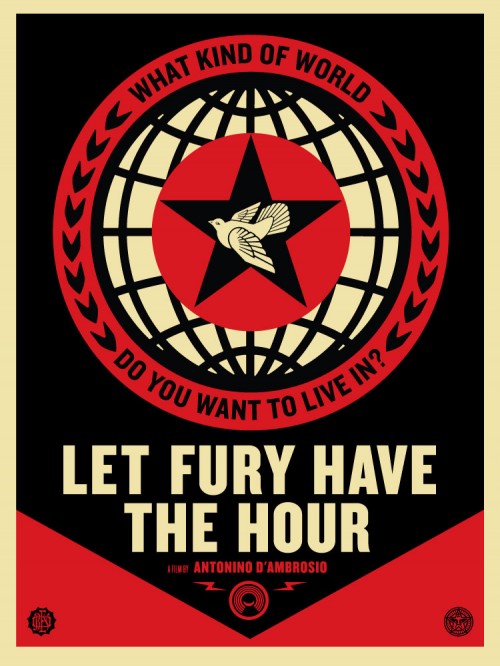 LET FURY HAVE THE HOUR
TO OPEN IN LOS ANGELES AT LAEMMLE'S NOHO 7 ON JAN 25th
CAVU Pictures and Laemmle Theatres is pleased to present Antonino D'Ambrosio's acclaimed documentary film Let Fury Have The Hour, which looks at the last 40 years of social history to make the case for activism and creative response as an antidote to cynicism.
The exclusive Los Angeles engagement begins Friday, January 25th at the NoHo 7 in North Hollywood. The opening weekend will feature discussions with filmmaker Antonino D'Ambrosio, street artist Shepard Fairey, musician Wayne Kramer and other special guests.
The film premiered earlier this year at the Tribeca Film Festival, and is being released by NY-based indie distribution company CAVU Pictures, which opened the film in theaters beginning in New York City on Dec 14th.
Press screeners are available for review. D'Ambrosio, Fairey and Kramer are available for interviews.
About the film: Rough, raw and unapologetically inspirational, filmmaker Antonino D'Ambrosio's Let Fury Have the Hour is a lively social history that chronicles how creative-response is an antidote to the cynicism that dominates today's culture. An exuberant, mixed media collage that incorporates graphic art, music, animation, and spoken word, the film spans three decades of transformation bringing together over 50 artists, writers, musicians, skateboarders, dancers, and rights advocates (from street artist Shepard Fairey to rapper Chuck D to playwright Eve Ensler to musicians Tom Morello, Ian MacKaye, Billy Bragg, Wayne Kramer and Eugene Hutz, to novelists Edwidge Danticat and Hari Kunzru to filmmaker John Sayles to comic Lewis Black to environmentalist Van Jones to poet Suheir Hammad), all of whom attest to the fact that we can re-imagine the world we live in and take an active role in making that vision a reality.
Set to a stirring soundtrack from the film's artists – including Public Enemy, Gogol Bordello, MC5, DJ Spooky and Sean Hayes – LET FURY HAVE THE HOUR is a fast and furious trip into the grass roots of art and activism, 21st Century style.
The film was inspired by D'Ambrosio's essays from his book Let Fury Have the Hour: Joe Strummer, Punk and the Movement that Shook the World.
Laemmle's Noho 7 is located at 5240 Lankershim Boulevard, North Hollywood, CA
*Q&A's to follow select opening weekend screenings with filmmaker Antonino D'Ambrosio, street artist Shepard Fairey, and musician Wayne Kramer.
About the filmmaker: Antonino D'Ambrosio is an author, filmmaker and visual artist.  His critically acclaimed books include
A Heartbeat and A Guitar: Johnny Cash and the Making of Bitter Tears
("a truly fascinating journey" –filmmaker Jim Jarmusch), and
Let Fury Have the Hour: Joe Strummer, Punk and the Movement that Shook the World
, D'Ambrosio's essays from the latter inspired his documentary feature film 
Let Fury Have The Hour
. D'Ambrosio's writing appears in The Nation, The Progressive, The Believer,
Salon.com
, and many other publications. A frequent guest on TV and radio, D'Ambrosio has hosted radio shows on WBAI and East Village Radio. Chuck D of Public Enemy has described D'Ambrosio as "the voice of a new generation—passionate, intelligent and fierce—whose work educates and inspires."  D'Ambrosio's recent award-winning short film
No Free Lunch
features comedian Lewis Black. He is the founder of La Lutta NMC, a nonprofit production group selected by The Nation as one of the top independent media groups in the country. In 2006, he became New York University's Gallatin Lecturer, an honor bestowed upon a contemporary artist creating innovative and social engaging work.
87 minutes * unrated * DCP * USA * 2012
NoHo 7, 5240 Lankershim Blvd., North Hollywood, CA 91601 (310) 478-3836
www.laemmle.com
For DVD screeners and press inquiries contact:
Jordan Moore, Laemmle Theatres
11523 Santa Monica Boulevard, Los Angeles, CA 90025
Distribution contact:
Isil Bagdadi, Co-founder/ President of Distribution
CAVU Pictures/ CAVU Releasing
For more info go to: