OBEY x MTN Spray Cans
SOLD OUT
Montana Colors and OBEY entice you with these OBEY LIMITED EDITION spray cans.  Each model represents one of the three classic OBEY colors – black, cream and red-.
Only 500 units were made in each color.  Each can comes in a Wooden box with a star stamp and is signed by Shepard Fairey in black marker.  $35
PURCHASE RULES AND RESTRICTIONS: Limit 1 Spray Can per person/household.  Orders of more than 1 can, no matter what color, will not be accepted.  If stock is available after 24 hours then purchases in other colors will be accepted.
No international orders, other than Canada, will be accepted due to government shipping restrictions for this type of product.  That means no orders will be accepted from Alaska, Hawaii or Mexico either.   We apologize for this inconvenience to our international fans please know that we still love you.  For this release, only domestic orders from the 48 contiguous states will be accepted.
Release Date: 4/17/12 at a random time during the day (PST).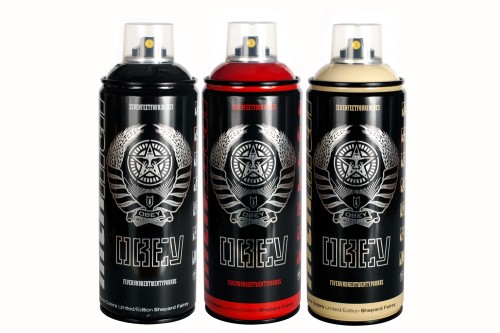 ATTENTION: Due to conditions beyond our control the lucite on the front of the casing may contain very small blemishes or scratches.  All spray cans are sold AS IS.  No refunds or exchanges.