OBEY / O-BOY, O-GRL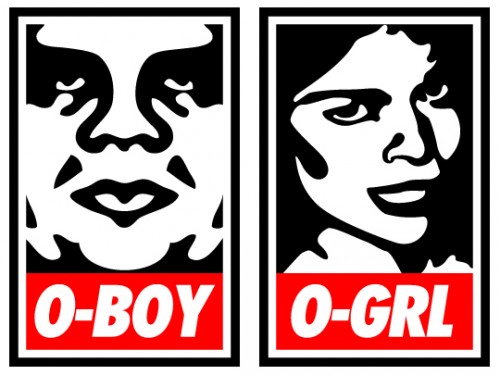 In 2010, we renovated a historical coffee bar here in Trieste, Italy (Bar Martini) and decided to play the OBEY bootleg game as part of our design process. Instead of the stereotypical stick figure man/woman image for the bathroom doors, we took your André the Giant image and paired him with our own version of Bianca Jagger at her 1977 birthday party at Studio 54.
Changing the well known OBEY to O-BOY and using O-GRL to match, we then had the image printed directly onto the surface of the door.
Involuntarily we have created a new group of coffee-drinking Italian Shepard Fairy fans! Hope to bring a few up to your London show this fall.
Cheers,
Bethany & Alex
http://www.shift21.eu
Matteo
http://www.matteobartoli.com